Reflecting on the Fourth

Sunday of Easter

Year C
Daily Readings for Monday
May 12, 2025

---
God of comfort and compassion,
through Jesus, your Son, you lead us
to the water of life and the table of your bounty.
May we who have received
the tender love of our Good Shepherd
be strengthened by your grace
to care for your flock. Amen.
Psalm 100
We are God's sheep
Make a joyful noise to the Lord, all the earth.
Worship the Lord with gladness;
come into his presence with singing.
Know that the Lord is God.
It is he that made us, and we are his;
we are his people, and the sheep of his pasture.
Enter his gates with thanksgiving,
and his courts with praise.
Give thanks to him, bless his name.
For the Lord is good;
his steadfast love endures forever,
and his faithfulness to all generations.
Ezekiel 37:15-28
God will unite the flock
The word of the Lord came to me: Mortal, take a stick and write on it, "For Judah, and the Israelites associated with it"; then take another stick and write on it, "For Joseph (the stick of Ephraim) and all the house of Israel associated with it"; and join them together into one stick, so that they may become one in your hand. And when your people say to you, "Will you not show us what you mean by these?" say to them, Thus says the Lord God: I am about to take the stick of Joseph (which is in the hand of Ephraim) and the tribes of Israel associated with it; and I will put the stick of Judah upon it, and make them one stick, in order that they may be one in my hand. When the sticks on which you write are in your hand before their eyes, then say to them, Thus says the Lord God: I will take the people of Israel from the nations among which they have gone, and will gather them from every quarter, and bring them to their own land. I will make them one nation in the land, on the mountains of Israel; and one king shall be king over them all. Never again shall they be two nations, and never again shall they be divided into two kingdoms. They shall never again defile themselves with their idols and their detestable things, or with any of their transgressions. I will save them from all the apostasies into which they have fallen, and will cleanse them. Then they shall be my people, and I will be their God.
My servant David shall be king over them; and they shall all have one shepherd. They shall follow my ordinances and be careful to observe my statutes. They shall live in the land that I gave to my servant Jacob, in which your ancestors lived; they and their children and their children's children shall live there forever; and my servant David shall be their prince forever. I will make a covenant of peace with them; it shall be an everlasting covenant with them; and I will bless them and multiply them, and will set my sanctuary among them forevermore. My dwelling place shall be with them; and I will be their God, and they shall be my people. Then the nations shall know that I the Lord sanctify Israel, when my sanctuary is among them forevermore.
Revelation 15:1-4
The song of the Lamb
Then I saw another portent in heaven, great and amazing: seven angels with seven plagues, which are the last, for with them the wrath of God is ended.
And I saw what appeared to be a sea of glass mixed with fire, and those who had conquered the beast and its image and the number of its name, standing beside the sea of glass with harps of God in their hands. And they sing the song of Moses, the servant of God, and the song of the Lamb:
"Great and amazing are your deeds,
Lord God the Almighty!
Just and true are your ways,
King of the nations!
Lord, who will not fear
and glorify your name?
For you alone are holy.
All nations will come
and worship before you,
for your judgments have been revealed."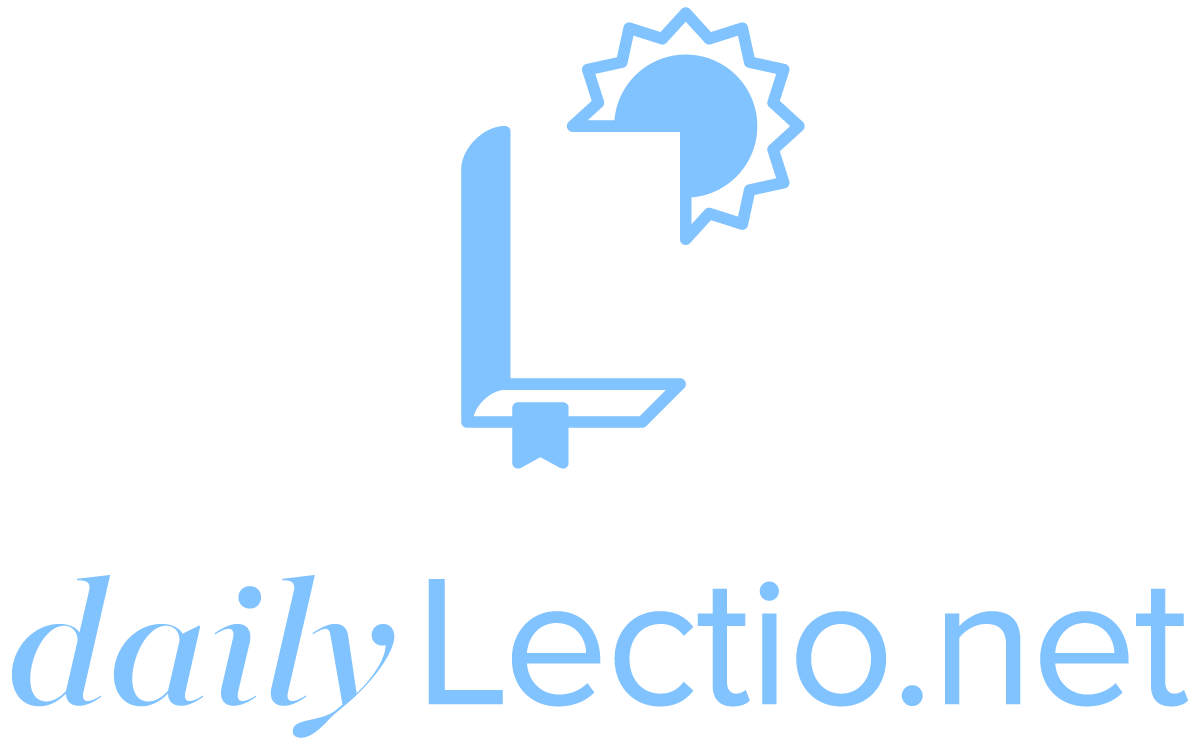 Download the DailyLectio App
Prayer reprinted from Revised Common Lectionary Prayers, © 2002 Consultation on Common Texts. Reproduced by permission.
Revised Common Lectionary Daily Readings copyright © 2005 Consultation on Common Texts admin. Augsburg Fortress. Reproduced by permission. No further reproduction allowed without the written permission of Augsburg Fortress.
New Revised Standard Version Bible, copyright © 1989 National Council of the Churches of Christ in the United States of America. Used by permission. All rights reserved.