Preparing for the Third

Sunday of Easter

Year C
Daily Readings for Friday
May 2, 2025

---
God of victory over death,
your Son revealed himself again and again,
and convinced his followers of his glorious resurrection.
Grant that we may know his risen presence,
in love obediently feed his sheep,
and care for the lambs of his flock,
until we join the hosts of heaven
in worshiping you and praising him
who is worthy of blessing and honor,
glory and power, for ever and ever. Amen.
Psalm 30
My wailing turns to dancing
I will extol you, O Lord, for you have drawn me up,
and did not let my foes rejoice over me.
O Lord my God, I cried to you for help,
and you have healed me.
O Lord, you brought up my soul from Sheol,
restored me to life from among those gone down to the Pit.
Sing praises to the Lord, O you his faithful ones,
and give thanks to his holy name.
For his anger is but for a moment;
his favor is for a lifetime.
Weeping may linger for the night,
but joy comes with the morning.
As for me, I said in my prosperity,
"I shall never be moved."
By your favor, O Lord,
you had established me as a strong mountain;
you hid your face;
I was dismayed.
To you, O Lord, I cried,
and to the Lord I made supplication:
"What profit is there in my death,
if I go down to the Pit?
Will the dust praise you?
Will it tell of your faithfulness?
Hear, O Lord, and be gracious to me!
O Lord, be my helper!"
You have turned my mourning into dancing;
you have taken off my sackcloth
and clothed me with joy,
so that my soul may praise you and not be silent.
O Lord my God, I will give thanks to you forever.
Isaiah 6:1-4
Heaven's holy, holy, holy
In the year that King Uzziah died, I saw the Lord sitting on a throne, high and lofty; and the hem of his robe filled the temple. Seraphs were in attendance above him; each had six wings: with two they covered their faces, and with two they covered their feet, and with two they flew. And one called to another and said:
"Holy, holy, holy is the Lord of hosts;
the whole earth is full of his glory."
The pivots on the thresholds shook at the voices of those who called, and the house filled with smoke.
Revelation 4:1-11
Heaven's holy, holy, holy
After this I looked, and there in heaven a door stood open! And the first voice, which I had heard speaking to me like a trumpet, said, "Come up here, and I will show you what must take place after this." At once I was in the spirit, and there in heaven stood a throne, with one seated on the throne! And the one seated there looks like jasper and carnelian, and around the throne is a rainbow that looks like an emerald. Around the throne are twenty-four thrones, and seated on the thrones are twenty-four elders, dressed in white robes, with golden crowns on their heads. Coming from the throne are flashes of lightning, and rumblings and peals of thunder, and in front of the throne burn seven flaming torches, which are the seven spirits of God; and in front of the throne there is something like a sea of glass, like crystal.
Around the throne, and on each side of the throne, are four living creatures, full of eyes in front and behind: the first living creature like a lion, the second living creature like an ox, the third living creature with a face like a human face, and the fourth living creature like a flying eagle. And the four living creatures, each of them with six wings, are full of eyes all around and inside. Day and night without ceasing they sing,
"Holy, holy, holy,
the Lord God the Almighty,
who was and is and is to come."
And whenever the living creatures give glory and honor and thanks to the one who is seated on the throne, who lives forever and ever, the twenty-four elders fall before the one who is seated on the throne and worship the one who lives forever and ever; they cast their crowns before the throne, singing,
"You are worthy, our Lord and God,
to receive glory and honor and power,
for you created all things,
and by your will they existed and were created."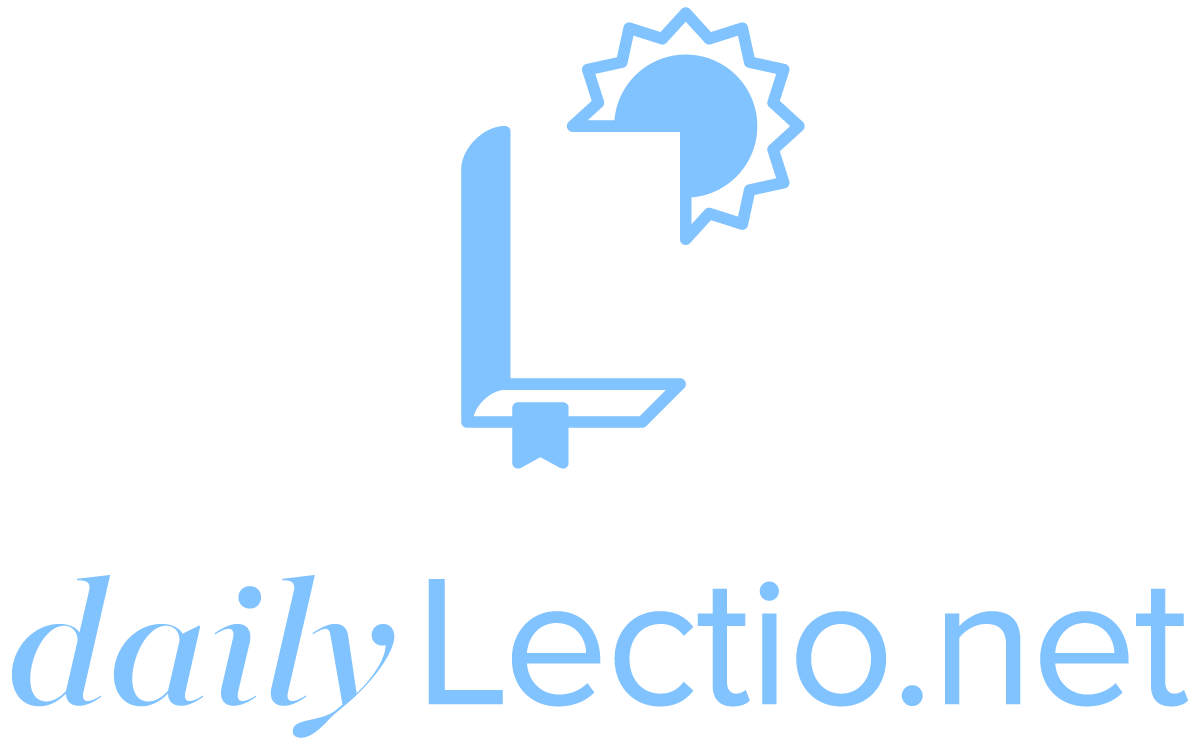 Download the DailyLectio App
Prayer reprinted from Revised Common Lectionary Prayers, © 2002 Consultation on Common Texts. Reproduced by permission.
Revised Common Lectionary Daily Readings copyright © 2005 Consultation on Common Texts admin. Augsburg Fortress. Reproduced by permission. No further reproduction allowed without the written permission of Augsburg Fortress.
New Revised Standard Version Bible, copyright © 1989 National Council of the Churches of Christ in the United States of America. Used by permission. All rights reserved.