Preparing for the Third

Sunday of Easter

Year C
Daily Readings for Thursday
May 1, 2025

---
God of victory over death,
your Son revealed himself again and again,
and convinced his followers of his glorious resurrection.
Grant that we may know his risen presence,
in love obediently feed his sheep,
and care for the lambs of his flock,
until we join the hosts of heaven
in worshiping you and praising him
who is worthy of blessing and honor,
glory and power, for ever and ever. Amen.
Psalm 30
My wailing turns to dancing
I will extol you, O Lord, for you have drawn me up,
and did not let my foes rejoice over me.
O Lord my God, I cried to you for help,
and you have healed me.
O Lord, you brought up my soul from Sheol,
restored me to life from among those gone down to the Pit.
Sing praises to the Lord, O you his faithful ones,
and give thanks to his holy name.
For his anger is but for a moment;
his favor is for a lifetime.
Weeping may linger for the night,
but joy comes with the morning.
As for me, I said in my prosperity,
"I shall never be moved."
By your favor, O Lord,
you had established me as a strong mountain;
you hid your face;
I was dismayed.
To you, O Lord, I cried,
and to the Lord I made supplication:
"What profit is there in my death,
if I go down to the Pit?
Will the dust praise you?
Will it tell of your faithfulness?
Hear, O Lord, and be gracious to me!
O Lord, be my helper!"
You have turned my mourning into dancing;
you have taken off my sackcloth
and clothed me with joy,
so that my soul may praise you and not be silent.
O Lord my God, I will give thanks to you forever.
Isaiah 5:11-17
Appetites that lead to hunger
Ah, you who rise early in the morning
in pursuit of strong drink,
who linger in the evening
to be inflamed by wine,
whose feasts consist of lyre and harp,
tambourine and flute and wine,
but who do not regard the deeds of the Lord,
or see the work of his hands!
Therefore my people go into exile without knowledge;
their nobles are dying of hunger,
and their multitude is parched with thirst.
Therefore Sheol has enlarged its appetite
and opened its mouth beyond measure;
the nobility of Jerusalem and her multitude go down,
her throng and all who exult in her.
People are bowed down, everyone is brought low,
and the eyes of the haughty are humbled.
But the Lord of hosts is exalted by justice,
and the Holy God shows himself holy by righteousness.
Then the lambs shall graze as in their pasture,
fatlings and kids shall feed among the ruins.
Revelation 3:14-22
Words to the church at Laodicea
"And to the angel of the church in Laodicea write: The words of the Amen, the faithful and true witness, the origin of God's creation:
"I know your works; you are neither cold nor hot. I wish that you were either cold or hot. So, because you are lukewarm, and neither cold nor hot, I am about to spit you out of my mouth. For you say, 'I am rich, I have prospered, and I need nothing.' You do not realize that you are wretched, pitiable, poor, blind, and naked. Therefore I counsel you to buy from me gold refined by fire so that you may be rich; and white robes to clothe you and to keep the shame of your nakedness from being seen; and salve to anoint your eyes so that you may see. I reprove and discipline those whom I love. Be earnest, therefore, and repent. Listen! I am standing at the door, knocking; if you hear my voice and open the door, I will come in to you and eat with you, and you with me. To the one who conquers I will give a place with me on my throne, just as I myself conquered and sat down with my Father on his throne. Let anyone who has an ear listen to what the Spirit is saying to the churches."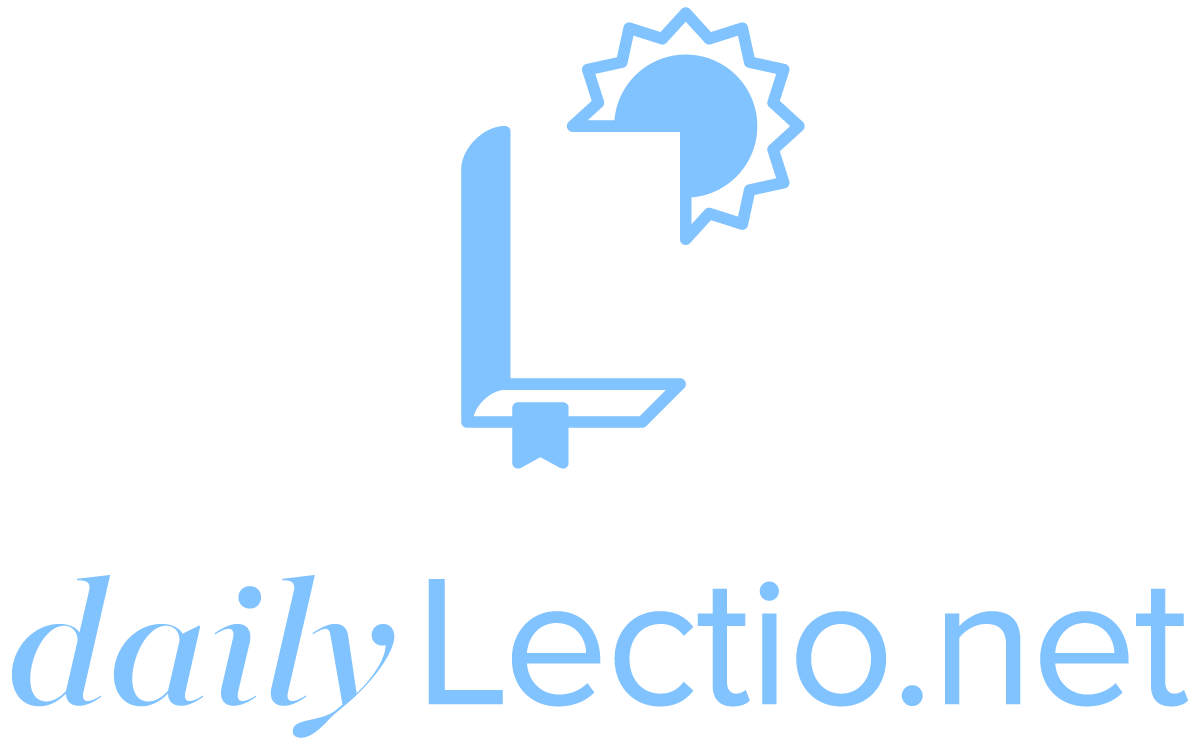 Download the DailyLectio App
Prayer reprinted from Revised Common Lectionary Prayers, © 2002 Consultation on Common Texts. Reproduced by permission.
Revised Common Lectionary Daily Readings copyright © 2005 Consultation on Common Texts admin. Augsburg Fortress. Reproduced by permission. No further reproduction allowed without the written permission of Augsburg Fortress.
New Revised Standard Version Bible, copyright © 1989 National Council of the Churches of Christ in the United States of America. Used by permission. All rights reserved.