Days around Christmas
Year B
Daily Readings for Wednesday
December 27, 2023

---
God of glory,
you have given us a new name and robed us in salvation.
May we like Anna find our home in your presence,
and like Simeon recognize Jesus as the Christ,
so that, in joy and thanksgiving at becoming your children,
we may join with all creation to sing your praise. Amen.
Psalm 148
God's splendor is over earth and heaven
Praise the Lord!
Praise the Lord from the heavens;
praise him in the heights!
Praise him, all his angels;
praise him, all his host!
Praise him, sun and moon;
praise him, all you shining stars!
Praise him, you highest heavens,
and you waters above the heavens!
Let them praise the name of the Lord,
for he commanded and they were created.
He established them forever and ever;
he fixed their bounds, which cannot be passed.
Praise the Lord from the earth,
you sea monsters and all deeps,
fire and hail, snow and frost,
stormy wind fulfilling his command!
Mountains and all hills,
fruit trees and all cedars!
Wild animals and all cattle,
creeping things and flying birds!
Kings of the earth and all peoples,
princes and all rulers of the earth!
Young men and women alike,
old and young together!
Let them praise the name of the Lord,
for his name alone is exalted;
his glory is above earth and heaven.
He has raised up a horn for his people,
praise for all his faithful,
for the people of Israel who are close to him.
Praise the Lord!
Exodus 33:18-23
Moses asks to see God's glory
Moses said, "Show me your glory, I pray." And he said, "I will make all my goodness pass before you, and will proclaim before you the name, 'The Lord'; and I will be gracious to whom I will be gracious, and will show mercy on whom I will show mercy. But," he said, "you cannot see my face; for no one shall see me and live." And the Lord continued, "See, there is a place by me where you shall stand on the rock; and while my glory passes by I will put you in a cleft of the rock, and I will cover you with my hand until I have passed by; then I will take away my hand, and you shall see my back; but my face shall not be seen."
1 John 1:1-9
The word of life was revealed
We declare to you what was from the beginning, what we have heard, what we have seen with our eyes, what we have looked at and touched with our hands, concerning the word of life—this life was revealed, and we have seen it and testify to it, and declare to you the eternal life that was with the Father and was revealed to us—we declare to you what we have seen and heard so that you also may have fellowship with us; and truly our fellowship is with the Father and with his Son Jesus Christ. We are writing these things so that our joy may be complete.
This is the message we have heard from him and proclaim to you, that God is light and in him there is no darkness at all. If we say that we have fellowship with him while we are walking in darkness, we lie and do not do what is true; but if we walk in the light as he himself is in the light, we have fellowship with one another, and the blood of Jesus his Son cleanses us from all sin. If we say that we have no sin, we deceive ourselves, and the truth is not in us. If we confess our sins, he who is faithful and just will forgive us our sins and cleanse us from all unrighteousness.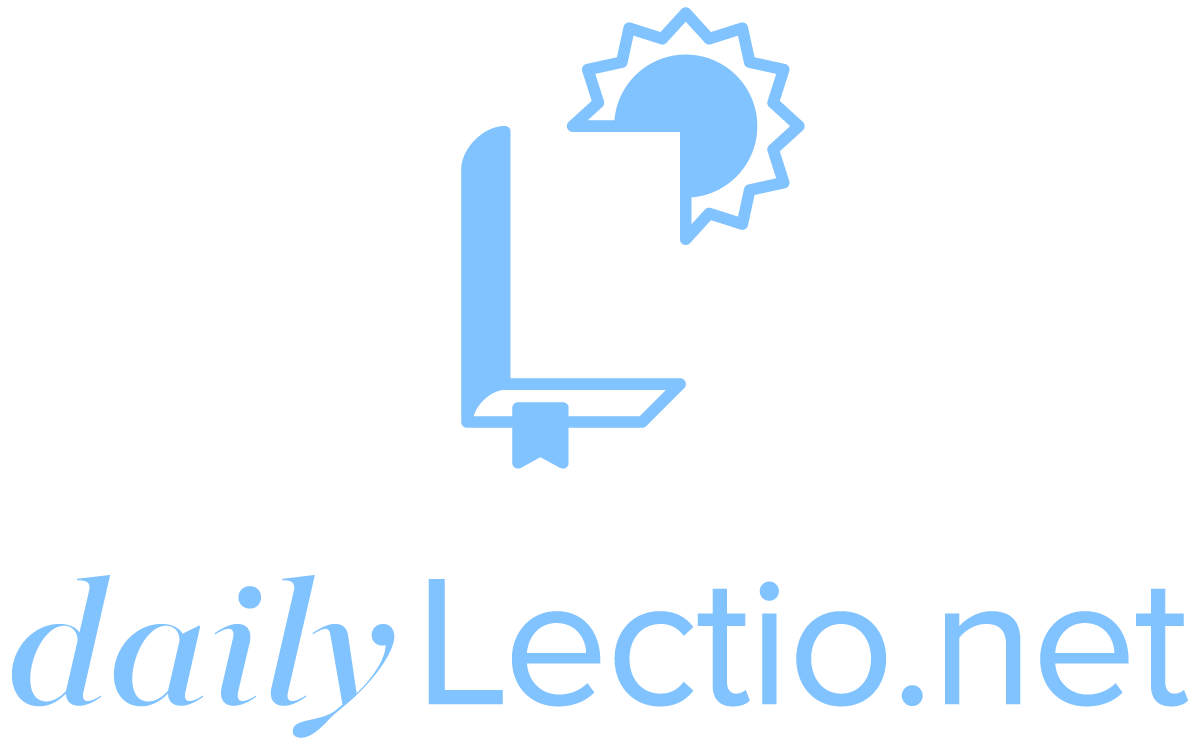 Download the DailyLectio App
Prayer reprinted from Revised Common Lectionary Prayers, © 2002 Consultation on Common Texts. Reproduced by permission.
Revised Common Lectionary Daily Readings copyright © 2005 Consultation on Common Texts admin. Augsburg Fortress. Reproduced by permission. No further reproduction allowed without the written permission of Augsburg Fortress.
New Revised Standard Version Bible, copyright © 1989 National Council of the Churches of Christ in the United States of America. Used by permission. All rights reserved.