Preparing for the Fourth

Sunday of Advent

Year B
Daily Readings for Friday
December 22, 2023

---
Ever-faithful God,
through prophets and angels
you promised to raise up a holy child
who would establish a household of peace and justice.
Open our hearts to receive your Son,
that we may open our doors
to welcome all people as sisters and brothers,
and establish your household in our time. Amen.
Psalm 89:1-4, 19-26
I sing of your love
I will sing of your steadfast love, O Lord, forever;
with my mouth I will proclaim your faithfulness to all generations.
I declare that your steadfast love is established forever;
your faithfulness is as firm as the heavens.
You said, "I have made a covenant with my chosen one,
I have sworn to my servant David:
'I will establish your descendants forever,
and build your throne for all generations.'" Selah
Then you spoke in a vision to your faithful one, and said:
"I have set the crown on one who is mighty,
I have exalted one chosen from the people.
I have found my servant David;
with my holy oil I have anointed him;
my hand shall always remain with him;
my arm also shall strengthen him.
The enemy shall not outwit him,
the wicked shall not humble him.
I will crush his foes before him
and strike down those who hate him.
My faithfulness and steadfast love shall be with him;
and in my name his horn shall be exalted.
I will set his hand on the sea
and his right hand on the rivers.
He shall cry to me, 'You are my Father,
my God, and the Rock of my salvation!'
2 Samuel 6:12-19
The ark of God enters Jerusalem
It was told King David, "The Lord has blessed the household of Obed-edom and all that belongs to him, because of the ark of God." So David went and brought up the ark of God from the house of Obed-edom to the city of David with rejoicing; and when those who bore the ark of the Lord had gone six paces, he sacrificed an ox and a fatling. David danced before the Lord with all his might; David was girded with a linen ephod. So David and all the house of Israel brought up the ark of the Lord with shouting, and with the sound of the trumpet.
As the ark of the Lord came into the city of David, Michal daughter of Saul looked out of the window, and saw King David leaping and dancing before the Lord; and she despised him in her heart.
They brought in the ark of the Lord, and set it in its place, inside the tent that David had pitched for it; and David offered burnt offerings and offerings of well-being before the Lord. When David had finished offering the burnt offerings and the offerings of well-being, he blessed the people in the name of the Lord of hosts, and distributed food among all the people, the whole multitude of Israel, both men and women, to each a cake of bread, a portion of meat, and a cake of raisins. Then all the people went back to their homes.
Hebrews 1:5-14
The advent of one higher than angels
For to which of the angels did God ever say,
"You are my Son;
today I have begotten you"?
Or again,
"I will be his Father,
and he will be my Son"?
And again, when he brings the firstborn into the world, he says,
"Let all God's angels worship him."
Of the angels he says,
"He makes his angels winds,
and his servants flames of fire."
But of the Son he says,
"Your throne, O God, is forever and ever,
and the righteous scepter is the scepter of your kingdom.
You have loved righteousness and hated wickedness;
therefore God, your God, has anointed you
with the oil of gladness beyond your companions."
And,
"In the beginning, Lord, you founded the earth,
and the heavens are the work of your hands;
they will perish, but you remain;
they will all wear out like clothing;
like a cloak you will roll them up,
and like clothing they will be changed.
But you are the same,
and your years will never end."
But to which of the angels has he ever said,
"Sit at my right hand
until I make your enemies a footstool for your feet"?
Are not all angels spirits in the divine service, sent to serve for the sake of those who are to inherit salvation?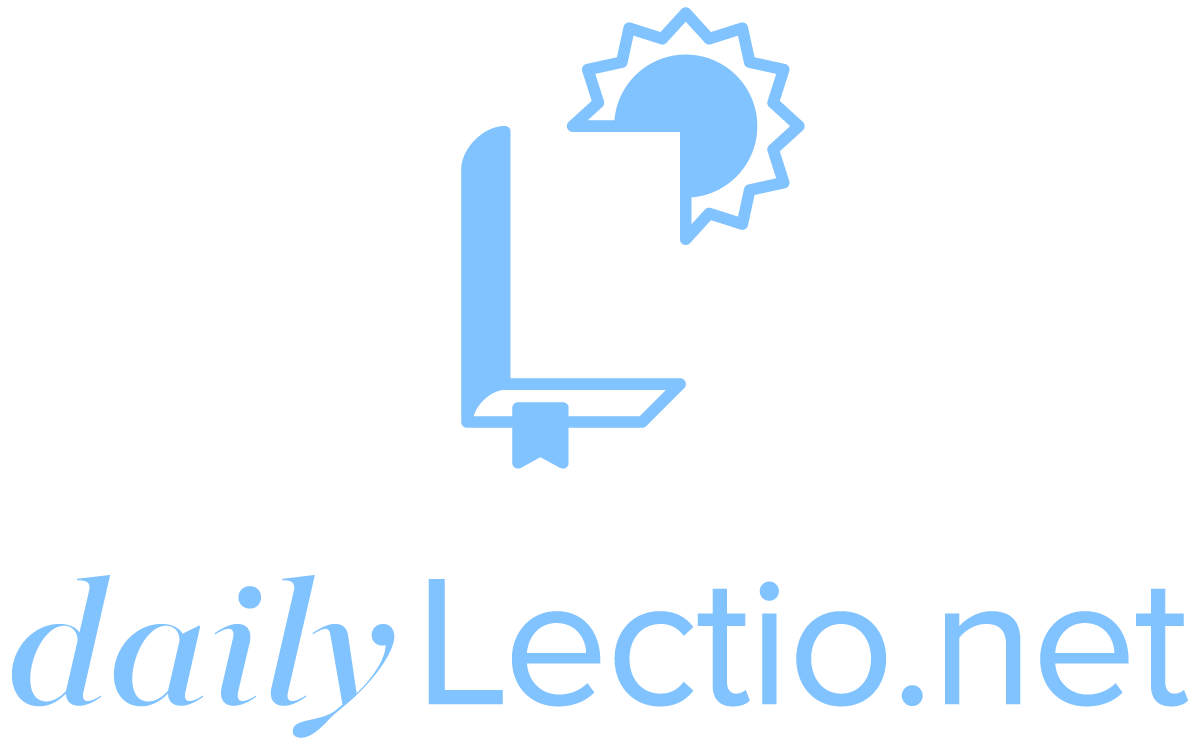 Download the DailyLectio App
Prayer reprinted from Revised Common Lectionary Prayers, © 2002 Consultation on Common Texts. Reproduced by permission.
Revised Common Lectionary Daily Readings copyright © 2005 Consultation on Common Texts admin. Augsburg Fortress. Reproduced by permission. No further reproduction allowed without the written permission of Augsburg Fortress.
New Revised Standard Version Bible, copyright © 1989 National Council of the Churches of Christ in the United States of America. Used by permission. All rights reserved.