Reflecting on the Third

Sunday of Advent

Year B
Daily Readings for Tuesday
December 19, 2023

---
Merciful God of peace,
your word, spoken by the prophets,
restores your people's life and hope.
Fill our hearts with the joy of your saving grace,
that we may hold fast to your great goodness
and in our lives proclaim your justice in all the world. Amen.
Psalm 125
Prayer for blessing
Those who trust in the Lord are like Mount Zion,
which cannot be moved, but abides forever.
As the mountains surround Jerusalem,
so the Lord surrounds his people,
from this time on and forevermore.
For the scepter of wickedness shall not rest
on the land allotted to the righteous,
so that the righteous might not stretch out
their hands to do wrong.
Do good, O Lord, to those who are good,
and to those who are upright in their hearts.
But those who turn aside to their own crooked ways
the Lord will lead away with evildoers.
Peace be upon Israel!
2 Kings 2:9-22
Elisha receives Elijah's spirit
When they had crossed, Elijah said to Elisha, "Tell me what I may do for you, before I am taken from you." Elisha said, "Please let me inherit a double share of your spirit." He responded, "You have asked a hard thing; yet, if you see me as I am being taken from you, it will be granted you; if not, it will not." As they continued walking and talking, a chariot of fire and horses of fire separated the two of them, and Elijah ascended in a whirlwind into heaven. Elisha kept watching and crying out, "Father, father! The chariots of Israel and its horsemen!" But when he could no longer see him, he grasped his own clothes and tore them in two pieces.
He picked up the mantle of Elijah that had fallen from him, and went back and stood on the bank of the Jordan. He took the mantle of Elijah that had fallen from him, and struck the water, saying, "Where is the Lord, the God of Elijah?" When he had struck the water, the water was parted to the one side and to the other, and Elisha went over.
When the company of prophets who were at Jericho saw him at a distance, they declared, "The spirit of Elijah rests on Elisha." They came to meet him and bowed to the ground before him. They said to him, "See now, we have fifty strong men among your servants; please let them go and seek your master; it may be that the spirit of the Lord has caught him up and thrown him down on some mountain or into some valley." He responded, "No, do not send them." But when they urged him until he was ashamed, he said, "Send them." So they sent fifty men who searched for three days but did not find him. When they came back to him (he had remained at Jericho), he said to them, "Did I not say to you, Do not go?"
Now the people of the city said to Elisha, "The location of this city is good, as my lord sees; but the water is bad, and the land is unfruitful." He said, "Bring me a new bowl, and put salt in it." So they brought it to him. Then he went to the spring of water and threw the salt into it, and said, "Thus says the Lord, I have made this water wholesome; from now on neither death nor miscarriage shall come from it." So the water has been wholesome to this day, according to the word that Elisha spoke.
Acts 3:17—4:4
Peter preaches about the prophets
"And now, friends, I know that you acted in ignorance, as did also your rulers. In this way God fulfilled what he had foretold through all the prophets, that his Messiah would suffer. Repent therefore, and turn to God so that your sins may be wiped out, so that times of refreshing may come from the presence of the Lord, and that he may send the Messiah appointed for you, that is, Jesus, who must remain in heaven until the time of universal restoration that God announced long ago through his holy prophets. Moses said, 'The Lord your God will raise up for you from your own people a prophet like me. You must listen to whatever he tells you. And it will be that everyone who does not listen to that prophet will be utterly rooted out of the people.' And all the prophets, as many as have spoken, from Samuel and those after him, also predicted these days. You are the descendants of the prophets and of the covenant that God gave to your ancestors, saying to Abraham, 'And in your descendants all the families of the earth shall be blessed.' When God raised up his servant, he sent him first to you, to bless you by turning each of you from your wicked ways."
While Peter and John were speaking to the people, the priests, the captain of the temple, and the Sadducees came to them, much annoyed because they were teaching the people and proclaiming that in Jesus there is the resurrection of the dead. So they arrested them and put them in custody until the next day, for it was already evening. But many of those who heard the word believed; and they numbered about five thousand.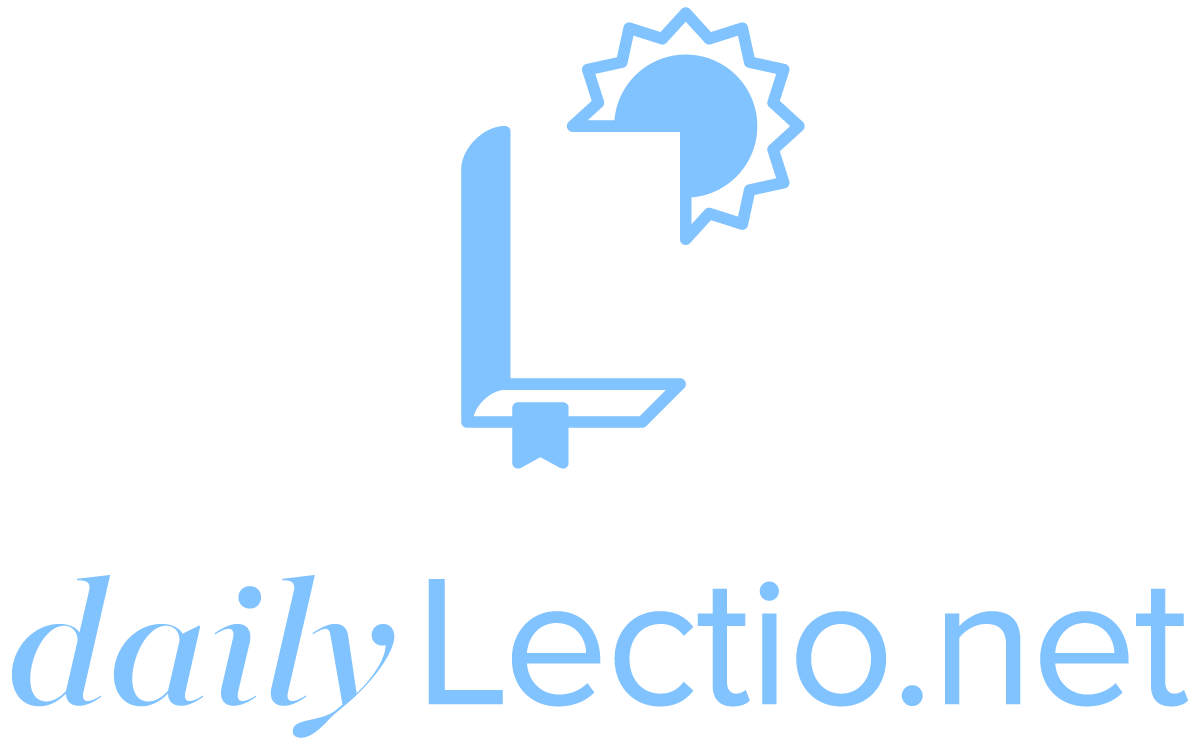 Download the DailyLectio App
Prayer reprinted from Revised Common Lectionary Prayers, © 2002 Consultation on Common Texts. Reproduced by permission.
Revised Common Lectionary Daily Readings copyright © 2005 Consultation on Common Texts admin. Augsburg Fortress. Reproduced by permission. No further reproduction allowed without the written permission of Augsburg Fortress.
New Revised Standard Version Bible, copyright © 1989 National Council of the Churches of Christ in the United States of America. Used by permission. All rights reserved.