Reflecting on the Second

Sunday of Advent

Year B
Daily Readings for Tuesday
December 12, 2023

---
God of hope,
you call us from the exile of our sin
with the good news of restoration;
you build a highway through the wilderness;
you come to us and bring us home.
Comfort us with the expectation of your saving power,
made known to us in Jesus Christ our Lord. Amen.
Psalm 27
God's level path
The Lord is my light and my salvation;
whom shall I fear?
The Lord is the stronghold of my life;
of whom shall I be afraid?
When evildoers assail me
to devour my flesh—
my adversaries and foes—
they shall stumble and fall.
Though an army encamp against me,
my heart shall not fear;
though war rise up against me,
yet I will be confident.
One thing I asked of the Lord,
that will I seek after:
to live in the house of the Lord
all the days of my life,
to behold the beauty of the Lord,
and to inquire in his temple.
For he will hide me in his shelter
in the day of trouble;
he will conceal me under the cover of his tent;
he will set me high on a rock.
Now my head is lifted up
above my enemies all around me,
and I will offer in his tent
sacrifices with shouts of joy;
I will sing and make melody to the Lord.
Hear, O Lord, when I cry aloud,
be gracious to me and answer me!
"Come," my heart says, "seek his face!"
Your face, Lord, do I seek.
Do not hide your face from me.
Do not turn your servant away in anger,
you who have been my help.
Do not cast me off, do not forsake me,
O God of my salvation!
If my father and mother forsake me,
the Lord will take me up.
Teach me your way, O Lord,
and lead me on a level path
because of my enemies.
Do not give me up to the will of my adversaries,
for false witnesses have risen against me,
and they are breathing out violence.
I believe that I shall see the goodness of the Lord
in the land of the living.
Wait for the Lord;
be strong, and let your heart take courage;
wait for the Lord!
Isaiah 4:2-6
God will wash Israel clean
On that day the branch of the Lord shall be beautiful and glorious, and the fruit of the land shall be the pride and glory of the survivors of Israel. Whoever is left in Zion and remains in Jerusalem will be called holy, everyone who has been recorded for life in Jerusalem, once the Lord has washed away the filth of the daughters of Zion and cleansed the bloodstains of Jerusalem from its midst by a spirit of judgment and by a spirit of burning. Then the Lord will create over the whole site of Mount Zion and over its places of assembly a cloud by day and smoke and the shining of a flaming fire by night. Indeed over all the glory there will be a canopy. It will serve as a pavilion, a shade by day from the heat, and a refuge and a shelter from the storm and rain.
Acts 11:1-18
John and Peter baptize
Now the apostles and the believers who were in Judea heard that the Gentiles had also accepted the word of God. So when Peter went up to Jerusalem, the circumcised believers criticized him, saying, "Why did you go to uncircumcised men and eat with them?" Then Peter began to explain it to them, step by step, saying, "I was in the city of Joppa praying, and in a trance I saw a vision. There was something like a large sheet coming down from heaven, being lowered by its four corners; and it came close to me. As I looked at it closely I saw four-footed animals, beasts of prey, reptiles, and birds of the air. I also heard a voice saying to me, 'Get up, Peter; kill and eat.' But I replied, 'By no means, Lord; for nothing profane or unclean has ever entered my mouth.' But a second time the voice answered from heaven, 'What God has made clean, you must not call profane.' This happened three times; then everything was pulled up again to heaven. At that very moment three men, sent to me from Caesarea, arrived at the house where we were. The Spirit told me to go with them and not to make a distinction between them and us. These six brothers also accompanied me, and we entered the man's house. He told us how he had seen the angel standing in his house and saying, 'Send to Joppa and bring Simon, who is called Peter; he will give you a message by which you and your entire household will be saved.' And as I began to speak, the Holy Spirit fell upon them just as it had upon us at the beginning. And I remembered the word of the Lord, how he had said, 'John baptized with water, but you will be baptized with the Holy Spirit.' If then God gave them the same gift that he gave us when we believed in the Lord Jesus Christ, who was I that I could hinder God?" When they heard this, they were silenced. And they praised God, saying, "Then God has given even to the Gentiles the repentance that leads to life."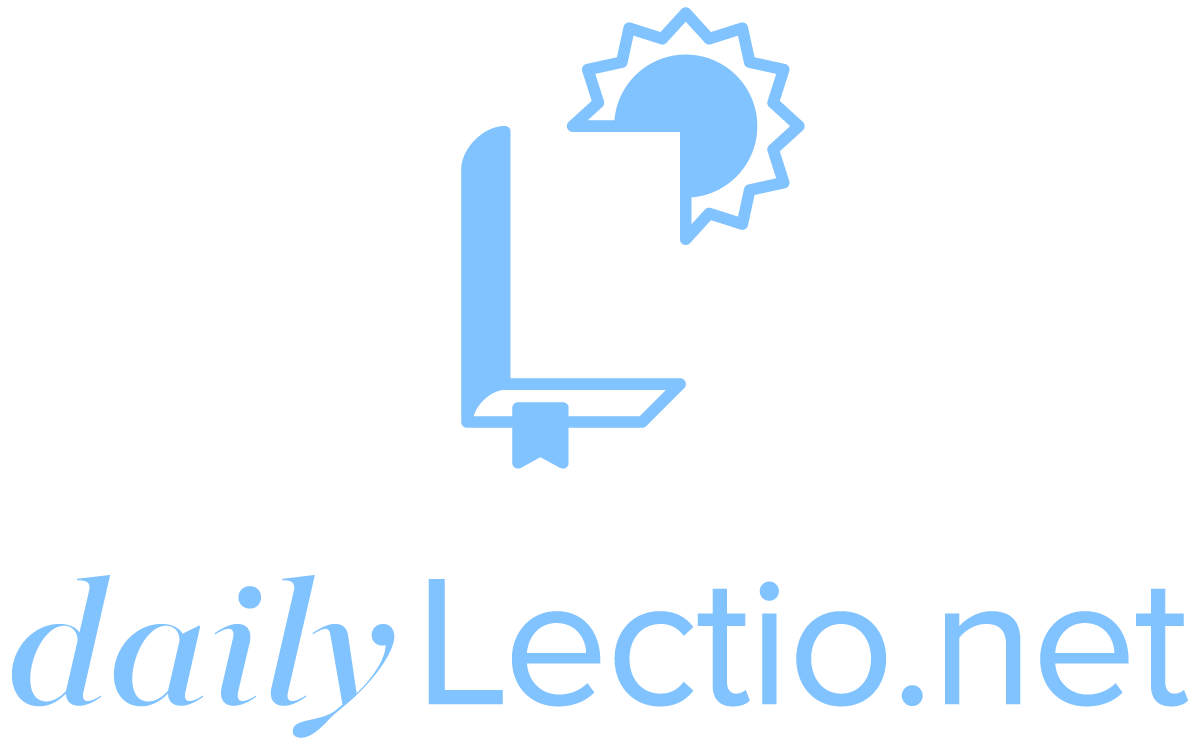 Download the DailyLectio App
Prayer reprinted from Revised Common Lectionary Prayers, © 2002 Consultation on Common Texts. Reproduced by permission.
Revised Common Lectionary Daily Readings copyright © 2005 Consultation on Common Texts admin. Augsburg Fortress. Reproduced by permission. No further reproduction allowed without the written permission of Augsburg Fortress.
New Revised Standard Version Bible, copyright © 1989 National Council of the Churches of Christ in the United States of America. Used by permission. All rights reserved.