Reflecting on the First

Sunday of Advent

Year B
Daily Readings for Tuesday
December 5, 2023

---
Creator of the world,
you are the potter, we are the clay,
and you form us in your image.
Shape our spirits
by Christ's transforming power,
that as one people
we may live out your compassion and justice,
whole and sound in the realm of your peace. Amen.
Psalm 79
Prayer for deliverance
O God, the nations have come into your inheritance;
they have defiled your holy temple;
they have laid Jerusalem in ruins.
They have given the bodies of your servants
to the birds of the air for food,
the flesh of your faithful to the wild animals of the earth.
They have poured out their blood like water
all around Jerusalem,
and there was no one to bury them.
We have become a taunt to our neighbors,
mocked and derided by those around us.
How long, O Lord? Will you be angry forever?
Will your jealous wrath burn like fire?
Pour out your anger on the nations
that do not know you,
and on the kingdoms
that do not call on your name.
For they have devoured Jacob
and laid waste his habitation.
Do not remember against us the iniquities of our ancestors;
let your compassion come speedily to meet us,
for we are brought very low.
Help us, O God of our salvation,
for the glory of your name;
deliver us, and forgive our sins,
for your name's sake.
Why should the nations say,
"Where is their God?"
Let the avenging of the outpoured blood of your servants
be known among the nations before our eyes.
Let the groans of the prisoners come before you;
according to your great power preserve those doomed to die.
Return sevenfold into the bosom of our neighbors
the taunts with which they taunted you, O Lord!
Then we your people, the flock of your pasture,
will give thanks to you forever;
from generation to generation we will recount your praise.
Micah 4:6-13
A promise of restoration after exile
In that day, says the Lord,
I will assemble the lame
and gather those who have been driven away,
and those whom I have afflicted.
The lame I will make the remnant,
and those who were cast off, a strong nation;
and the Lord will reign over them in Mount Zion
now and forevermore.
And you, O tower of the flock,
hill of daughter Zion,
to you it shall come,
the former dominion shall come,
the sovereignty of daughter Jerusalem.
Now why do you cry aloud?
Is there no king in you?
Has your counselor perished,
that pangs have seized you like a woman in labor?
Writhe and groan, O daughter Zion,
like a woman in labor;
for now you shall go forth from the city
and camp in the open country;
you shall go to Babylon.
There you shall be rescued,
there the Lord will redeem you
from the hands of your enemies.
Now many nations
are assembled against you,
saying, "Let her be profaned,
and let our eyes gaze upon Zion."
But they do not know
the thoughts of the Lord;
they do not understand his plan,
that he has gathered them as sheaves to the threshing floor.
Arise and thresh,
O daughter Zion,
for I will make your horn iron
and your hoofs bronze;
you shall beat in pieces many peoples,
and shall devote their gain to the Lord,
their wealth to the Lord of the whole earth.
Revelation 18:1-10
Judgment upon human pride
After this I saw another angel coming down from heaven, having great authority; and the earth was made bright with his splendor. He called out with a mighty voice,
"Fallen, fallen is Babylon the great!
It has become a dwelling place of demons,
a haunt of every foul spirit,
a haunt of every foul bird,
a haunt of every foul and hateful beast.
For all the nations have drunk
of the wine of the wrath of her fornication,
and the kings of the earth have committed fornication with her,
and the merchants of the earth have grown rich from the power of her luxury."
Then I heard another voice from heaven saying,
"Come out of her, my people,
so that you do not take part in her sins,
and so that you do not share in her plagues;
for her sins are heaped high as heaven,
and God has remembered her iniquities.
Render to her as she herself has rendered,
and repay her double for her deeds;
mix a double draught for her in the cup she mixed.
As she glorified herself and lived luxuriously,
so give her a like measure of torment and grief.
Since in her heart she says,
'I rule as a queen;
I am no widow,
and I will never see grief,'
therefore her plagues will come in a single day—
pestilence and mourning and famine—
and she will be burned with fire;
for mighty is the Lord God who judges her."
And the kings of the earth, who committed fornication and lived in luxury with her, will weep and wail over her when they see the smoke of her burning; they will stand far off, in fear of her torment, and say,
"Alas, alas, the great city,
Babylon, the mighty city!
For in one hour your judgment has come."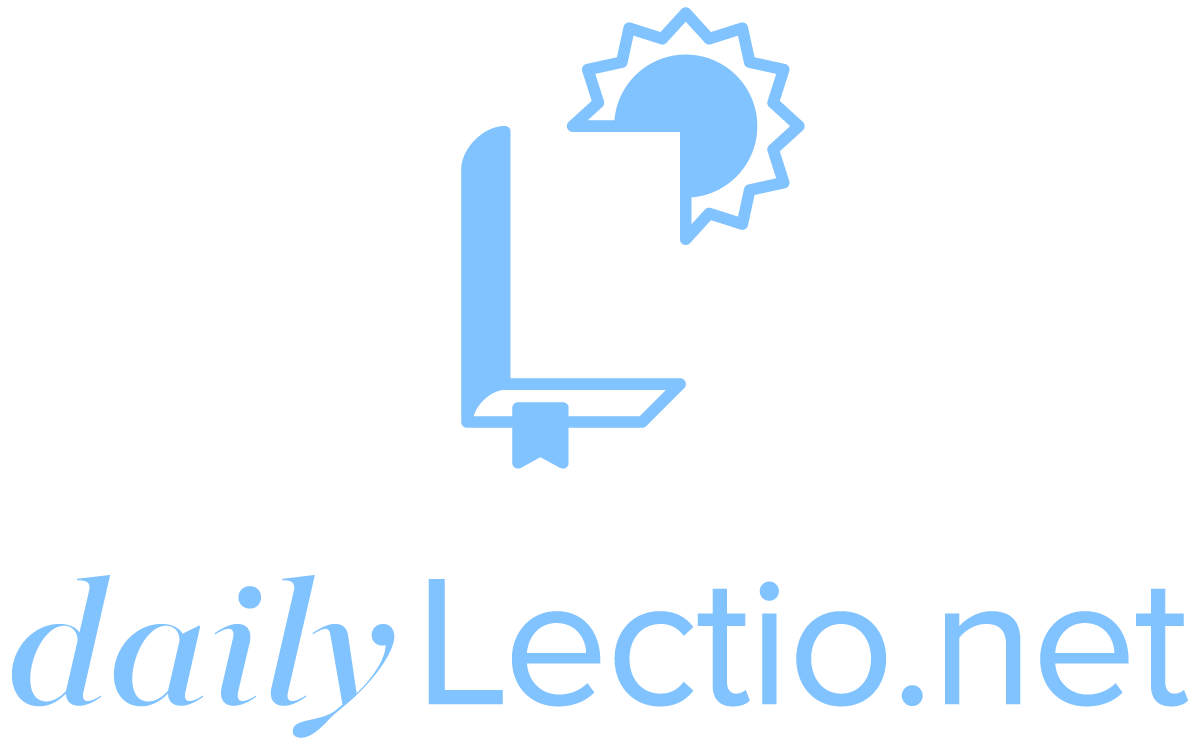 Download the DailyLectio App
Prayer reprinted from Revised Common Lectionary Prayers, © 2002 Consultation on Common Texts. Reproduced by permission.
Revised Common Lectionary Daily Readings copyright © 2005 Consultation on Common Texts admin. Augsburg Fortress. Reproduced by permission. No further reproduction allowed without the written permission of Augsburg Fortress.
New Revised Standard Version Bible, copyright © 1989 National Council of the Churches of Christ in the United States of America. Used by permission. All rights reserved.