Preparing for the First

Sunday of Advent

Year B
Daily Readings for Friday
December 1, 2023

---
Creator of the world,
you are the potter, we are the clay,
and you form us in your image.
Shape our spirits
by Christ's transforming power,
that as one people
we may live out your compassion and justice,
whole and sound in the realm of your peace. Amen.
Psalm 80:1-7, 17-19
We shall be saved
Give ear, O Shepherd of Israel,
you who lead Joseph like a flock!
You who are enthroned upon the cherubim, shine forth
before Ephraim and Benjamin and Manasseh.
Stir up your might,
and come to save us!
Restore us, O God;
let your face shine, that we may be saved.
O Lord God of hosts,
how long will you be angry with your people's prayers?
You have fed them with the bread of tears,
and given them tears to drink in full measure.
You make us the scorn of our neighbors;
our enemies laugh among themselves.
Restore us, O God of hosts;
let your face shine, that we may be saved.
But let your hand be upon the one at your right hand,
the one whom you made strong for yourself.
Then we will never turn back from you;
give us life, and we will call on your name.
Restore us, O Lord God of hosts;
let your face shine, that we may be saved.
Zechariah 14:1-9
God will come to rule
See, a day is coming for the Lord, when the plunder taken from you will be divided in your midst. For I will gather all the nations against Jerusalem to battle, and the city shall be taken and the houses looted and the women raped; half the city shall go into exile, but the rest of the people shall not be cut off from the city. Then the Lord will go forth and fight against those nations as when he fights on a day of battle. On that day his feet shall stand on the Mount of Olives, which lies before Jerusalem on the east; and the Mount of Olives shall be split in two from east to west by a very wide valley; so that one half of the Mount shall withdraw northward, and the other half southward. And you shall flee by the valley of the Lord's mountain, for the valley between the mountains shall reach to Azal; and you shall flee as you fled from the earthquake in the days of King Uzziah of Judah. Then the Lord my God will come, and all the holy ones with him.
On that day there shall not be either cold or frost. And there shall be continuous day (it is known to the Lord), not day and not night, for at evening time there shall be light.
On that day living waters shall flow out from Jerusalem, half of them to the eastern sea and half of them to the western sea; it shall continue in summer as in winter.
And the Lord will become king over all the earth; on that day the Lord will be one and his name one.
1 Thessalonians 4:1-18
A life pleasing to God to the end
Finally, brothers and sisters, we ask and urge you in the Lord Jesus that, as you learned from us how you ought to live and to please God (as, in fact, you are doing), you should do so more and more. For you know what instructions we gave you through the Lord Jesus. For this is the will of God, your sanctification: that you abstain from fornication; that each one of you know how to control your own body in holiness and honor, not with lustful passion, like the Gentiles who do not know God; that no one wrong or exploit a brother or sister in this matter, because the Lord is an avenger in all these things, just as we have already told you beforehand and solemnly warned you. For God did not call us to impurity but in holiness. Therefore whoever rejects this rejects not human authority but God, who also gives his Holy Spirit to you.
Now concerning love of the brothers and sisters, you do not need to have anyone write to you, for you yourselves have been taught by God to love one another; and indeed you do love all the brothers and sisters throughout Macedonia. But we urge you, beloved, to do so more and more, to aspire to live quietly, to mind your own affairs, and to work with your hands, as we directed you, so that you may behave properly toward outsiders and be dependent on no one.
But we do not want you to be uninformed, brothers and sisters, about those who have died, so that you may not grieve as others do who have no hope. For since we believe that Jesus died and rose again, even so, through Jesus, God will bring with him those who have died. For this we declare to you by the word of the Lord, that we who are alive, who are left until the coming of the Lord, will by no means precede those who have died. For the Lord himself, with a cry of command, with the archangel's call and with the sound of God's trumpet, will descend from heaven, and the dead in Christ will rise first. Then we who are alive, who are left, will be caught up in the clouds together with them to meet the Lord in the air; and so we will be with the Lord forever. Therefore encourage one another with these words.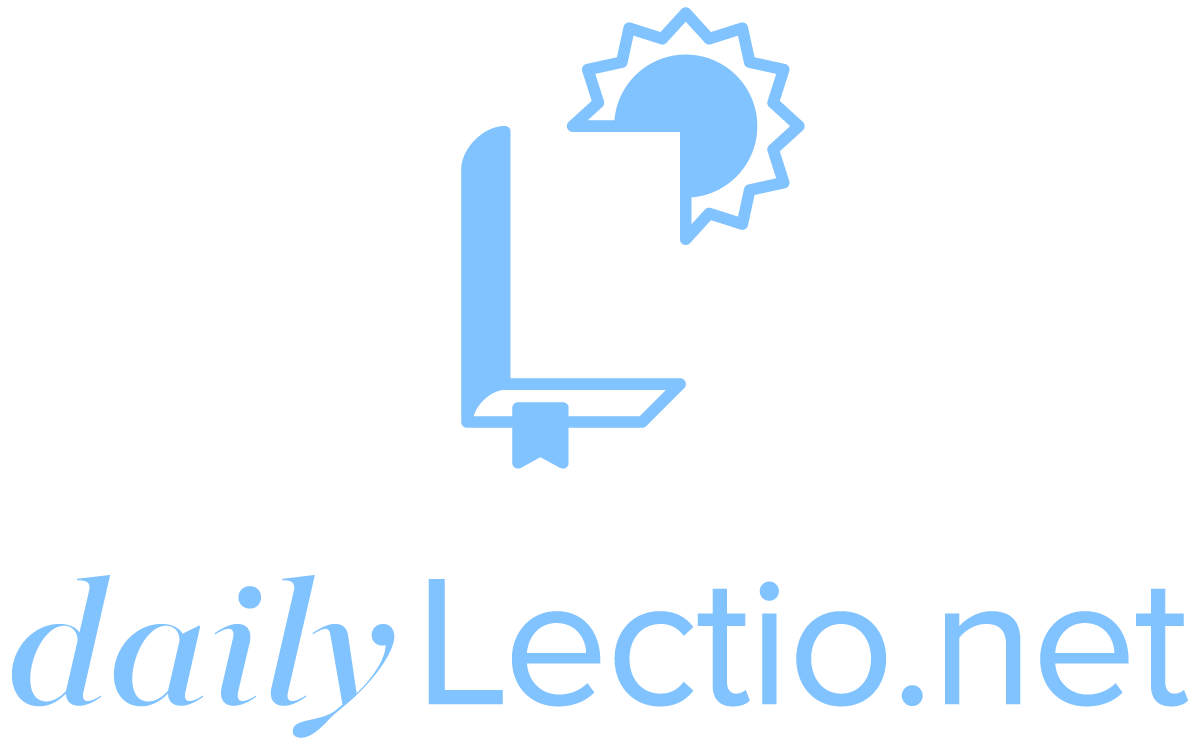 Download the DailyLectio App
Prayer reprinted from Revised Common Lectionary Prayers, © 2002 Consultation on Common Texts. Reproduced by permission.
Revised Common Lectionary Daily Readings copyright © 2005 Consultation on Common Texts admin. Augsburg Fortress. Reproduced by permission. No further reproduction allowed without the written permission of Augsburg Fortress.
New Revised Standard Version Bible, copyright © 1989 National Council of the Churches of Christ in the United States of America. Used by permission. All rights reserved.