Preparing for the First

Sunday of Advent

Year B
Daily Readings for Thursday
November 30, 2023

---
Creator of the world,
you are the potter, we are the clay,
and you form us in your image.
Shape our spirits
by Christ's transforming power,
that as one people
we may live out your compassion and justice,
whole and sound in the realm of your peace. Amen.
Psalm 80:1-7, 17-19
We shall be saved
Give ear, O Shepherd of Israel,
you who lead Joseph like a flock!
You who are enthroned upon the cherubim, shine forth
before Ephraim and Benjamin and Manasseh.
Stir up your might,
and come to save us!
Restore us, O God;
let your face shine, that we may be saved.
O Lord God of hosts,
how long will you be angry with your people's prayers?
You have fed them with the bread of tears,
and given them tears to drink in full measure.
You make us the scorn of our neighbors;
our enemies laugh among themselves.
Restore us, O God of hosts;
let your face shine, that we may be saved.
But let your hand be upon the one at your right hand,
the one whom you made strong for yourself.
Then we will never turn back from you;
give us life, and we will call on your name.
Restore us, O Lord God of hosts;
let your face shine, that we may be saved.
Zechariah 13:1-9
The coming day of God brings cleansing
On that day a fountain shall be opened for the house of David and the inhabitants of Jerusalem, to cleanse them from sin and impurity.
On that day, says the Lord of hosts, I will cut off the names of the idols from the land, so that they shall be remembered no more; and also I will remove from the land the prophets and the unclean spirit. And if any prophets appear again, their fathers and mothers who bore them will say to them, "You shall not live, for you speak lies in the name of the Lord"; and their fathers and their mothers who bore them shall pierce them through when they prophesy. On that day the prophets will be ashamed, every one, of their visions when they prophesy; they will not put on a hairy mantle in order to deceive, but each of them will say, "I am no prophet, I am a tiller of the soil; for the land has been my possession since my youth." And if anyone asks them, "What are these wounds on your chest?" the answer will be "The wounds I received in the house of my friends."
"Awake, O sword, against my shepherd,
against the man who is my associate,"
says the Lord of hosts.
Strike the shepherd, that the sheep may be scattered;
I will turn my hand against the little ones.
In the whole land, says the Lord,
two-thirds shall be cut off and perish,
and one-third shall be left alive.
And I will put this third into the fire,
refine them as one refines silver,
and test them as gold is tested.
They will call on my name,
and I will answer them.
I will say, "They are my people";
and they will say, "The Lord is our God."
Revelation 14:6-13
Hold fast to the faith
Then I saw another angel flying in midheaven, with an eternal gospel to proclaim to those who live on the earth—to every nation and tribe and language and people. He said in a loud voice, "Fear God and give him glory, for the hour of his judgment has come; and worship him who made heaven and earth, the sea and the springs of water."
Then another angel, a second, followed, saying, "Fallen, fallen is Babylon the great! She has made all nations drink of the wine of the wrath of her fornication."
Then another angel, a third, followed them, crying with a loud voice, "Those who worship the beast and its image, and receive a mark on their foreheads or on their hands, they will also drink the wine of God's wrath, poured unmixed into the cup of his anger, and they will be tormented with fire and sulfur in the presence of the holy angels and in the presence of the Lamb. And the smoke of their torment goes up forever and ever. There is no rest day or night for those who worship the beast and its image and for anyone who receives the mark of its name."
Here is a call for the endurance of the saints, those who keep the commandments of God and hold fast to the faith of Jesus.
And I heard a voice from heaven saying, "Write this: Blessed are the dead who from now on die in the Lord." "Yes," says the Spirit, "they will rest from their labors, for their deeds follow them."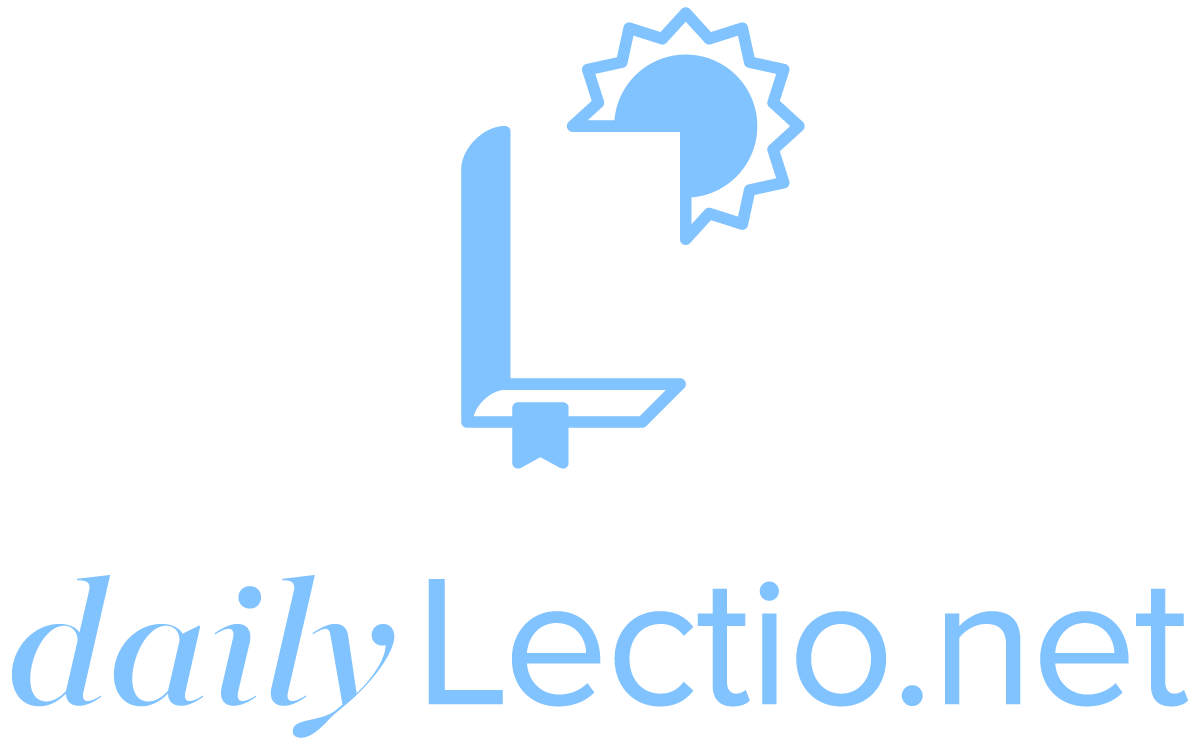 Download the DailyLectio App
Prayer reprinted from Revised Common Lectionary Prayers, © 2002 Consultation on Common Texts. Reproduced by permission.
Revised Common Lectionary Daily Readings copyright © 2005 Consultation on Common Texts admin. Augsburg Fortress. Reproduced by permission. No further reproduction allowed without the written permission of Augsburg Fortress.
New Revised Standard Version Bible, copyright © 1989 National Council of the Churches of Christ in the United States of America. Used by permission. All rights reserved.