Preparing for the Seventh

Sunday of Easter

Year A
Daily Readings for Saturday
May 20, 2023

---
O God of glory,
your Son Jesus Christ suffered for us
and ascended to your right hand.
Unite us with Christ and each other,
in suffering and in joy,
that all your children may be drawn
into your bountiful dwelling. Amen.
Psalm 93
Praise to God who reigns
The Lord is king, he is robed in majesty;
the Lord is robed, he is girded with strength.
He has established the world; it shall never be moved;
your throne is established from of old;
you are from everlasting.
The floods have lifted up, O Lord,
the floods have lifted up their voice;
the floods lift up their roaring.
More majestic than the thunders of mighty waters,
more majestic than the waves of the sea,
majestic on high is the Lord!
Your decrees are very sure;
holiness befits your house,
O Lord, forevermore.
2 Kings 2:13-15
The spirit rests on Elisha
He picked up the mantle of Elijah that had fallen from him, and went back and stood on the bank of the Jordan. He took the mantle of Elijah that had fallen from him, and struck the water, saying, "Where is the Lord, the God of Elijah?" When he had struck the water, the water was parted to the one side and to the other, and Elisha went over.
When the company of prophets who were at Jericho saw him at a distance, they declared, "The spirit of Elijah rests on Elisha." They came to meet him and bowed to the ground before him.
John 8:21-30
Jesus speaks of going to the Father
Again he said to them, "I am going away, and you will search for me, but you will die in your sin. Where I am going, you cannot come." Then the Jews said, "Is he going to kill himself? Is that what he means by saying, 'Where I am going, you cannot come'?" He said to them, "You are from below, I am from above; you are of this world, I am not of this world. I told you that you would die in your sins, for you will die in your sins unless you believe that I am he." They said to him, "Who are you?" Jesus said to them, "Why do I speak to you at all? I have much to say about you and much to condemn; but the one who sent me is true, and I declare to the world what I have heard from him." They did not understand that he was speaking to them about the Father. So Jesus said, "When you have lifted up the Son of Man, then you will realize that I am he, and that I do nothing on my own, but I speak these things as the Father instructed me. And the one who sent me is with me; he has not left me alone, for I always do what is pleasing to him." As he was saying these things, many believed in him.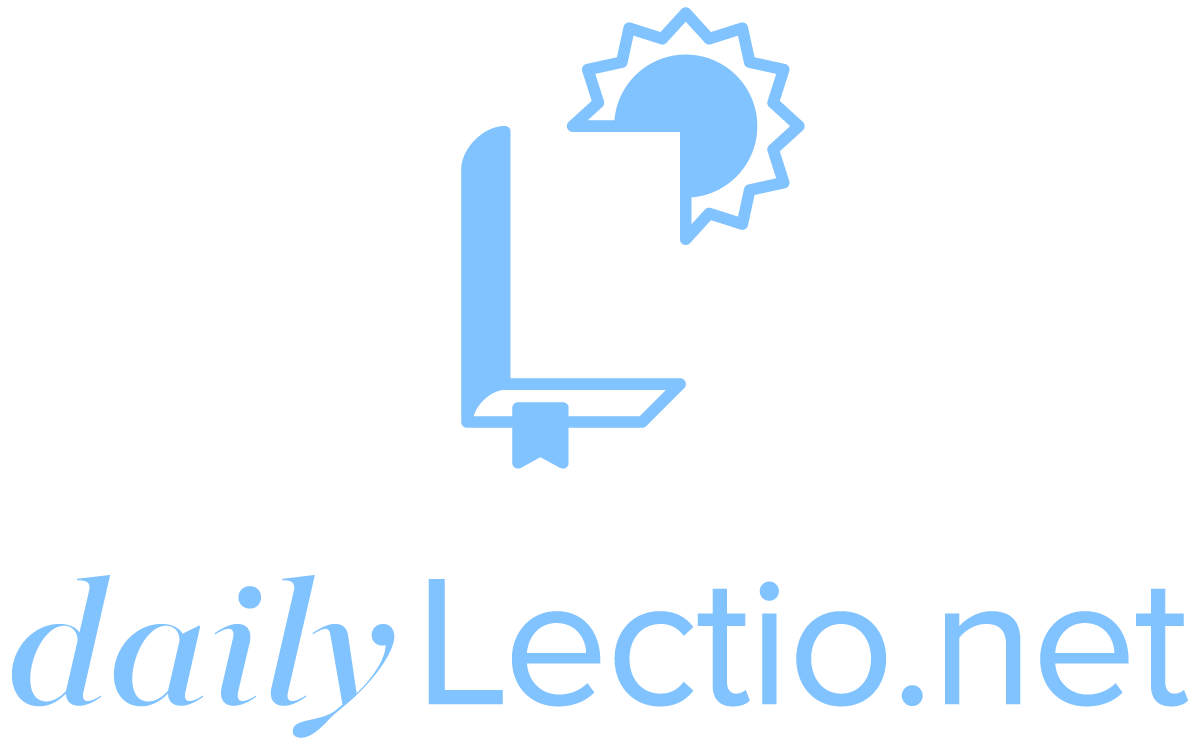 Download the DailyLectio App
Prayer reprinted from Revised Common Lectionary Prayers, © 2002 Consultation on Common Texts. Reproduced by permission.
Revised Common Lectionary Daily Readings copyright © 2005 Consultation on Common Texts admin. Augsburg Fortress. Reproduced by permission. No further reproduction allowed without the written permission of Augsburg Fortress.
New Revised Standard Version Bible, copyright © 1989 National Council of the Churches of Christ in the United States of America. Used by permission. All rights reserved.