Preparing for the Fifth

Sunday of Easter

Year A
Daily Readings for Saturday
May 6, 2023

---
Risen Christ,
you prepare a place for us,
in the home of the Mother-and-Father of us all.
Draw us more deeply into yourself,
through scripture read,
water splashed,
bread broken,
wine poured,
so that when our hearts are troubled,
we will know you more completely
as the way, the truth, and the life. Amen.
Psalm 31:1-5, 15-16
I commend my spirit
In you, O Lord, I seek refuge;
do not let me ever be put to shame;
in your righteousness deliver me.
Incline your ear to me;
rescue me speedily.
Be a rock of refuge for me,
a strong fortress to save me.
You are indeed my rock and my fortress;
for your name's sake lead me and guide me,
take me out of the net that is hidden for me,
for you are my refuge.
Into your hand I commit my spirit;
you have redeemed me, O Lord, faithful God.
My times are in your hand;
deliver me from the hand of my enemies and persecutors.
Let your face shine upon your servant;
save me in your steadfast love.
Jeremiah 26:20-24
A prophet of the Lord persecuted
There was another man prophesying in the name of the Lord, Uriah son of Shemaiah from Kiriath-jearim. He prophesied against this city and against this land in words exactly like those of Jeremiah. And when King Jehoiakim, with all his warriors and all the officials, heard his words, the king sought to put him to death; but when Uriah heard of it, he was afraid and fled and escaped to Egypt. Then King Jehoiakim sent Elnathan son of Achbor and men with him to Egypt, and they took Uriah from Egypt and brought him to King Jehoiakim, who struck him down with the sword and threw his dead body into the burial place of the common people.
But the hand of Ahikam son of Shaphan was with Jeremiah so that he was not given over into the hands of the people to be put to death.
John 8:48-59
Jesus the greater prophet
The Jews answered him, "Are we not right in saying that you are a Samaritan and have a demon?" Jesus answered, "I do not have a demon; but I honor my Father, and you dishonor me. Yet I do not seek my own glory; there is one who seeks it and he is the judge. Very truly, I tell you, whoever keeps my word will never see death." The Jews said to him, "Now we know that you have a demon. Abraham died, and so did the prophets; yet you say, 'Whoever keeps my word will never taste death.' Are you greater than our father Abraham, who died? The prophets also died. Who do you claim to be?" Jesus answered, "If I glorify myself, my glory is nothing. It is my Father who glorifies me, he of whom you say, 'He is our God,' though you do not know him. But I know him; if I would say that I do not know him, I would be a liar like you. But I do know him and I keep his word. Your ancestor Abraham rejoiced that he would see my day; he saw it and was glad." Then the Jews said to him, "You are not yet fifty years old, and have you seen Abraham?" Jesus said to them, "Very truly, I tell you, before Abraham was, I am." So they picked up stones to throw at him, but Jesus hid himself and went out of the temple.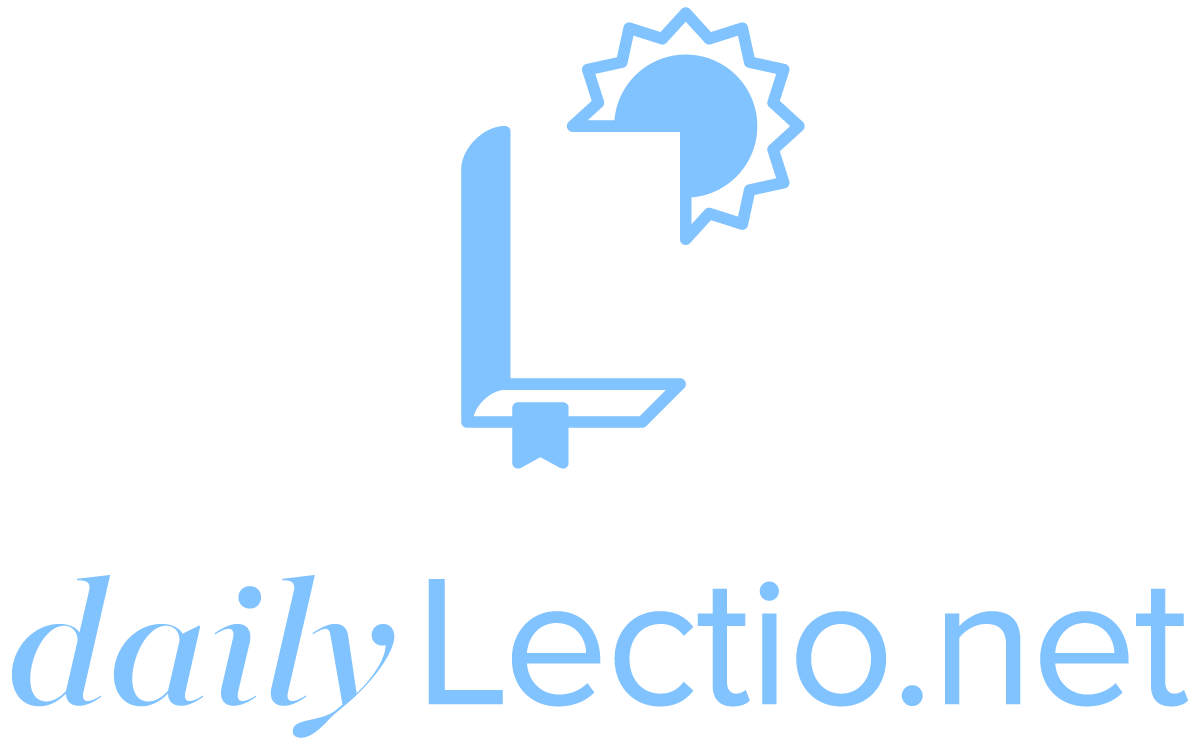 Download the DailyLectio App
Prayer reprinted from Revised Common Lectionary Prayers, © 2002 Consultation on Common Texts. Reproduced by permission.
Revised Common Lectionary Daily Readings copyright © 2005 Consultation on Common Texts admin. Augsburg Fortress. Reproduced by permission. No further reproduction allowed without the written permission of Augsburg Fortress.
New Revised Standard Version Bible, copyright © 1989 National Council of the Churches of Christ in the United States of America. Used by permission. All rights reserved.