Preparing for the Second

Sunday of Easter

Year A
Daily Readings for Friday
April 14, 2023

---
Blessed are you,
O God of our Lord Jesus Christ,
in whom we receive the legacy of a living hope,
born again not only from his death
but also from his resurrection.
May we who have received forgiveness of sins
through the Holy Spirit live to set others free,
until, at length, we enter the inheritance
that is imperishable and unfading,
where Christ lives and reigns with you and the same Spirit. Amen.
Psalm 16
Fullness of joy
Protect me, O God, for in you I take refuge.
I say to the Lord, "You are my Lord;
I have no good apart from you."
As for the holy ones in the land, they are the noble,
in whom is all my delight.
Those who choose another god multiply their sorrows;
their drink offerings of blood I will not pour out
or take their names upon my lips.
The Lord is my chosen portion and my cup;
you hold my lot.
The boundary lines have fallen for me in pleasant places;
I have a goodly heritage.
I bless the Lord who gives me counsel;
in the night also my heart instructs me.
I keep the Lord always before me;
because he is at my right hand, I shall not be moved.
Therefore my heart is glad, and my soul rejoices;
my body also rests secure.
For you do not give me up to Sheol,
or let your faithful one see the Pit.
You show me the path of life.
In your presence there is fullness of joy;
in your right hand are pleasures forevermore.
Song of Solomon 5:9—6:3
The beloved in the garden
What is your beloved more than another beloved,
O fairest among women?
What is your beloved more than another beloved,
that you thus adjure us?
My beloved is all radiant and ruddy,
distinguished among ten thousand.
His head is the finest gold;
his locks are wavy,
black as a raven.
His eyes are like doves
beside springs of water,
bathed in milk,
fitly set.
His cheeks are like beds of spices,
yielding fragrance.
His lips are lilies,
distilling liquid myrrh.
His arms are rounded gold,
set with jewels.
His body is ivory work,
encrusted with sapphires.
His legs are alabaster columns,
set upon bases of gold.
His appearance is like Lebanon,
choice as the cedars.
His speech is most sweet,
and he is altogether desirable.
This is my beloved and this is my friend,
O daughters of Jerusalem.
Where has your beloved gone,
O fairest among women?
Which way has your beloved turned,
that we may seek him with you?
My beloved has gone down to his garden,
to the beds of spices,
to pasture his flock in the gardens,
and to gather lilies.
I am my beloved's and my beloved is mine;
he pastures his flock among the lilies.
1 Corinthians 15:1-11
Witnesses to the risen Christ
Now I would remind you, brothers and sisters, of the good news that I proclaimed to you, which you in turn received, in which also you stand, through which also you are being saved, if you hold firmly to the message that I proclaimed to you—unless you have come to believe in vain.
For I handed on to you as of first importance what I in turn had received: that Christ died for our sins in accordance with the scriptures, and that he was buried, and that he was raised on the third day in accordance with the scriptures, and that he appeared to Cephas, then to the twelve. Then he appeared to more than five hundred brothers and sisters at one time, most of whom are still alive, though some have died. Then he appeared to James, then to all the apostles. Last of all, as to one untimely born, he appeared also to me. For I am the least of the apostles, unfit to be called an apostle, because I persecuted the church of God. But by the grace of God I am what I am, and his grace toward me has not been in vain. On the contrary, I worked harder than any of them—though it was not I, but the grace of God that is with me. Whether then it was I or they, so we proclaim and so you have come to believe.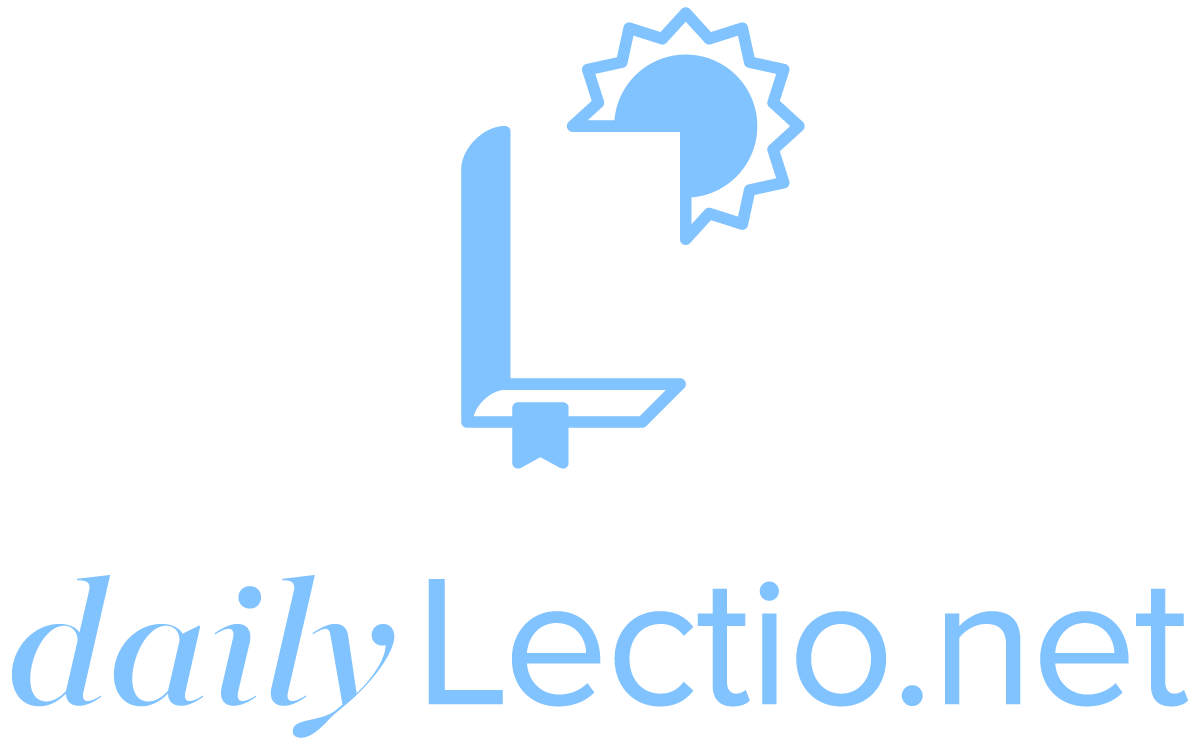 Download the DailyLectio App
Prayer reprinted from Revised Common Lectionary Prayers, © 2002 Consultation on Common Texts. Reproduced by permission.
Revised Common Lectionary Daily Readings copyright © 2005 Consultation on Common Texts admin. Augsburg Fortress. Reproduced by permission. No further reproduction allowed without the written permission of Augsburg Fortress.
New Revised Standard Version Bible, copyright © 1989 National Council of the Churches of Christ in the United States of America. Used by permission. All rights reserved.