Reflecting on the Third

Sunday in Lent

Year A
Daily Readings for Wednesday
March 15, 2023

---
Enduring Presence,
goal and guide,
you go before and await our coming.
Only our thirst compels us
beyond complaint to conversation,
beyond rejection to relationship.
Pour your love into our hearts,
that, refreshed and renewed,
we may invite others to the living water
given to us in Jesus Christ our Lord. Amen.
Psalm 81
We drink from the rock
Sing aloud to God our strength;
shout for joy to the God of Jacob.
Raise a song, sound the tambourine,
the sweet lyre with the harp.
Blow the trumpet at the new moon,
at the full moon, on our festal day.
For it is a statute for Israel,
an ordinance of the God of Jacob.
He made it a decree in Joseph,
when he went out over the land of Egypt.
I hear a voice I had not known:
"I relieved your shoulder of the burden;
your hands were freed from the basket.
In distress you called, and I rescued you;
I answered you in the secret place of thunder;
I tested you at the waters of Meribah. Selah
Hear, O my people, while I admonish you;
O Israel, if you would but listen to me!
There shall be no strange god among you;
you shall not bow down to a foreign god.
I am the Lord your God,
who brought you up out of the land of Egypt.
Open your mouth wide and I will fill it.
"But my people did not listen to my voice;
Israel would not submit to me.
So I gave them over to their stubborn hearts,
to follow their own counsels.
O that my people would listen to me,
that Israel would walk in my ways!
Then I would quickly subdue their enemies,
and turn my hand against their foes.
Those who hate the Lord would cringe before him,
and their doom would last forever.
I would feed you with the finest of the wheat,
and with honey from the rock I would satisfy you."
Jeremiah 2:4-13
God, the living water
Hear the word of the Lord, O house of Jacob, and all the families of the house of Israel. Thus says the Lord:
What wrong did your ancestors find in me
that they went far from me,
and went after worthless things, and became worthless themselves?
They did not say, "Where is the Lord
who brought us up from the land of Egypt,
who led us in the wilderness,
in a land of deserts and pits,
in a land of drought and deep darkness,
in a land that no one passes through,
where no one lives?"
I brought you into a plentiful land
to eat its fruits and its good things.
But when you entered you defiled my land,
and made my heritage an abomination.
The priests did not say, "Where is the Lord?"
Those who handle the law did not know me;
the rulers transgressed against me;
the prophets prophesied by Baal,
and went after things that do not profit.
Therefore once more I accuse you,
says the Lord,
and I accuse your children's children.
Cross to the coasts of Cyprus and look,
send to Kedar and examine with care;
see if there has ever been such a thing.
Has a nation changed its gods,
even though they are no gods?
But my people have changed their glory
for something that does not profit.
Be appalled, O heavens, at this,
be shocked, be utterly desolate,
says the Lord,
for my people have committed two evils:
they have forsaken me,
the fountain of living water,
and dug out cisterns for themselves,
cracked cisterns
that can hold no water.
John 7:14-31, 37-39
Drink of Jesus, the Messiah
About the middle of the festival Jesus went up into the temple and began to teach. The Jews were astonished at it, saying, "How does this man have such learning, when he has never been taught?" Then Jesus answered them, "My teaching is not mine but his who sent me. Anyone who resolves to do the will of God will know whether the teaching is from God or whether I am speaking on my own. Those who speak on their own seek their own glory; but the one who seeks the glory of him who sent him is true, and there is nothing false in him.
"Did not Moses give you the law? Yet none of you keeps the law. Why are you looking for an opportunity to kill me?" The crowd answered, "You have a demon! Who is trying to kill you?" Jesus answered them, "I performed one work, and all of you are astonished. Moses gave you circumcision (it is, of course, not from Moses, but from the patriarchs), and you circumcise a man on the sabbath. If a man receives circumcision on the sabbath in order that the law of Moses may not be broken, are you angry with me because I healed a man's whole body on the sabbath? Do not judge by appearances, but judge with right judgment."
Now some of the people of Jerusalem were saying, "Is not this the man whom they are trying to kill? And here he is, speaking openly, but they say nothing to him! Can it be that the authorities really know that this is the Messiah? Yet we know where this man is from; but when the Messiah comes, no one will know where he is from." Then Jesus cried out as he was teaching in the temple, "You know me, and you know where I am from. I have not come on my own. But the one who sent me is true, and you do not know him. I know him, because I am from him, and he sent me." Then they tried to arrest him, but no one laid hands on him, because his hour had not yet come. Yet many in the crowd believed in him and were saying, "When the Messiah comes, will he do more signs than this man has done?"
On the last day of the festival, the great day, while Jesus was standing there, he cried out, "Let anyone who is thirsty come to me, and let the one who believes in me drink. As the scripture has said, 'Out of the believer's heart shall flow rivers of living water.'" Now he said this about the Spirit, which believers in him were to receive; for as yet there was no Spirit, because Jesus was not yet glorified.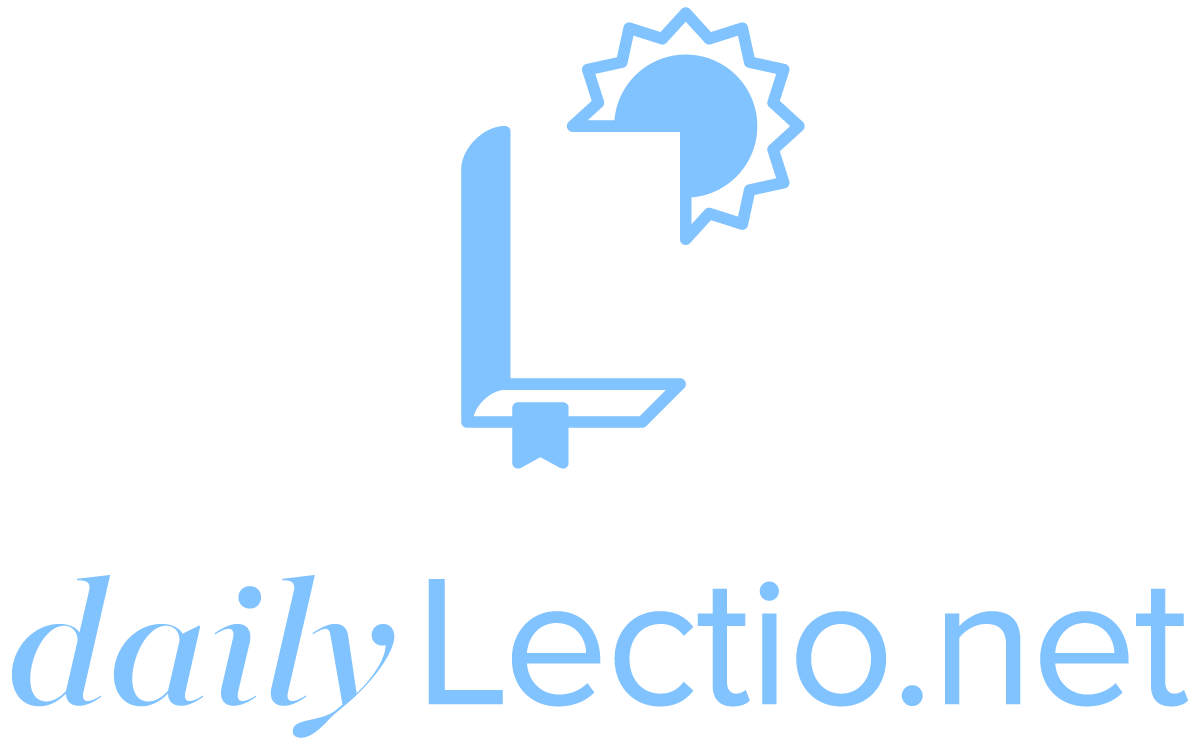 Download the DailyLectio App
Prayer reprinted from Revised Common Lectionary Prayers, © 2002 Consultation on Common Texts. Reproduced by permission.
Revised Common Lectionary Daily Readings copyright © 2005 Consultation on Common Texts admin. Augsburg Fortress. Reproduced by permission. No further reproduction allowed without the written permission of Augsburg Fortress.
New Revised Standard Version Bible, copyright © 1989 National Council of the Churches of Christ in the United States of America. Used by permission. All rights reserved.