Reflecting on the Third

Sunday in Lent

Year A
Daily Readings for Monday
March 13, 2023

---
Enduring Presence,
goal and guide,
you go before and await our coming.
Only our thirst compels us
beyond complaint to conversation,
beyond rejection to relationship.
Pour your love into our hearts,
that, refreshed and renewed,
we may invite others to the living water
given to us in Jesus Christ our Lord. Amen.
Psalm 81
We drink from the rock
Sing aloud to God our strength;
shout for joy to the God of Jacob.
Raise a song, sound the tambourine,
the sweet lyre with the harp.
Blow the trumpet at the new moon,
at the full moon, on our festal day.
For it is a statute for Israel,
an ordinance of the God of Jacob.
He made it a decree in Joseph,
when he went out over the land of Egypt.
I hear a voice I had not known:
"I relieved your shoulder of the burden;
your hands were freed from the basket.
In distress you called, and I rescued you;
I answered you in the secret place of thunder;
I tested you at the waters of Meribah. Selah
Hear, O my people, while I admonish you;
O Israel, if you would but listen to me!
There shall be no strange god among you;
you shall not bow down to a foreign god.
I am the Lord your God,
who brought you up out of the land of Egypt.
Open your mouth wide and I will fill it.
"But my people did not listen to my voice;
Israel would not submit to me.
So I gave them over to their stubborn hearts,
to follow their own counsels.
O that my people would listen to me,
that Israel would walk in my ways!
Then I would quickly subdue their enemies,
and turn my hand against their foes.
Those who hate the Lord would cringe before him,
and their doom would last forever.
I would feed you with the finest of the wheat,
and with honey from the rock I would satisfy you."
Genesis 24:1-27
Rebekah at the well
Now Abraham was old, well advanced in years; and the Lord had blessed Abraham in all things. Abraham said to his servant, the oldest of his house, who had charge of all that he had, "Put your hand under my thigh and I will make you swear by the Lord, the God of heaven and earth, that you will not get a wife for my son from the daughters of the Canaanites, among whom I live, but will go to my country and to my kindred and get a wife for my son Isaac." The servant said to him, "Perhaps the woman may not be willing to follow me to this land; must I then take your son back to the land from which you came?" Abraham said to him, "See to it that you do not take my son back there. The Lord, the God of heaven, who took me from my father's house and from the land of my birth, and who spoke to me and swore to me, 'To your offspring I will give this land,' he will send his angel before you, and you shall take a wife for my son from there. But if the woman is not willing to follow you, then you will be free from this oath of mine; only you must not take my son back there." So the servant put his hand under the thigh of Abraham his master and swore to him concerning this matter.
Then the servant took ten of his master's camels and departed, taking all kinds of choice gifts from his master; and he set out and went to Aram-naharaim, to the city of Nahor. He made the camels kneel down outside the city by the well of water; it was toward evening, the time when women go out to draw water. And he said, "O Lord, God of my master Abraham, please grant me success today and show steadfast love to my master Abraham. I am standing here by the spring of water, and the daughters of the townspeople are coming out to draw water. Let the girl to whom I shall say, 'Please offer your jar that I may drink,' and who shall say, 'Drink, and I will water your camels'—let her be the one whom you have appointed for your servant Isaac. By this I shall know that you have shown steadfast love to my master."
Before he had finished speaking, there was Rebekah, who was born to Bethuel son of Milcah, the wife of Nahor, Abraham's brother, coming out with her water jar on her shoulder. The girl was very fair to look upon, a virgin, whom no man had known. She went down to the spring, filled her jar, and came up. Then the servant ran to meet her and said, "Please let me sip a little water from your jar." "Drink, my lord," she said, and quickly lowered her jar upon her hand and gave him a drink. When she had finished giving him a drink, she said, "I will draw for your camels also, until they have finished drinking." So she quickly emptied her jar into the trough and ran again to the well to draw, and she drew for all his camels. The man gazed at her in silence to learn whether or not the Lord had made his journey successful.
When the camels had finished drinking, the man took a gold nose-ring weighing a half shekel, and two bracelets for her arms weighing ten gold shekels, and said, "Tell me whose daughter you are. Is there room in your father's house for us to spend the night?" She said to him, "I am the daughter of Bethuel son of Milcah, whom she bore to Nahor." She added, "We have plenty of straw and fodder and a place to spend the night." The man bowed his head and worshiped the Lord and said, "Blessed be the Lord, the God of my master Abraham, who has not forsaken his steadfast love and his faithfulness toward my master. As for me, the Lord has led me on the way to the house of my master's kin."
2 John 1-13
A woman reminded to abide in Christ
The elder to the elect lady and her children, whom I love in the truth, and not only I but also all who know the truth, because of the truth that abides in us and will be with us forever:
Grace, mercy, and peace will be with us from God the Father and from Jesus Christ, the Father's Son, in truth and love.
I was overjoyed to find some of your children walking in the truth, just as we have been commanded by the Father. But now, dear lady, I ask you, not as though I were writing you a new commandment, but one we have had from the beginning, let us love one another. And this is love, that we walk according to his commandments; this is the commandment just as you have heard it from the beginning—you must walk in it.
Many deceivers have gone out into the world, those who do not confess that Jesus Christ has come in the flesh; any such person is the deceiver and the antichrist! Be on your guard, so that you do not lose what we have worked for, but may receive a full reward. Everyone who does not abide in the teaching of Christ, but goes beyond it, does not have God; whoever abides in the teaching has both the Father and the Son. Do not receive into the house or welcome anyone who comes to you and does not bring this teaching; for to welcome is to participate in the evil deeds of such a person.
Although I have much to write to you, I would rather not use paper and ink; instead I hope to come to you and talk with you face to face, so that our joy may be complete.
The children of your elect sister send you their greetings.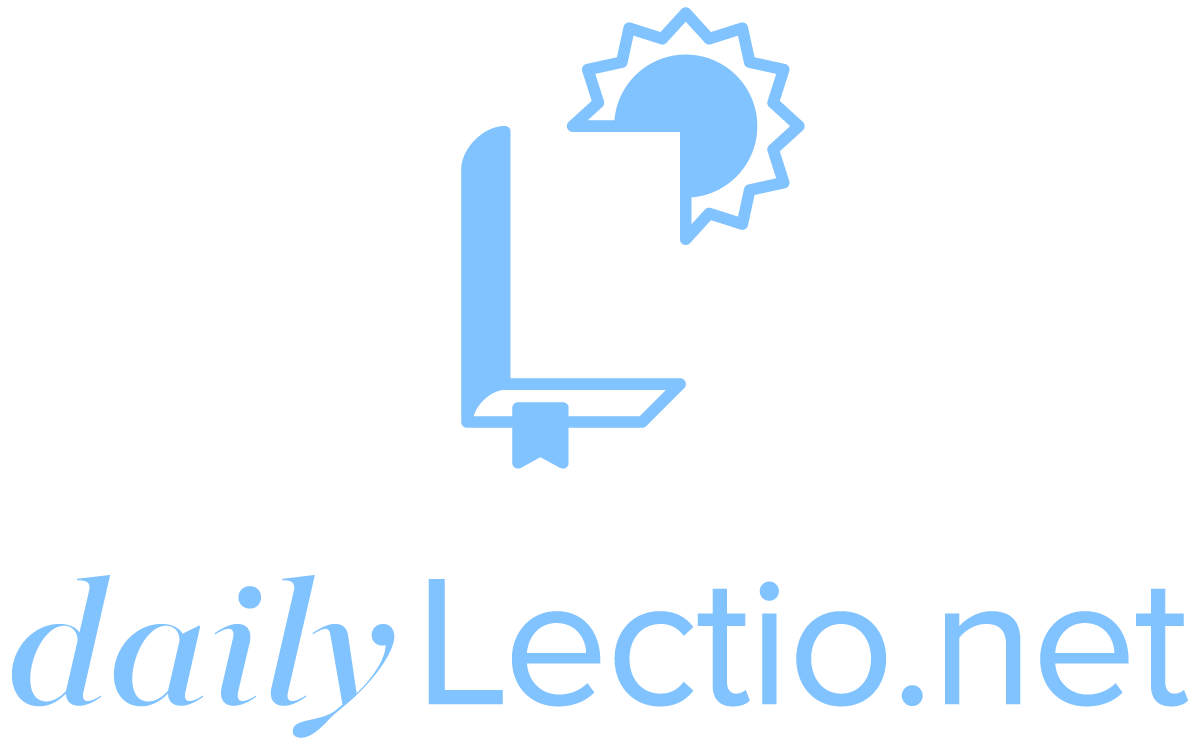 Download the DailyLectio App
Prayer reprinted from Revised Common Lectionary Prayers, © 2002 Consultation on Common Texts. Reproduced by permission.
Revised Common Lectionary Daily Readings copyright © 2005 Consultation on Common Texts admin. Augsburg Fortress. Reproduced by permission. No further reproduction allowed without the written permission of Augsburg Fortress.
New Revised Standard Version Bible, copyright © 1989 National Council of the Churches of Christ in the United States of America. Used by permission. All rights reserved.