Reflecting on the Second

Sunday in Lent

Year A
Daily Readings for Wednesday
March 8, 2023

---
God of amazing compassion,
lover of our wayward race,
you bring to birth a pilgrim people,
and call us to be a blessing for ourselves and all the world.
We pray for grace to take your generous gift
and step with courage on this holy path,
confident in the radiant life that is your plan for us,
made known and given in Jesus Christ our Lord. Amen.
Psalm 128
God promises life
Happy is everyone who fears the Lord,
who walks in his ways.
You shall eat the fruit of the labor of your hands;
you shall be happy, and it shall go well with you.
Your wife will be like a fruitful vine
within your house;
your children will be like olive shoots
around your table.
Thus shall the man be blessed
who fears the Lord.
The Lord bless you from Zion.
May you see the prosperity of Jerusalem
all the days of your life.
May you see your children's children.
Peace be upon Israel!
Ezekiel 36:22-32
God will renew the people
Therefore say to the house of Israel, Thus says the Lord God: It is not for your sake, O house of Israel, that I am about to act, but for the sake of my holy name, which you have profaned among the nations to which you came. I will sanctify my great name, which has been profaned among the nations, and which you have profaned among them; and the nations shall know that I am the Lord, says the Lord God, when through you I display my holiness before their eyes. I will take you from the nations, and gather you from all the countries, and bring you into your own land. I will sprinkle clean water upon you, and you shall be clean from all your uncleannesses, and from all your idols I will cleanse you. A new heart I will give you, and a new spirit I will put within you; and I will remove from your body the heart of stone and give you a heart of flesh. I will put my spirit within you, and make you follow my statutes and be careful to observe my ordinances. Then you shall live in the land that I gave to your ancestors; and you shall be my people, and I will be your God. I will save you from all your uncleannesses, and I will summon the grain and make it abundant and lay no famine upon you. I will make the fruit of the tree and the produce of the field abundant, so that you may never again suffer the disgrace of famine among the nations. Then you shall remember your evil ways, and your dealings that were not good; and you shall loathe yourselves for your iniquities and your abominable deeds. It is not for your sake that I will act, says the Lord God; let that be known to you. Be ashamed and dismayed for your ways, O house of Israel.
John 7:53—8:11
Jesus does not condemn the sinner
Then each of them went home, while Jesus went to the Mount of Olives. Early in the morning he came again to the temple. All the people came to him and he sat down and began to teach them. The scribes and the Pharisees brought a woman who had been caught in adultery; and making her stand before all of them, they said to him, "Teacher, this woman was caught in the very act of committing adultery. Now in the law Moses commanded us to stone such women. Now what do you say?" They said this to test him, so that they might have some charge to bring against him. Jesus bent down and wrote with his finger on the ground. When they kept on questioning him, he straightened up and said to them, "Let anyone among you who is without sin be the first to throw a stone at her." And once again he bent down and wrote on the ground. When they heard it, they went away, one by one, beginning with the elders; and Jesus was left alone with the woman standing before him. Jesus straightened up and said to her, "Woman, where are they? Has no one condemned you?" She said, "No one, sir." And Jesus said, "Neither do I condemn you. Go your way, and from now on do not sin again."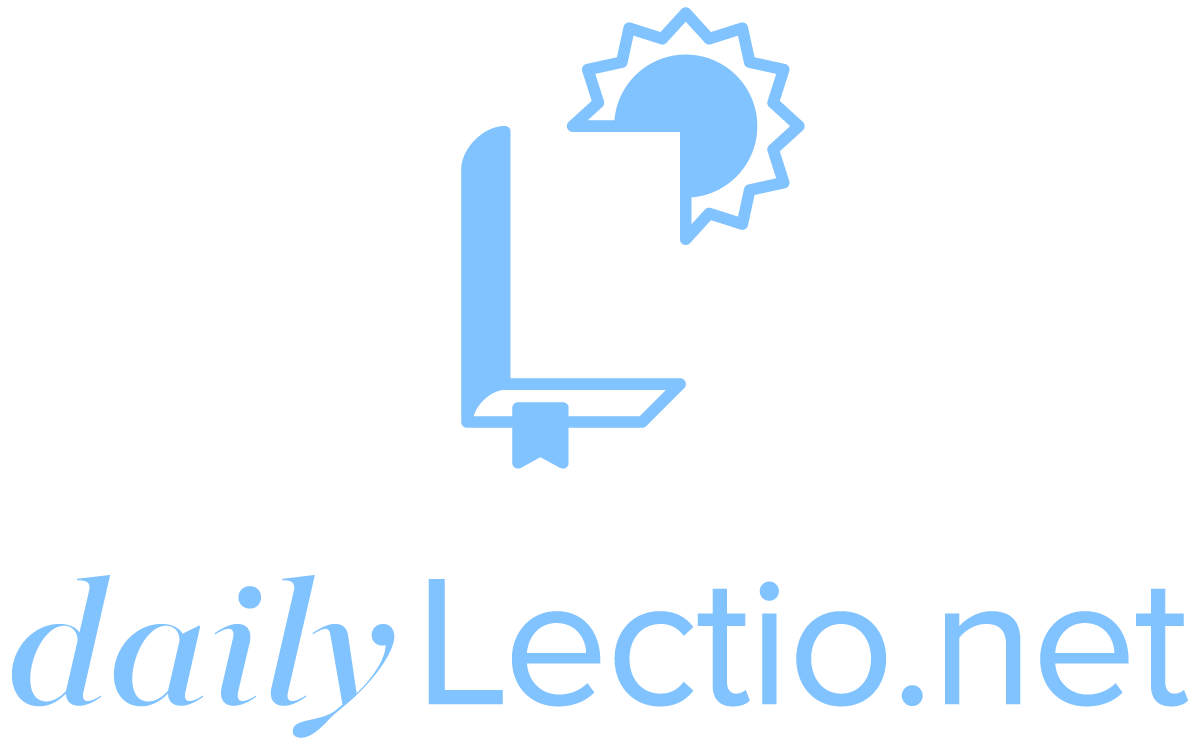 Download the DailyLectio App
Prayer reprinted from Revised Common Lectionary Prayers, © 2002 Consultation on Common Texts. Reproduced by permission.
Revised Common Lectionary Daily Readings copyright © 2005 Consultation on Common Texts admin. Augsburg Fortress. Reproduced by permission. No further reproduction allowed without the written permission of Augsburg Fortress.
New Revised Standard Version Bible, copyright © 1989 National Council of the Churches of Christ in the United States of America. Used by permission. All rights reserved.