Preparing for the Second

Sunday in Lent

Year A
Daily Readings for Saturday
March 4, 2023

---
God of amazing compassion,
lover of our wayward race,
you bring to birth a pilgrim people,
and call us to be a blessing for ourselves and all the world.
We pray for grace to take your generous gift
and step with courage on this holy path,
confident in the radiant life that is your plan for us,
made known and given in Jesus Christ our Lord. Amen.
Psalm 121
The Lord watches over you
I lift up my eyes to the hills—
from where will my help come?
My help comes from the Lord,
who made heaven and earth.
He will not let your foot be moved;
he who keeps you will not slumber.
He who keeps Israel
will neither slumber nor sleep.
The Lord is your keeper;
the Lord is your shade at your right hand.
The sun shall not strike you by day,
nor the moon by night.
The Lord will keep you from all evil;
he will keep your life.
The Lord will keep
your going out and your coming in
from this time on and forevermore.
Isaiah 51:4-8
God's word means justice for all
Listen to me, my people,
and give heed to me, my nation;
for a teaching will go out from me,
and my justice for a light to the peoples.
I will bring near my deliverance swiftly,
my salvation has gone out
and my arms will rule the peoples;
the coastlands wait for me,
and for my arm they hope.
Lift up your eyes to the heavens,
and look at the earth beneath;
for the heavens will vanish like smoke,
the earth will wear out like a garment,
and those who live on it will die like gnats;
but my salvation will be forever,
and my deliverance will never be ended.
Listen to me, you who know righteousness,
you people who have my teaching in your hearts;
do not fear the reproach of others,
and do not be dismayed when they revile you.
For the moth will eat them up like a garment,
and the worm will eat them like wool;
but my deliverance will be forever,
and my salvation to all generations.
Luke 7:1-10
Room at the table of Abraham
After Jesus had finished all his sayings in the hearing of the people, he entered Capernaum. A centurion there had a slave whom he valued highly, and who was ill and close to death. When he heard about Jesus, he sent some Jewish elders to him, asking him to come and heal his slave. When they came to Jesus, they appealed to him earnestly, saying, "He is worthy of having you do this for him, for he loves our people, and it is he who built our synagogue for us." And Jesus went with them, but when he was not far from the house, the centurion sent friends to say to him, "Lord, do not trouble yourself, for I am not worthy to have you come under my roof; therefore I did not presume to come to you. But only speak the word, and let my servant be healed. For I also am a man set under authority, with soldiers under me; and I say to one, 'Go,' and he goes, and to another, 'Come,' and he comes, and to my slave, 'Do this,' and the slave does it." When Jesus heard this he was amazed at him, and turning to the crowd that followed him, he said, "I tell you, not even in Israel have I found such faith." When those who had been sent returned to the house, they found the slave in good health.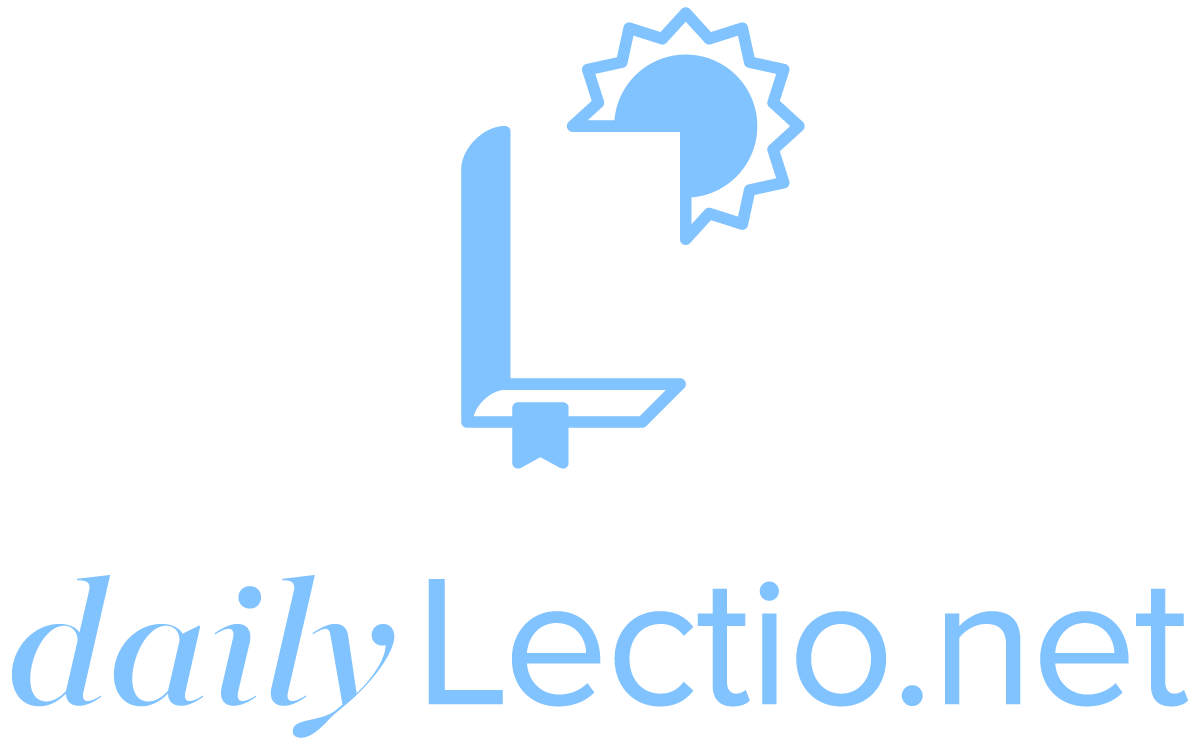 Download the DailyLectio App
Prayer reprinted from Revised Common Lectionary Prayers, © 2002 Consultation on Common Texts. Reproduced by permission.
Revised Common Lectionary Daily Readings copyright © 2005 Consultation on Common Texts admin. Augsburg Fortress. Reproduced by permission. No further reproduction allowed without the written permission of Augsburg Fortress.
New Revised Standard Version Bible, copyright © 1989 National Council of the Churches of Christ in the United States of America. Used by permission. All rights reserved.