Reflecting on the First

Sunday in Lent

Year A
Daily Readings for Monday
February 27, 2023

---
God of mercy,
your word was the sure defense of Jesus in his time of testing.
Minister to us in the wilderness of our temptation,
that we who have been set free from sin by Christ
may serve you well into life everlasting. Amen.
Psalm 32
Mercy embraces us
Happy are those whose transgression is forgiven,
whose sin is covered.
Happy are those to whom the Lord imputes no iniquity,
and in whose spirit there is no deceit.
While I kept silence, my body wasted away
through my groaning all day long.
For day and night your hand was heavy upon me;
my strength was dried up as by the heat of summer. Selah
Then I acknowledged my sin to you,
and I did not hide my iniquity;
I said, "I will confess my transgressions to the Lord,"
and you forgave the guilt of my sin. Selah
Therefore let all who are faithful
offer prayer to you;
at a time of distress, the rush of mighty waters
shall not reach them.
You are a hiding place for me;
you preserve me from trouble;
you surround me with glad cries of deliverance. Selah
I will instruct you and teach you the way you should go;
I will counsel you with my eye upon you.
Do not be like a horse or a mule, without understanding,
whose temper must be curbed with bit and bridle,
else it will not stay near you.
Many are the torments of the wicked,
but steadfast love surrounds those who trust in the Lord.
Be glad in the Lord and rejoice, O righteous,
and shout for joy, all you upright in heart.
1 Kings 19:1-8
An angel feeds Elijah in the wilderness
Ahab told Jezebel all that Elijah had done, and how he had killed all the prophets with the sword. Then Jezebel sent a messenger to Elijah, saying, "So may the gods do to me, and more also, if I do not make your life like the life of one of them by this time tomorrow." Then he was afraid; he got up and fled for his life, and came to Beer-sheba, which belongs to Judah; he left his servant there.
But he himself went a day's journey into the wilderness, and came and sat down under a solitary broom tree. He asked that he might die: "It is enough; now, O Lord, take away my life, for I am no better than my ancestors." Then he lay down under the broom tree and fell asleep. Suddenly an angel touched him and said to him, "Get up and eat." He looked, and there at his head was a cake baked on hot stones, and a jar of water. He ate and drank, and lay down again. The angel of the Lord came a second time, touched him, and said, "Get up and eat, otherwise the journey will be too much for you." He got up, and ate and drank; then he went in the strength of that food forty days and forty nights to Horeb the mount of God.
Hebrews 2:10-18
Christ goes before us in suffering
It was fitting that God, for whom and through whom all things exist, in bringing many children to glory, should make the pioneer of their salvation perfect through sufferings. For the one who sanctifies and those who are sanctified all have one Father. For this reason Jesus is not ashamed to call them brothers and sisters, saying,
"I will proclaim your name to my brothers and sisters,
in the midst of the congregation I will praise you."
And again,
"I will put my trust in him."
And again,
"Here am I and the children whom God has given me."
Since, therefore, the children share flesh and blood, he himself likewise shared the same things, so that through death he might destroy the one who has the power of death, that is, the devil, and free those who all their lives were held in slavery by the fear of death. For it is clear that he did not come to help angels, but the descendants of Abraham. Therefore he had to become like his brothers and sisters in every respect, so that he might be a merciful and faithful high priest in the service of God, to make a sacrifice of atonement for the sins of the people. Because he himself was tested by what he suffered, he is able to help those who are being tested.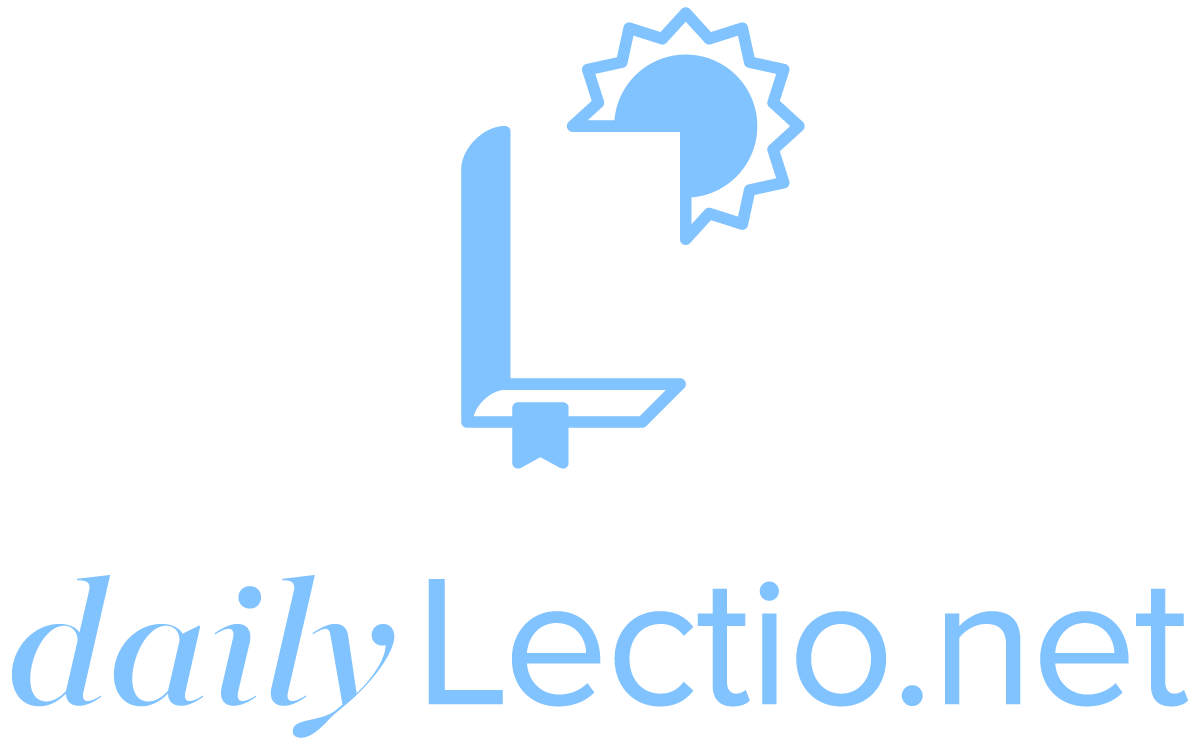 Download the DailyLectio App
Prayer reprinted from Revised Common Lectionary Prayers, © 2002 Consultation on Common Texts. Reproduced by permission.
Revised Common Lectionary Daily Readings copyright © 2005 Consultation on Common Texts admin. Augsburg Fortress. Reproduced by permission. No further reproduction allowed without the written permission of Augsburg Fortress.
New Revised Standard Version Bible, copyright © 1989 National Council of the Churches of Christ in the United States of America. Used by permission. All rights reserved.