Preparing for the First

Sunday in Lent

Year A
Daily Readings for Friday
February 24, 2023

---
God of mercy,
your word was the sure defense of Jesus in his time of testing.
Minister to us in the wilderness of our temptation,
that we who have been set free from sin by Christ
may serve you well into life everlasting. Amen.
Psalm 51
Create in me a clean heart
Have mercy on me, O God,
according to your steadfast love;
according to your abundant mercy
blot out my transgressions.
Wash me thoroughly from my iniquity,
and cleanse me from my sin.
For I know my transgressions,
and my sin is ever before me.
Against you, you alone, have I sinned,
and done what is evil in your sight,
so that you are justified in your sentence
and blameless when you pass judgment.
Indeed, I was born guilty,
a sinner when my mother conceived me.
You desire truth in the inward being;
therefore teach me wisdom in my secret heart.
Purge me with hyssop, and I shall be clean;
wash me, and I shall be whiter than snow.
Let me hear joy and gladness;
let the bones that you have crushed rejoice.
Hide your face from my sins,
and blot out all my iniquities.
Create in me a clean heart, O God,
and put a new and right spirit within me.
Do not cast me away from your presence,
and do not take your holy spirit from me.
Restore to me the joy of your salvation,
and sustain in me a willing spirit.
Then I will teach transgressors your ways,
and sinners will return to you.
Deliver me from bloodshed, O God,
O God of my salvation,
and my tongue will sing aloud of your deliverance.
O Lord, open my lips,
and my mouth will declare your praise.
For you have no delight in sacrifice;
if I were to give a burnt offering, you would not be pleased.
The sacrifice acceptable to God is a broken spirit;
a broken and contrite heart, O God, you will not despise.
Do good to Zion in your good pleasure;
rebuild the walls of Jerusalem,
then you will delight in right sacrifices,
in burnt offerings and whole burnt offerings;
then bulls will be offered on your altar.
Jonah 4:1-11
God mercifully reproves Jonah
But this was very displeasing to Jonah, and he became angry. He prayed to the Lord and said, "O Lord! Is not this what I said while I was still in my own country? That is why I fled to Tarshish at the beginning; for I knew that you are a gracious God and merciful, slow to anger, and abounding in steadfast love, and ready to relent from punishing. And now, O Lord, please take my life from me, for it is better for me to die than to live." And the Lord said, "Is it right for you to be angry?" Then Jonah went out of the city and sat down east of the city, and made a booth for himself there. He sat under it in the shade, waiting to see what would become of the city.
The Lord God appointed a bush, and made it come up over Jonah, to give shade over his head, to save him from his discomfort; so Jonah was very happy about the bush. But when dawn came up the next day, God appointed a worm that attacked the bush, so that it withered. When the sun rose, God prepared a sultry east wind, and the sun beat down on the head of Jonah so that he was faint and asked that he might die. He said, "It is better for me to die than to live."
But God said to Jonah, "Is it right for you to be angry about the bush?" And he said, "Yes, angry enough to die." Then the Lord said, "You are concerned about the bush, for which you did not labor and which you did not grow; it came into being in a night and perished in a night. And should I not be concerned about Nineveh, that great city, in which there are more than a hundred and twenty thousand persons who do not know their right hand from their left, and also many animals?"
Romans 1:8-17
Live by faith
First, I thank my God through Jesus Christ for all of you, because your faith is proclaimed throughout the world. For God, whom I serve with my spirit by announcing the gospel of his Son, is my witness that without ceasing I remember you always in my prayers, asking that by God's will I may somehow at last succeed in coming to you. For I am longing to see you so that I may share with you some spiritual gift to strengthen you—or rather so that we may be mutually encouraged by each other's faith, both yours and mine. I want you to know, brothers and sisters, that I have often intended to come to you (but thus far have been prevented), in order that I may reap some harvest among you as I have among the rest of the Gentiles. I am a debtor both to Greeks and to barbarians, both to the wise and to the foolish—hence my eagerness to proclaim the gospel to you also who are in Rome.
For I am not ashamed of the gospel; it is the power of God for salvation to everyone who has faith, to the Jew first and also to the Greek. For in it the righteousness of God is revealed through faith for faith; as it is written, "The one who is righteous will live by faith."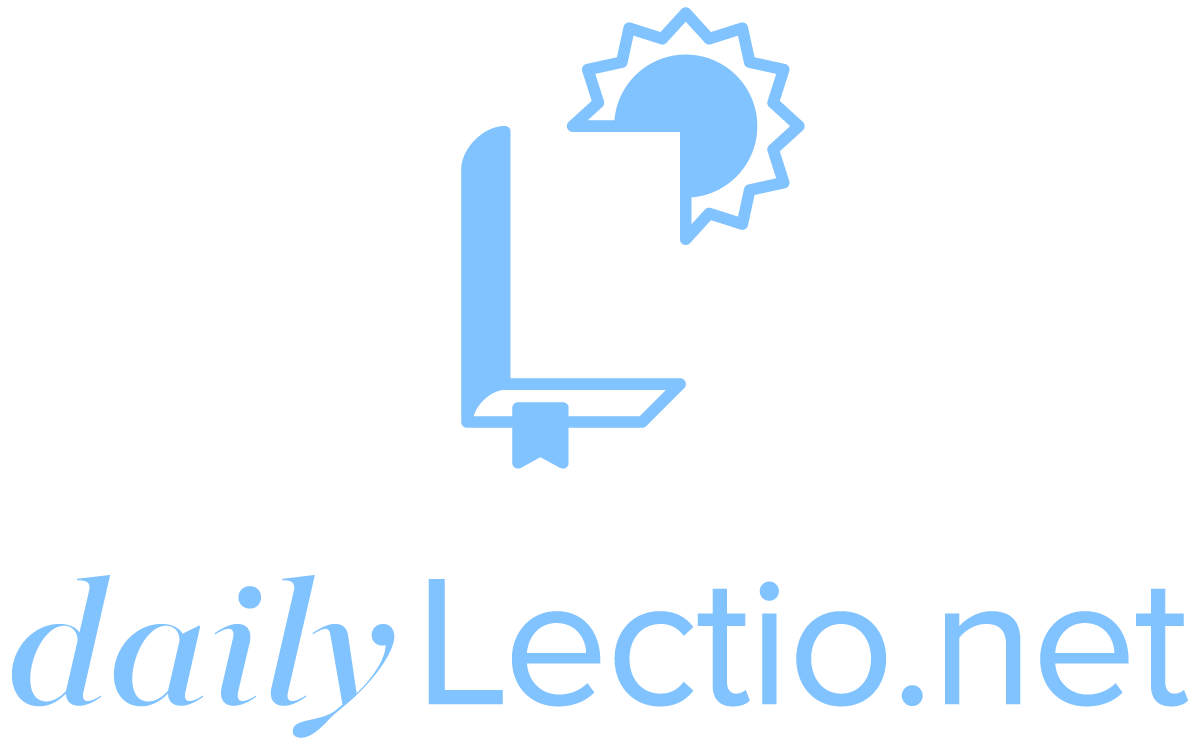 Download the DailyLectio App
Prayer reprinted from Revised Common Lectionary Prayers, © 2002 Consultation on Common Texts. Reproduced by permission.
Revised Common Lectionary Daily Readings copyright © 2005 Consultation on Common Texts admin. Augsburg Fortress. Reproduced by permission. No further reproduction allowed without the written permission of Augsburg Fortress.
New Revised Standard Version Bible, copyright © 1989 National Council of the Churches of Christ in the United States of America. Used by permission. All rights reserved.