Preparing for the First

Sunday in Lent

Year A
Daily Readings for Thursday
February 23, 2023

---
God of mercy,
your word was the sure defense of Jesus in his time of testing.
Minister to us in the wilderness of our temptation,
that we who have been set free from sin by Christ
may serve you well into life everlasting. Amen.
Psalm 51
Create in me a clean heart
Have mercy on me, O God,
according to your steadfast love;
according to your abundant mercy
blot out my transgressions.
Wash me thoroughly from my iniquity,
and cleanse me from my sin.
For I know my transgressions,
and my sin is ever before me.
Against you, you alone, have I sinned,
and done what is evil in your sight,
so that you are justified in your sentence
and blameless when you pass judgment.
Indeed, I was born guilty,
a sinner when my mother conceived me.
You desire truth in the inward being;
therefore teach me wisdom in my secret heart.
Purge me with hyssop, and I shall be clean;
wash me, and I shall be whiter than snow.
Let me hear joy and gladness;
let the bones that you have crushed rejoice.
Hide your face from my sins,
and blot out all my iniquities.
Create in me a clean heart, O God,
and put a new and right spirit within me.
Do not cast me away from your presence,
and do not take your holy spirit from me.
Restore to me the joy of your salvation,
and sustain in me a willing spirit.
Then I will teach transgressors your ways,
and sinners will return to you.
Deliver me from bloodshed, O God,
O God of my salvation,
and my tongue will sing aloud of your deliverance.
O Lord, open my lips,
and my mouth will declare your praise.
For you have no delight in sacrifice;
if I were to give a burnt offering, you would not be pleased.
The sacrifice acceptable to God is a broken spirit;
a broken and contrite heart, O God, you will not despise.
Do good to Zion in your good pleasure;
rebuild the walls of Jerusalem,
then you will delight in right sacrifices,
in burnt offerings and whole burnt offerings;
then bulls will be offered on your altar.
Jonah 3:1-10
Nineveh hears Jonah's preaching and repents
The word of the Lord came to Jonah a second time, saying, "Get up, go to Nineveh, that great city, and proclaim to it the message that I tell you." So Jonah set out and went to Nineveh, according to the word of the Lord. Now Nineveh was an exceedingly large city, a three days' walk across. Jonah began to go into the city, going a day's walk. And he cried out, "Forty days more, and Nineveh shall be overthrown!" And the people of Nineveh believed God; they proclaimed a fast, and everyone, great and small, put on sackcloth.
When the news reached the king of Nineveh, he rose from his throne, removed his robe, covered himself with sackcloth, and sat in ashes. Then he had a proclamation made in Nineveh: "By the decree of the king and his nobles: No human being or animal, no herd or flock, shall taste anything. They shall not feed, nor shall they drink water. Human beings and animals shall be covered with sackcloth, and they shall cry mightily to God. All shall turn from their evil ways and from the violence that is in their hands. Who knows? God may relent and change his mind; he may turn from his fierce anger, so that we do not perish."
When God saw what they did, how they turned from their evil ways, God changed his mind about the calamity that he had said he would bring upon them; and he did not do it.
Romans 1:1-7
Appointed to preach the good news of Christ
Paul, a servant of Jesus Christ, called to be an apostle, set apart for the gospel of God, which he promised beforehand through his prophets in the holy scriptures, the gospel concerning his Son, who was descended from David according to the flesh and was declared to be Son of God with power according to the spirit of holiness by resurrection from the dead, Jesus Christ our Lord, through whom we have received grace and apostleship to bring about the obedience of faith among all the Gentiles for the sake of his name, including yourselves who are called to belong to Jesus Christ,
To all God's beloved in Rome, who are called to be saints:
Grace to you and peace from God our Father and the Lord Jesus Christ.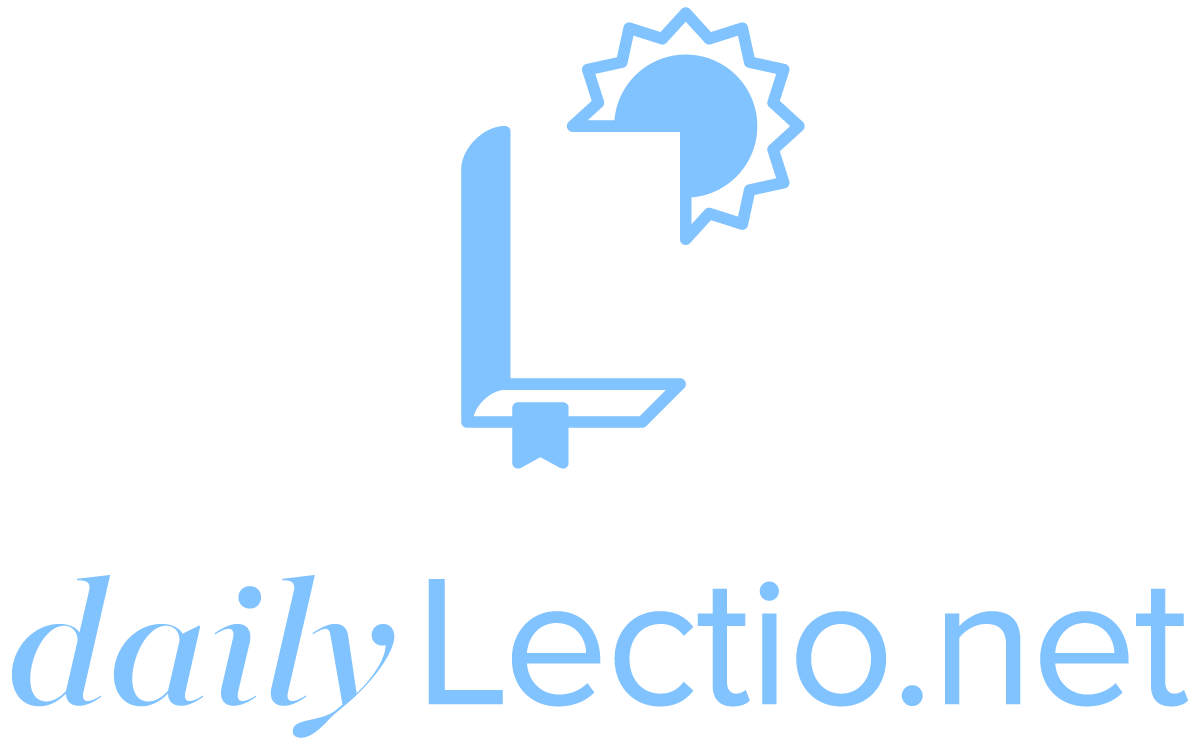 Download the DailyLectio App
Prayer reprinted from Revised Common Lectionary Prayers, © 2002 Consultation on Common Texts. Reproduced by permission.
Revised Common Lectionary Daily Readings copyright © 2005 Consultation on Common Texts admin. Augsburg Fortress. Reproduced by permission. No further reproduction allowed without the written permission of Augsburg Fortress.
New Revised Standard Version Bible, copyright © 1989 National Council of the Churches of Christ in the United States of America. Used by permission. All rights reserved.