Reflecting on the Fifth

Sunday after the Epiphany

Year A
Daily Readings for Wednesday
February 8, 2023

---
O God of light,
your searching Spirit reveals and illumines
your presence in creation.
Shine your radiant holiness into our lives,
that we may offer our hands and hearts to your work:
to heal and shelter,
to feed and clothe,
to break every yoke and silence evil tongues. Amen.
Psalm 119:105-112
The law is light
Your word is a lamp to my feet
and a light to my path.
I have sworn an oath and confirmed it,
to observe your righteous ordinances.
I am severely afflicted;
give me life, O Lord, according to your word.
Accept my offerings of praise, O Lord,
and teach me your ordinances.
I hold my life in my hand continually,
but I do not forget your law.
The wicked have laid a snare for me,
but I do not stray from your precepts.
Your decrees are my heritage forever;
they are the joy of my heart.
I incline my heart to perform your statutes
forever, to the end.
Proverbs 6:6-23
The law is a lamp
Go to the ant, you lazybones;
consider its ways, and be wise.
Without having any chief
or officer or ruler,
it prepares its food in summer,
and gathers its sustenance in harvest.
How long will you lie there, O lazybones?
When will you rise from your sleep?
A little sleep, a little slumber,
a little folding of the hands to rest,
and poverty will come upon you like a robber,
and want, like an armed warrior.
A scoundrel and a villain
goes around with crooked speech,
winking the eyes, shuffling the feet,
pointing the fingers,
with perverted mind devising evil,
continually sowing discord;
on such a one calamity will descend suddenly;
in a moment, damage beyond repair.
There are six things that the Lord hates,
seven that are an abomination to him:
haughty eyes, a lying tongue,
and hands that shed innocent blood,
a heart that devises wicked plans,
feet that hurry to run to evil,
a lying witness who testifies falsely,
and one who sows discord in a family.
My child, keep your father's commandment,
and do not forsake your mother's teaching.
Bind them upon your heart always;
tie them around your neck.
When you walk, they will lead you;
when you lie down, they will watch over you;
and when you awake, they will talk with you.
For the commandment is a lamp and the teaching a light,
and the reproofs of discipline are the way of life.
John 8:12-30
Christ the light of the world
Again Jesus spoke to them, saying, "I am the light of the world. Whoever follows me will never walk in darkness but will have the light of life." Then the Pharisees said to him, "You are testifying on your own behalf; your testimony is not valid." Jesus answered, "Even if I testify on my own behalf, my testimony is valid because I know where I have come from and where I am going, but you do not know where I come from or where I am going. You judge by human standards; I judge no one. Yet even if I do judge, my judgment is valid; for it is not I alone who judge, but I and the Father who sent me. In your law it is written that the testimony of two witnesses is valid. I testify on my own behalf, and the Father who sent me testifies on my behalf." Then they said to him, "Where is your Father?" Jesus answered, "You know neither me nor my Father. If you knew me, you would know my Father also." He spoke these words while he was teaching in the treasury of the temple, but no one arrested him, because his hour had not yet come.
Again he said to them, "I am going away, and you will search for me, but you will die in your sin. Where I am going, you cannot come." Then the Jews said, "Is he going to kill himself? Is that what he means by saying, 'Where I am going, you cannot come'?" He said to them, "You are from below, I am from above; you are of this world, I am not of this world. I told you that you would die in your sins, for you will die in your sins unless you believe that I am he." They said to him, "Who are you?" Jesus said to them, "Why do I speak to you at all? I have much to say about you and much to condemn; but the one who sent me is true, and I declare to the world what I have heard from him." They did not understand that he was speaking to them about the Father. So Jesus said, "When you have lifted up the Son of Man, then you will realize that I am he, and that I do nothing on my own, but I speak these things as the Father instructed me. And the one who sent me is with me; he has not left me alone, for I always do what is pleasing to him." As he was saying these things, many believed in him.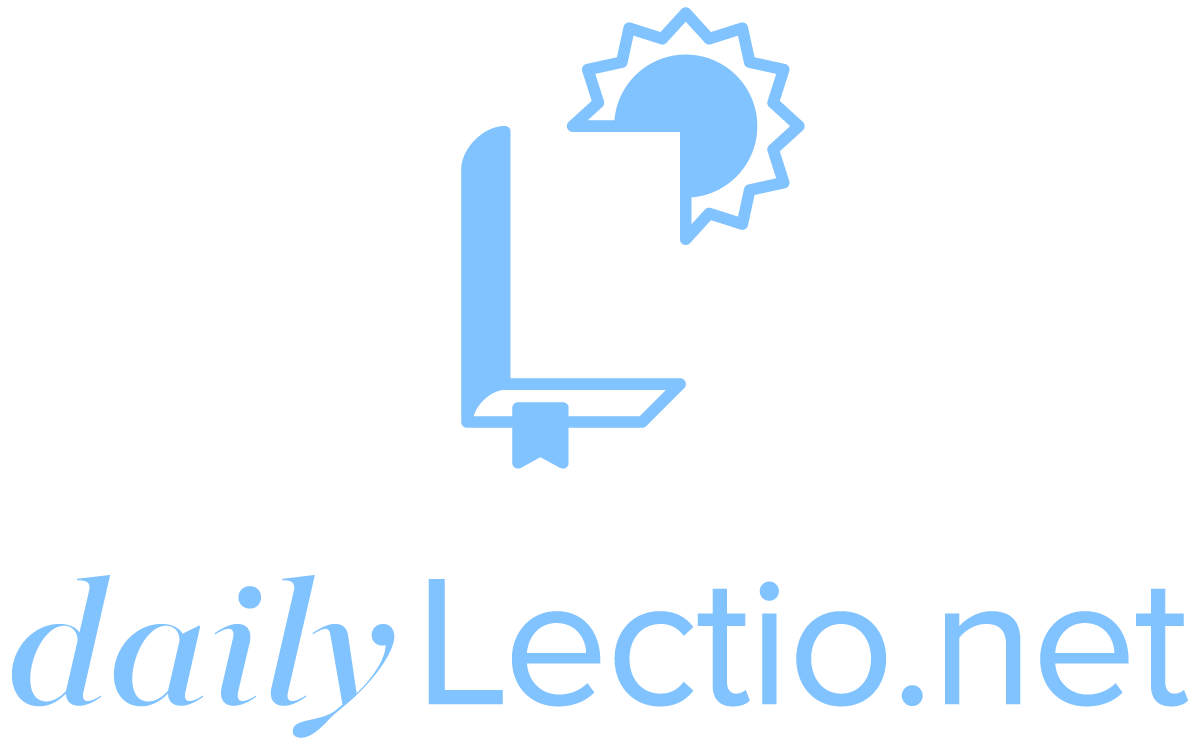 Download the DailyLectio App
Prayer reprinted from Revised Common Lectionary Prayers, © 2002 Consultation on Common Texts. Reproduced by permission.
Revised Common Lectionary Daily Readings copyright © 2005 Consultation on Common Texts admin. Augsburg Fortress. Reproduced by permission. No further reproduction allowed without the written permission of Augsburg Fortress.
New Revised Standard Version Bible, copyright © 1989 National Council of the Churches of Christ in the United States of America. Used by permission. All rights reserved.