Reflecting on the Fourth

Sunday after the Epiphany

Year A
Daily Readings for Wednesday
February 1, 2023

---
God our deliverer,
you walk with the meek and the poor,
the compassionate and those who mourn,
and you call us to walk humbly with you.
When we are foolish, be our wisdom;
when we are weak, be our strength;
that, as we learn to do justice
and to love mercy,
your rule may come as blessing. Amen.
Psalm 37:1-17
God will bless the righteous
Do not fret because of the wicked;
do not be envious of wrongdoers,
for they will soon fade like the grass,
and wither like the green herb.
Trust in the Lord, and do good;
so you will live in the land, and enjoy security.
Take delight in the Lord,
and he will give you the desires of your heart.
Commit your way to the Lord;
trust in him, and he will act.
He will make your vindication shine like the light,
and the justice of your cause like the noonday.
Be still before the Lord, and wait patiently for him;
do not fret over those who prosper in their way,
over those who carry out evil devices.
Refrain from anger, and forsake wrath.
Do not fret—it leads only to evil.
For the wicked shall be cut off,
but those who wait for the Lord shall inherit the land.
Yet a little while, and the wicked will be no more;
though you look diligently for their place, they will not be there.
But the meek shall inherit the land,
and delight themselves in abundant prosperity.
The wicked plot against the righteous,
and gnash their teeth at them;
but the Lord laughs at the wicked,
for he sees that their day is coming.
The wicked draw the sword and bend their bows
to bring down the poor and needy,
to kill those who walk uprightly;
their sword shall enter their own heart,
and their bows shall be broken.
Better is a little that the righteous person has
than the abundance of many wicked.
For the arms of the wicked shall be broken,
but the Lord upholds the righteous.
Ruth 3:1-13; 4:13-22
Ruth, one of the blessed
Naomi her mother-in-law said to her, "My daughter, I need to seek some security for you, so that it may be well with you. Now here is our kinsman Boaz, with whose young women you have been working. See, he is winnowing barley tonight at the threshing floor. Now wash and anoint yourself, and put on your best clothes and go down to the threshing floor; but do not make yourself known to the man until he has finished eating and drinking. When he lies down, observe the place where he lies; then, go and uncover his feet and lie down; and he will tell you what to do." She said to her, "All that you tell me I will do."
So she went down to the threshing floor and did just as her mother-in-law had instructed her. When Boaz had eaten and drunk, and he was in a contented mood, he went to lie down at the end of the heap of grain. Then she came stealthily and uncovered his feet, and lay down. At midnight the man was startled, and turned over, and there, lying at his feet, was a woman! He said, "Who are you?" And she answered, "I am Ruth, your servant; spread your cloak over your servant, for you are next-of-kin." He said, "May you be blessed by the Lord, my daughter; this last instance of your loyalty is better than the first; you have not gone after young men, whether poor or rich. And now, my daughter, do not be afraid, I will do for you all that you ask, for all the assembly of my people know that you are a worthy woman. But now, though it is true that I am a near kinsman, there is another kinsman more closely related than I. Remain this night, and in the morning, if he will act as next-of-kin for you, good; let him do it. If he is not willing to act as next-of-kin for you, then, as the Lord lives, I will act as next-of-kin for you. Lie down until the morning."
So Boaz took Ruth and she became his wife. When they came together, the Lord made her conceive, and she bore a son. Then the women said to Naomi, "Blessed be the Lord, who has not left you this day without next-of-kin; and may his name be renowned in Israel! He shall be to you a restorer of life and a nourisher of your old age; for your daughter-in-law who loves you, who is more to you than seven sons, has borne him." Then Naomi took the child and laid him in her bosom, and became his nurse. The women of the neighborhood gave him a name, saying, "A son has been born to Naomi." They named him Obed; he became the father of Jesse, the father of David.
Now these are the descendants of Perez: Perez became the father of Hezron, Hezron of Ram, Ram of Amminadab, Amminadab of Nahshon, Nahshon of Salmon, Salmon of Boaz, Boaz of Obed, Obed of Jesse, and Jesse of David.
Luke 6:17-26
The beatitudes in Luke's gospel
He came down with them and stood on a level place, with a great crowd of his disciples and a great multitude of people from all Judea, Jerusalem, and the coast of Tyre and Sidon. They had come to hear him and to be healed of their diseases; and those who were troubled with unclean spirits were cured. And all in the crowd were trying to touch him, for power came out from him and healed all of them.
Then he looked up at his disciples and said:
"Blessed are you who are poor,
for yours is the kingdom of God.
"Blessed are you who are hungry now,
for you will be filled.
"Blessed are you who weep now,
for you will laugh.
"Blessed are you when people hate you, and when they exclude you, revile you, and defame you on account of the Son of Man. Rejoice in that day and leap for joy, for surely your reward is great in heaven; for that is what their ancestors did to the prophets.
"But woe to you who are rich,
for you have received your consolation.
"Woe to you who are full now,
for you will be hungry.
"Woe to you who are laughing now,
for you will mourn and weep.
"Woe to you when all speak well of you, for that is what their ancestors did to the false prophets."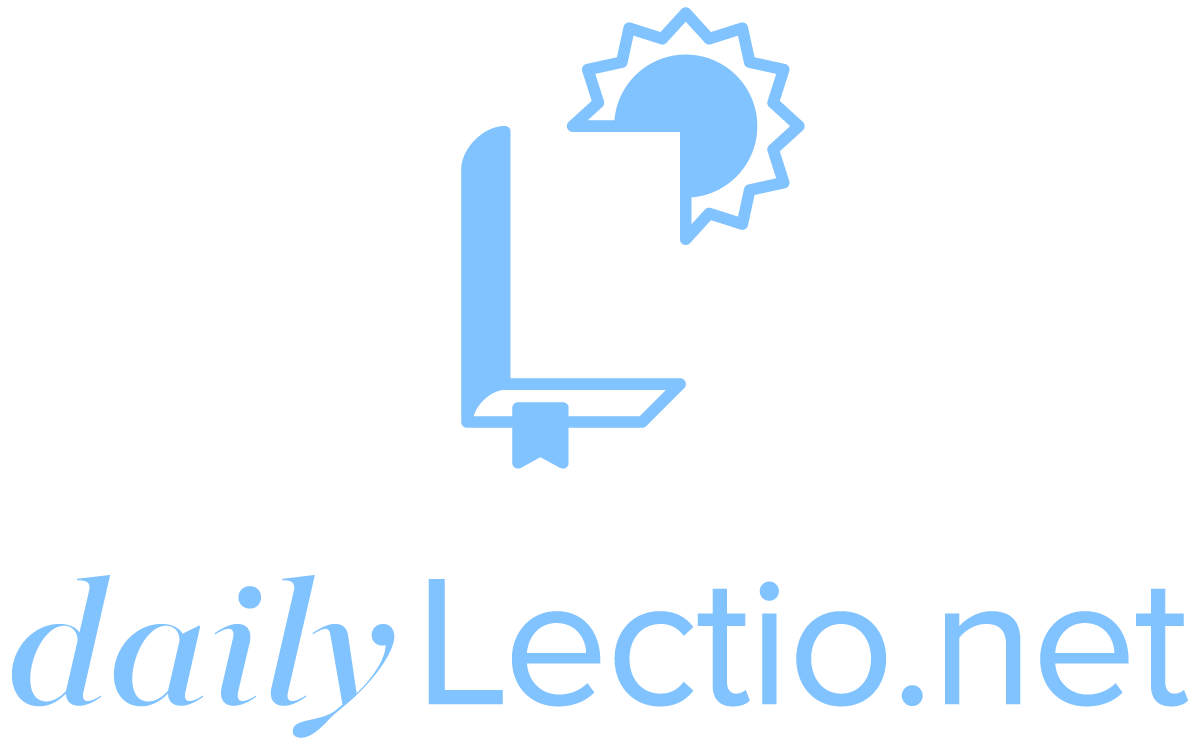 Download the DailyLectio App
Prayer reprinted from Revised Common Lectionary Prayers, © 2002 Consultation on Common Texts. Reproduced by permission.
Revised Common Lectionary Daily Readings copyright © 2005 Consultation on Common Texts admin. Augsburg Fortress. Reproduced by permission. No further reproduction allowed without the written permission of Augsburg Fortress.
New Revised Standard Version Bible, copyright © 1989 National Council of the Churches of Christ in the United States of America. Used by permission. All rights reserved.