Preparing for the Second

Sunday after the Epiphany

Year A
Daily Readings for Saturday
January 14, 2023

---
Steadfast God,
you have enriched and enlightened us
by the revelation of your eternal Christ.
Comfort us in our mortality
and strengthen us
to walk the path of your desire,
so that by word and deed we may manifest
the gracious news of your faithfulness and love. Amen.
Psalm 40:1-11
Doing the will of God
I waited patiently for the Lord;
he inclined to me and heard my cry.
He drew me up from the desolate pit,
out of the miry bog,
and set my feet upon a rock,
making my steps secure.
He put a new song in my mouth,
a song of praise to our God.
Many will see and fear,
and put their trust in the Lord.
Happy are those who make
the Lord their trust,
who do not turn to the proud,
to those who go astray after false gods.
You have multiplied, O Lord my God,
your wondrous deeds and your thoughts toward us;
none can compare with you.
Were I to proclaim and tell of them,
they would be more than can be counted.
Sacrifice and offering you do not desire,
but you have given me an open ear.
Burnt offering and sin offering
you have not required.
Then I said, "Here I am;
in the scroll of the book it is written of me.
I delight to do your will, O my God;
your law is within my heart."
I have told the glad news of deliverance
in the great congregation;
see, I have not restrained my lips,
as you know, O Lord.
I have not hidden your saving help within my heart,
I have spoken of your faithfulness and your salvation;
I have not concealed your steadfast love and your faithfulness
from the great congregation.
Do not, O Lord, withhold
your mercy from me;
let your steadfast love and your faithfulness
keep me safe forever.
1 Kings 19:19-21
Elijah calls Elisha to follow him
So he set out from there, and found Elisha son of Shaphat, who was plowing. There were twelve yoke of oxen ahead of him, and he was with the twelfth. Elijah passed by him and threw his mantle over him. He left the oxen, ran after Elijah, and said, "Let me kiss my father and my mother, and then I will follow you." Then Elijah said to him, "Go back again; for what have I done to you?" He returned from following him, took the yoke of oxen, and slaughtered them; using the equipment from the oxen, he boiled their flesh, and gave it to the people, and they ate. Then he set out and followed Elijah, and became his servant.
Luke 5:1-11
Jesus calls the first believers
Once while Jesus was standing beside the lake of Gennesaret, and the crowd was pressing in on him to hear the word of God, he saw two boats there at the shore of the lake; the fishermen had gone out of them and were washing their nets. He got into one of the boats, the one belonging to Simon, and asked him to put out a little way from the shore. Then he sat down and taught the crowds from the boat. When he had finished speaking, he said to Simon, "Put out into the deep water and let down your nets for a catch." Simon answered, "Master, we have worked all night long but have caught nothing. Yet if you say so, I will let down the nets." When they had done this, they caught so many fish that their nets were beginning to break. So they signaled their partners in the other boat to come and help them. And they came and filled both boats, so that they began to sink. But when Simon Peter saw it, he fell down at Jesus' knees, saying, "Go away from me, Lord, for I am a sinful man!" For he and all who were with him were amazed at the catch of fish that they had taken; and so also were James and John, sons of Zebedee, who were partners with Simon. Then Jesus said to Simon, "Do not be afraid; from now on you will be catching people." When they had brought their boats to shore, they left everything and followed him.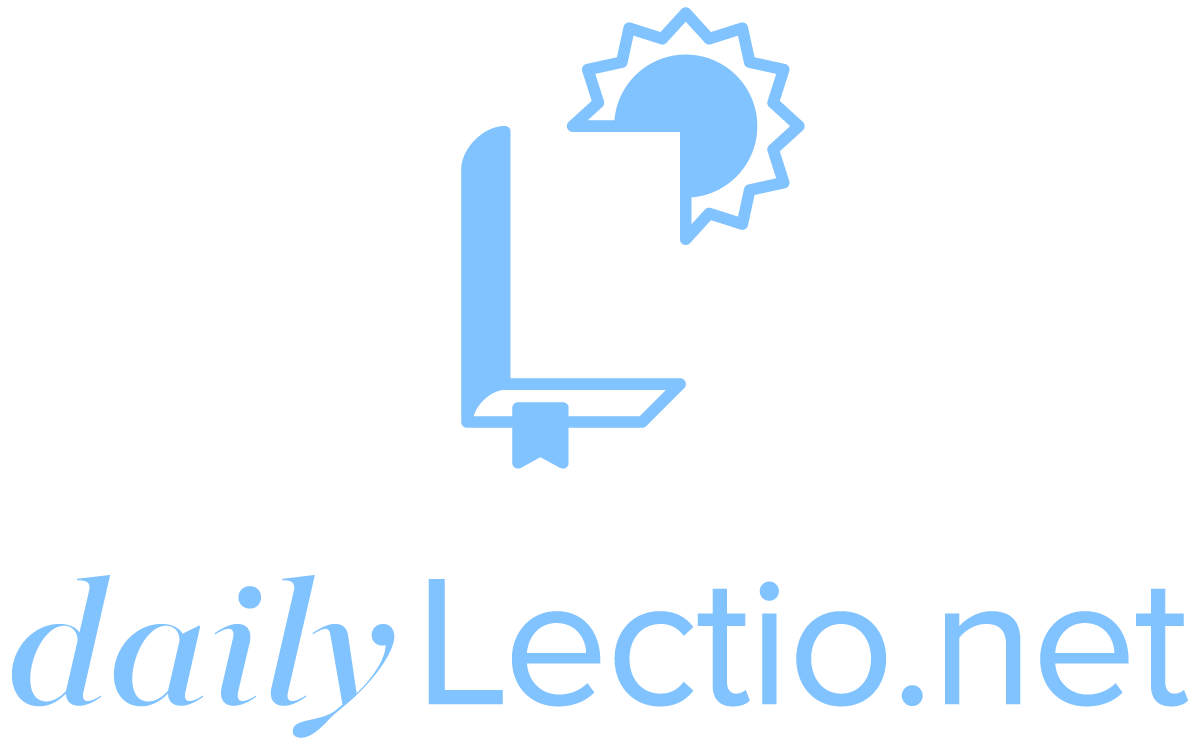 Download the DailyLectio App
Prayer reprinted from Revised Common Lectionary Prayers, © 2002 Consultation on Common Texts. Reproduced by permission.
Revised Common Lectionary Daily Readings copyright © 2005 Consultation on Common Texts admin. Augsburg Fortress. Reproduced by permission. No further reproduction allowed without the written permission of Augsburg Fortress.
New Revised Standard Version Bible, copyright © 1989 National Council of the Churches of Christ in the United States of America. Used by permission. All rights reserved.