Preparing for the Second

Sunday after the Epiphany

Year A
Daily Readings for Friday
January 13, 2023

---
Steadfast God,
you have enriched and enlightened us
by the revelation of your eternal Christ.
Comfort us in our mortality
and strengthen us
to walk the path of your desire,
so that by word and deed we may manifest
the gracious news of your faithfulness and love. Amen.
Psalm 40:1-11
Doing the will of God
I waited patiently for the Lord;
he inclined to me and heard my cry.
He drew me up from the desolate pit,
out of the miry bog,
and set my feet upon a rock,
making my steps secure.
He put a new song in my mouth,
a song of praise to our God.
Many will see and fear,
and put their trust in the Lord.
Happy are those who make
the Lord their trust,
who do not turn to the proud,
to those who go astray after false gods.
You have multiplied, O Lord my God,
your wondrous deeds and your thoughts toward us;
none can compare with you.
Were I to proclaim and tell of them,
they would be more than can be counted.
Sacrifice and offering you do not desire,
but you have given me an open ear.
Burnt offering and sin offering
you have not required.
Then I said, "Here I am;
in the scroll of the book it is written of me.
I delight to do your will, O my God;
your law is within my heart."
I have told the glad news of deliverance
in the great congregation;
see, I have not restrained my lips,
as you know, O Lord.
I have not hidden your saving help within my heart,
I have spoken of your faithfulness and your salvation;
I have not concealed your steadfast love and your faithfulness
from the great congregation.
Do not, O Lord, withhold
your mercy from me;
let your steadfast love and your faithfulness
keep me safe forever.
Genesis 27:30-38
Isaac and Esau discover Jacob's deceit
As soon as Isaac had finished blessing Jacob, when Jacob had scarcely gone out from the presence of his father Isaac, his brother Esau came in from his hunting. He also prepared savory food, and brought it to his father. And he said to his father, "Let my father sit up and eat of his son's game, so that you may bless me." His father Isaac said to him, "Who are you?" He answered, "I am your firstborn son, Esau." Then Isaac trembled violently, and said, "Who was it then that hunted game and brought it to me, and I ate it all before you came, and I have blessed him?—yes, and blessed he shall be!" When Esau heard his father's words, he cried out with an exceedingly great and bitter cry, and said to his father, "Bless me, me also, father!" But he said, "Your brother came deceitfully, and he has taken away your blessing." Esau said, "Is he not rightly named Jacob? For he has supplanted me these two times. He took away my birthright; and look, now he has taken away my blessing." Then he said, "Have you not reserved a blessing for me?" Isaac answered Esau, "I have already made him your lord, and I have given him all his brothers as servants, and with grain and wine I have sustained him. What then can I do for you, my son?" Esau said to his father, "Have you only one blessing, father? Bless me, me also, father!" And Esau lifted up his voice and wept.
Acts 1:1-5
The promise of the Holy Spirit
In the first book, Theophilus, I wrote about all that Jesus did and taught from the beginning until the day when he was taken up to heaven, after giving instructions through the Holy Spirit to the apostles whom he had chosen. After his suffering he presented himself alive to them by many convincing proofs, appearing to them during forty days and speaking about the kingdom of God. While staying with them, he ordered them not to leave Jerusalem, but to wait there for the promise of the Father. "This," he said, "is what you have heard from me; for John baptized with water, but you will be baptized with the Holy Spirit not many days from now."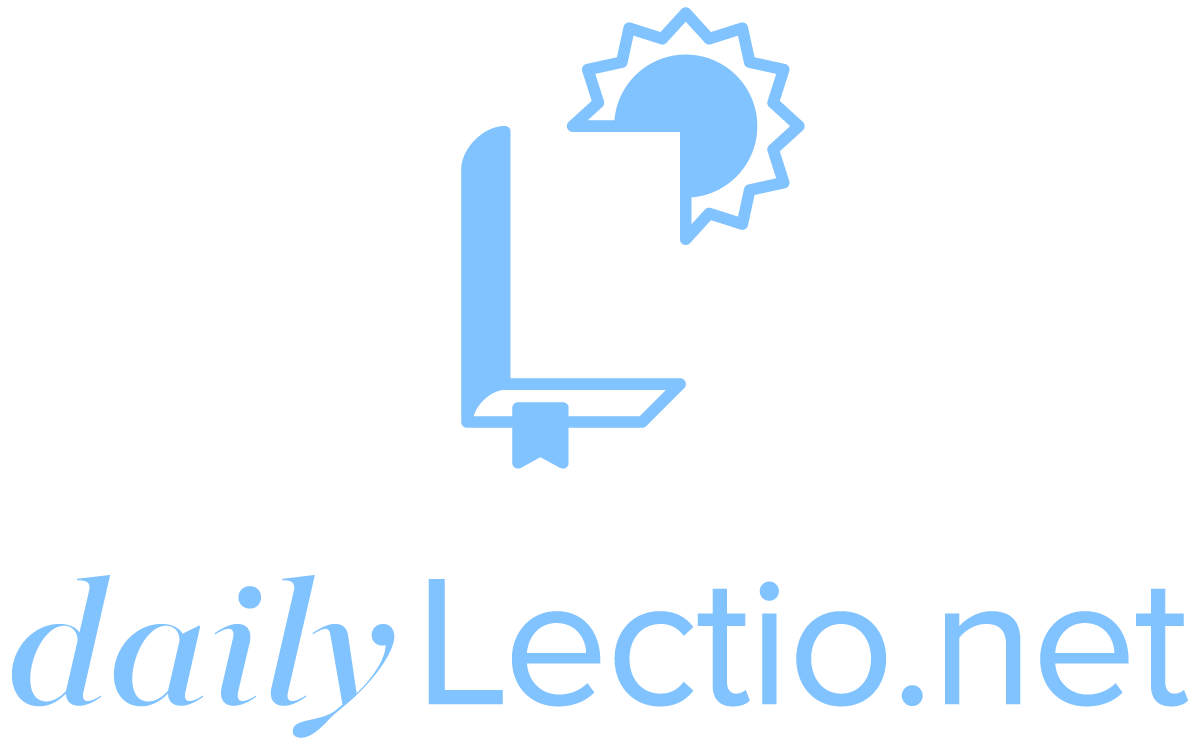 Download the DailyLectio App
Prayer reprinted from Revised Common Lectionary Prayers, © 2002 Consultation on Common Texts. Reproduced by permission.
Revised Common Lectionary Daily Readings copyright © 2005 Consultation on Common Texts admin. Augsburg Fortress. Reproduced by permission. No further reproduction allowed without the written permission of Augsburg Fortress.
New Revised Standard Version Bible, copyright © 1989 National Council of the Churches of Christ in the United States of America. Used by permission. All rights reserved.