Days around Christmas
Year A
Daily Readings for Friday
December 23, 2022

---
God of all ages,
in the birth of Christ
your boundless love for your people
shattered the power of darkness.
Be born in us with that same love and light,
that our song may blend with all the choirs of heaven and earth
to the glory of your holy name. Amen.
Luke 1:46b-55
My soul gives glory to God
"My soul magnifies the Lord,
and my spirit rejoices in God my Savior,
for he has looked with favor on the lowliness of his servant.
Surely, from now on all generations will call me blessed;
for the Mighty One has done great things for me,
and holy is his name.
His mercy is for those who fear him
from generation to generation.
He has shown strength with his arm;
he has scattered the proud in the thoughts of their hearts.
He has brought down the powerful from their thrones,
and lifted up the lowly;
he has filled the hungry with good things,
and sent the rich away empty.
He has helped his servant Israel,
in remembrance of his mercy,
according to the promise he made to our ancestors,
to Abraham and to his descendants forever."
2 Samuel 7:18, 23-29
Your servant will be blessed
Then King David went in and sat before the Lord, and said, "Who am I, O Lord God, and what is my house, that you have brought me thus far? Who is like your people, like Israel? Is there another nation on earth whose God went to redeem it as a people, and to make a name for himself, doing great and awesome things for them, by driving out before his people nations and their gods? And you established your people Israel for yourself to be your people forever; and you, O Lord, became their God. And now, O Lord God, as for the word that you have spoken concerning your servant and concerning his house, confirm it forever; do as you have promised. Thus your name will be magnified forever in the saying, 'The Lord of hosts is God over Israel'; and the house of your servant David will be established before you. For you, O Lord of hosts, the God of Israel, have made this revelation to your servant, saying, 'I will build you a house'; therefore your servant has found courage to pray this prayer to you. And now, O Lord God, you are God, and your words are true, and you have promised this good thing to your servant; now therefore may it please you to bless the house of your servant, so that it may continue forever before you; for you, O Lord God, have spoken, and with your blessing shall the house of your servant be blessed forever."
Galatians 3:6-14
The promise of the Spirit
Just as Abraham "believed God, and it was reckoned to him as righteousness," so, you see, those who believe are the descendants of Abraham. And the scripture, foreseeing that God would justify the Gentiles by faith, declared the gospel beforehand to Abraham, saying, "All the Gentiles shall be blessed in you." For this reason, those who believe are blessed with Abraham who believed.
For all who rely on the works of the law are under a curse; for it is written, "Cursed is everyone who does not observe and obey all the things written in the book of the law." Now it is evident that no one is justified before God by the law; for "The one who is righteous will live by faith." But the law does not rest on faith; on the contrary, "Whoever does the works of the law will live by them." Christ redeemed us from the curse of the law by becoming a curse for us—for it is written, "Cursed is everyone who hangs on a tree"—in order that in Christ Jesus the blessing of Abraham might come to the Gentiles, so that we might receive the promise of the Spirit through faith.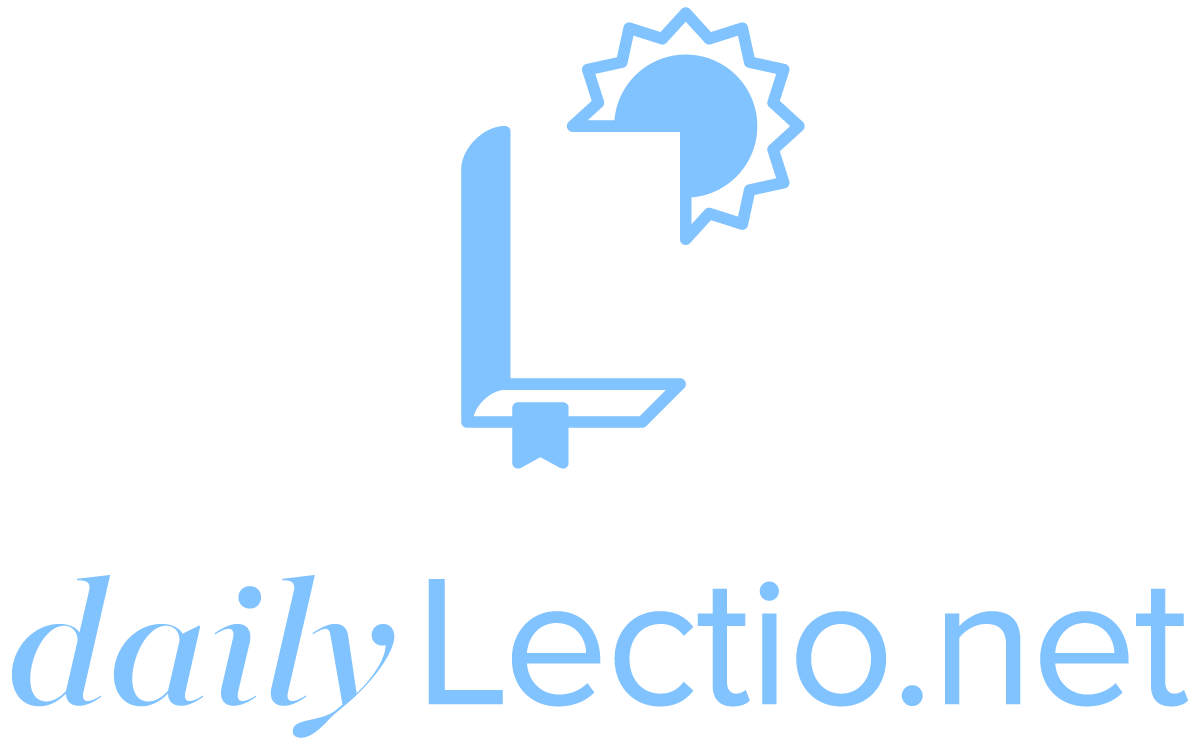 Download the DailyLectio App
Prayer reprinted from Revised Common Lectionary Prayers, © 2002 Consultation on Common Texts. Reproduced by permission.
Revised Common Lectionary Daily Readings copyright © 2005 Consultation on Common Texts admin. Augsburg Fortress. Reproduced by permission. No further reproduction allowed without the written permission of Augsburg Fortress.
New Revised Standard Version Bible, copyright © 1989 National Council of the Churches of Christ in the United States of America. Used by permission. All rights reserved.