Reflecting on the Fourth

Sunday of Advent

Year A
Daily Readings for Monday
December 19, 2022

---
Shepherd of Israel,
may Jesus, Emmanuel and son of Mary,
be more than just a dream in our hearts.
With the apostles, prophets, and saints,
save us, restore us,
and lead us in the way of grace and peace,
that we may bear your promise into the world. Amen.
1 Samuel 2:1-10
Hannah's song
Hannah prayed and said,
"My heart exults in the Lord;
my strength is exalted in my God.
My mouth derides my enemies,
because I rejoice in my victory.
"There is no Holy One like the Lord,
no one besides you;
there is no Rock like our God.
Talk no more so very proudly,
let not arrogance come from your mouth;
for the Lord is a God of knowledge,
and by him actions are weighed.
The bows of the mighty are broken,
but the feeble gird on strength.
Those who were full have hired themselves out for bread,
but those who were hungry are fat with spoil.
The barren has borne seven,
but she who has many children is forlorn.
The Lord kills and brings to life;
he brings down to Sheol and raises up.
The Lord makes poor and makes rich;
he brings low, he also exalts.
He raises up the poor from the dust;
he lifts the needy from the ash heap,
to make them sit with princes
and inherit a seat of honor.
For the pillars of the earth are the Lord's,
and on them he has set the world.
"He will guard the feet of his faithful ones,
but the wicked shall be cut off in darkness;
for not by might does one prevail.
The Lord! His adversaries shall be shattered;
the Most High will thunder in heaven.
The Lord will judge the ends of the earth;
he will give strength to his king,
and exalt the power of his anointed."
Genesis 17:15-22
God promises Sarah a son
God said to Abraham, "As for Sarai your wife, you shall not call her Sarai, but Sarah shall be her name. I will bless her, and moreover I will give you a son by her. I will bless her, and she shall give rise to nations; kings of peoples shall come from her." Then Abraham fell on his face and laughed, and said to himself, "Can a child be born to a man who is a hundred years old? Can Sarah, who is ninety years old, bear a child?" And Abraham said to God, "O that Ishmael might live in your sight!" God said, "No, but your wife Sarah shall bear you a son, and you shall name him Isaac. I will establish my covenant with him as an everlasting covenant for his offspring after him. As for Ishmael, I have heard you; I will bless him and make him fruitful and exceedingly numerous; he shall be the father of twelve princes, and I will make him a great nation. But my covenant I will establish with Isaac, whom Sarah shall bear to you at this season next year." And when he had finished talking with him, God went up from Abraham.
Galatians 4:8-20
Paul's labor for the Galatian church
Formerly, when you did not know God, you were enslaved to beings that by nature are not gods. Now, however, that you have come to know God, or rather to be known by God, how can you turn back again to the weak and beggarly elemental spirits? How can you want to be enslaved to them again? You are observing special days, and months, and seasons, and years. I am afraid that my work for you may have been wasted.
Friends, I beg you, become as I am, for I also have become as you are. You have done me no wrong. You know that it was because of a physical infirmity that I first announced the gospel to you; though my condition put you to the test, you did not scorn or despise me, but welcomed me as an angel of God, as Christ Jesus. What has become of the goodwill you felt? For I testify that, had it been possible, you would have torn out your eyes and given them to me. Have I now become your enemy by telling you the truth? They make much of you, but for no good purpose; they want to exclude you, so that you may make much of them. It is good to be made much of for a good purpose at all times, and not only when I am present with you. My little children, for whom I am again in the pain of childbirth until Christ is formed in you, I wish I were present with you now and could change my tone, for I am perplexed about you.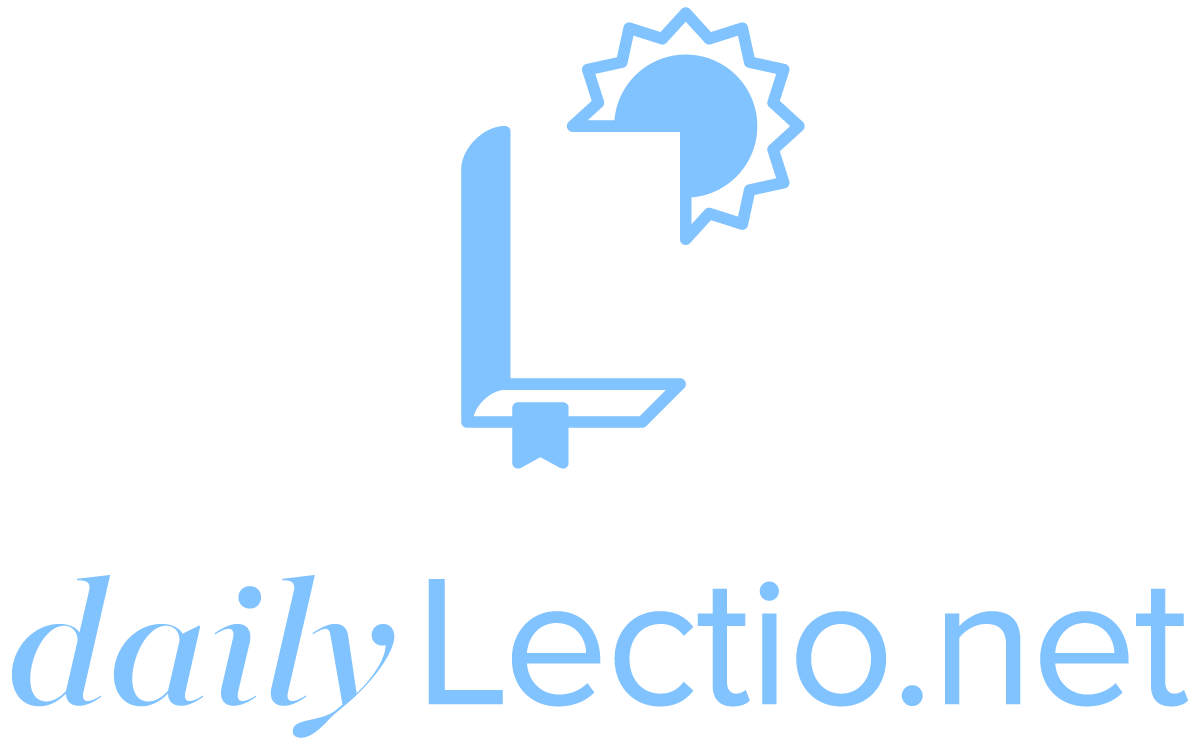 Download the DailyLectio App
Prayer reprinted from Revised Common Lectionary Prayers, © 2002 Consultation on Common Texts. Reproduced by permission.
Revised Common Lectionary Daily Readings copyright © 2005 Consultation on Common Texts admin. Augsburg Fortress. Reproduced by permission. No further reproduction allowed without the written permission of Augsburg Fortress.
New Revised Standard Version Bible, copyright © 1989 National Council of the Churches of Christ in the United States of America. Used by permission. All rights reserved.