Reflecting on the First

Sunday of Advent

Year A
Daily Readings for Tuesday
November 29, 2022

---
Unexpected God,
your advent alarms us.
Wake us from drowsy worship,
from the sleep that neglects love,
and the sedative of misdirected frenzy.
Awaken us now to your coming,
and bend our angers into your peace. Amen.
Psalm 124
We have escaped like a bird
If it had not been the Lord who was on our side
—let Israel now say—
if it had not been the Lord who was on our side,
when our enemies attacked us,
then they would have swallowed us up alive,
when their anger was kindled against us;
then the flood would have swept us away,
the torrent would have gone over us;
then over us would have gone
the raging waters.
Blessed be the Lord,
who has not given us
as prey to their teeth.
We have escaped like a bird
from the snare of the fowlers;
the snare is broken,
and we have escaped.
Our help is in the name of the Lord,
who made heaven and earth.
Genesis 9:1-17
Command to be fruitful; sign of the rainbow
God blessed Noah and his sons, and said to them, "Be fruitful and multiply, and fill the earth. The fear and dread of you shall rest on every animal of the earth, and on every bird of the air, on everything that creeps on the ground, and on all the fish of the sea; into your hand they are delivered. Every moving thing that lives shall be food for you; and just as I gave you the green plants, I give you everything. Only, you shall not eat flesh with its life, that is, its blood. For your own lifeblood I will surely require a reckoning: from every animal I will require it and from human beings, each one for the blood of another, I will require a reckoning for human life.
Whoever sheds the blood of a human,
by a human shall that person's blood be shed;
for in his own image
God made humankind.
And you, be fruitful and multiply, abound on the earth and multiply in it."
Then God said to Noah and to his sons with him, "As for me, I am establishing my covenant with you and your descendants after you, and with every living creature that is with you, the birds, the domestic animals, and every animal of the earth with you, as many as came out of the ark. I establish my covenant with you, that never again shall all flesh be cut off by the waters of a flood, and never again shall there be a flood to destroy the earth." God said, "This is the sign of the covenant that I make between me and you and every living creature that is with you, for all future generations: I have set my bow in the clouds, and it shall be a sign of the covenant between me and the earth. When I bring clouds over the earth and the bow is seen in the clouds, I will remember my covenant that is between me and you and every living creature of all flesh; and the waters shall never again become a flood to destroy all flesh. When the bow is in the clouds, I will see it and remember the everlasting covenant between God and every living creature of all flesh that is on the earth." God said to Noah, "This is the sign of the covenant that I have established between me and all flesh that is on the earth."
Hebrews 11:32-40
The heroes of faith
And what more should I say? For time would fail me to tell of Gideon, Barak, Samson, Jephthah, of David and Samuel and the prophets—who through faith conquered kingdoms, administered justice, obtained promises, shut the mouths of lions, quenched raging fire, escaped the edge of the sword, won strength out of weakness, became mighty in war, put foreign armies to flight. Women received their dead by resurrection. Others were tortured, refusing to accept release, in order to obtain a better resurrection. Others suffered mocking and flogging, and even chains and imprisonment. They were stoned to death, they were sawn in two, they were killed by the sword; they went about in skins of sheep and goats, destitute, persecuted, tormented—of whom the world was not worthy. They wandered in deserts and mountains, and in caves and holes in the ground.
Yet all these, though they were commended for their faith, did not receive what was promised, since God had provided something better so that they would not, apart from us, be made perfect.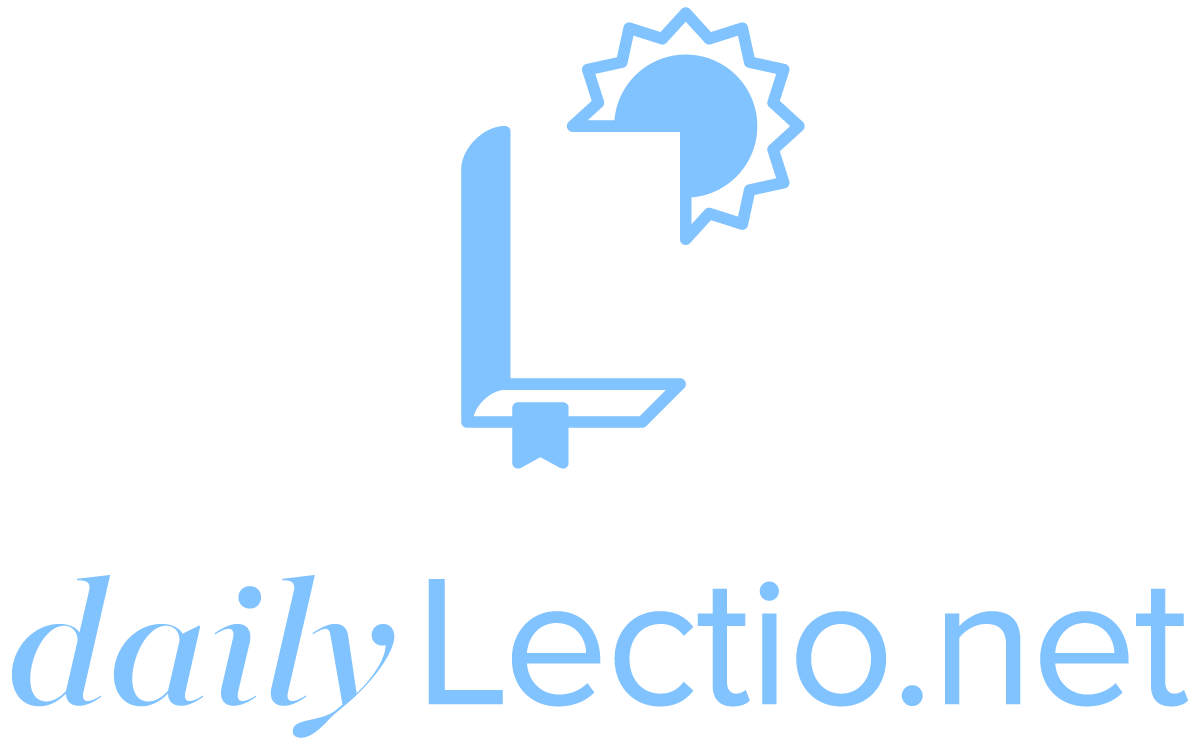 Download the DailyLectio App
Prayer reprinted from Revised Common Lectionary Prayers, © 2002 Consultation on Common Texts. Reproduced by permission.
Revised Common Lectionary Daily Readings copyright © 2005 Consultation on Common Texts admin. Augsburg Fortress. Reproduced by permission. No further reproduction allowed without the written permission of Augsburg Fortress.
New Revised Standard Version Bible, copyright © 1989 National Council of the Churches of Christ in the United States of America. Used by permission. All rights reserved.