Reflecting on

The Day of Pentecost

Year C
Daily Readings for Wednesday
June 8, 2022

---
Living God,
you have created all that is.
Send forth your Spirit to renew and restore us,
that we may proclaim your good news
in ways and words
that all will understand and believe. Amen.
Psalm 48
The God of Zion
Great is the Lord and greatly to be praised
in the city of our God.
His holy mountain, beautiful in elevation,
is the joy of all the earth,
Mount Zion, in the far north,
the city of the great King.
Within its citadels God
has shown himself a sure defense.
Then the kings assembled,
they came on together.
As soon as they saw it, they were astounded;
they were in panic, they took to flight;
trembling took hold of them there,
pains as of a woman in labor,
as when an east wind shatters
the ships of Tarshish.
As we have heard, so have we seen
in the city of the Lord of hosts,
in the city of our God,
which God establishes forever. Selah
We ponder your steadfast love, O God,
in the midst of your temple.
Your name, O God, like your praise,
reaches to the ends of the earth.
Your right hand is filled with victory.
Let Mount Zion be glad,
let the towns of Judah rejoice
because of your judgments.
Walk about Zion, go all around it,
count its towers,
consider well its ramparts;
go through its citadels,
that you may tell the next generation
that this is God,
our God forever and ever.
He will be our guide forever.
Numbers 24:1-14
Balaam speaks with God's spirit
Now Balaam saw that it pleased the Lord to bless Israel, so he did not go, as at other times, to look for omens, but set his face toward the wilderness. Balaam looked up and saw Israel camping tribe by tribe. Then the spirit of God came upon him, and he uttered his oracle, saying:
"The oracle of Balaam son of Beor,
the oracle of the man whose eye is clear,
the oracle of one who hears the words of God,
who sees the vision of the Almighty,
who falls down, but with eyes uncovered:
how fair are your tents, O Jacob,
your encampments, O Israel!
Like palm groves that stretch far away,
like gardens beside a river,
like aloes that the Lord has planted,
like cedar trees beside the waters.
Water shall flow from his buckets,
and his seed shall have abundant water,
his king shall be higher than Agag,
and his kingdom shall be exalted.
God who brings him out of Egypt,
is like the horns of a wild ox for him;
he shall devour the nations that are his foes
and break their bones.
He shall strike with his arrows.
He crouched, he lay down like a lion,
and like a lioness; who will rouse him up?
Blessed is everyone who blesses you,
and cursed is everyone who curses you."
Then Balak's anger was kindled against Balaam, and he struck his hands together. Balak said to Balaam, "I summoned you to curse my enemies, but instead you have blessed them these three times. Now be off with you! Go home! I said, 'I will reward you richly,' but the Lord has denied you any reward." And Balaam said to Balak, "Did I not tell your messengers whom you sent to me, 'If Balak should give me his house full of silver and gold, I would not be able to go beyond the word of the Lord, to do either good or bad of my own will; what the Lord says, that is what I will say'? So now, I am going to my people; let me advise you what this people will do to your people in days to come."
Luke 1:26-38
God's Spirit comes on Mary
In the sixth month the angel Gabriel was sent by God to a town in Galilee called Nazareth, to a virgin engaged to a man whose name was Joseph, of the house of David. The virgin's name was Mary. And he came to her and said, "Greetings, favored one! The Lord is with you." But she was much perplexed by his words and pondered what sort of greeting this might be. The angel said to her, "Do not be afraid, Mary, for you have found favor with God. And now, you will conceive in your womb and bear a son, and you will name him Jesus. He will be great, and will be called the Son of the Most High, and the Lord God will give to him the throne of his ancestor David. He will reign over the house of Jacob forever, and of his kingdom there will be no end." Mary said to the angel, "How can this be, since I am a virgin?" The angel said to her, "The Holy Spirit will come upon you, and the power of the Most High will overshadow you; therefore the child to be born will be holy; he will be called Son of God. And now, your relative Elizabeth in her old age has also conceived a son; and this is the sixth month for her who was said to be barren. For nothing will be impossible with God." Then Mary said, "Here am I, the servant of the Lord; let it be with me according to your word." Then the angel departed from her.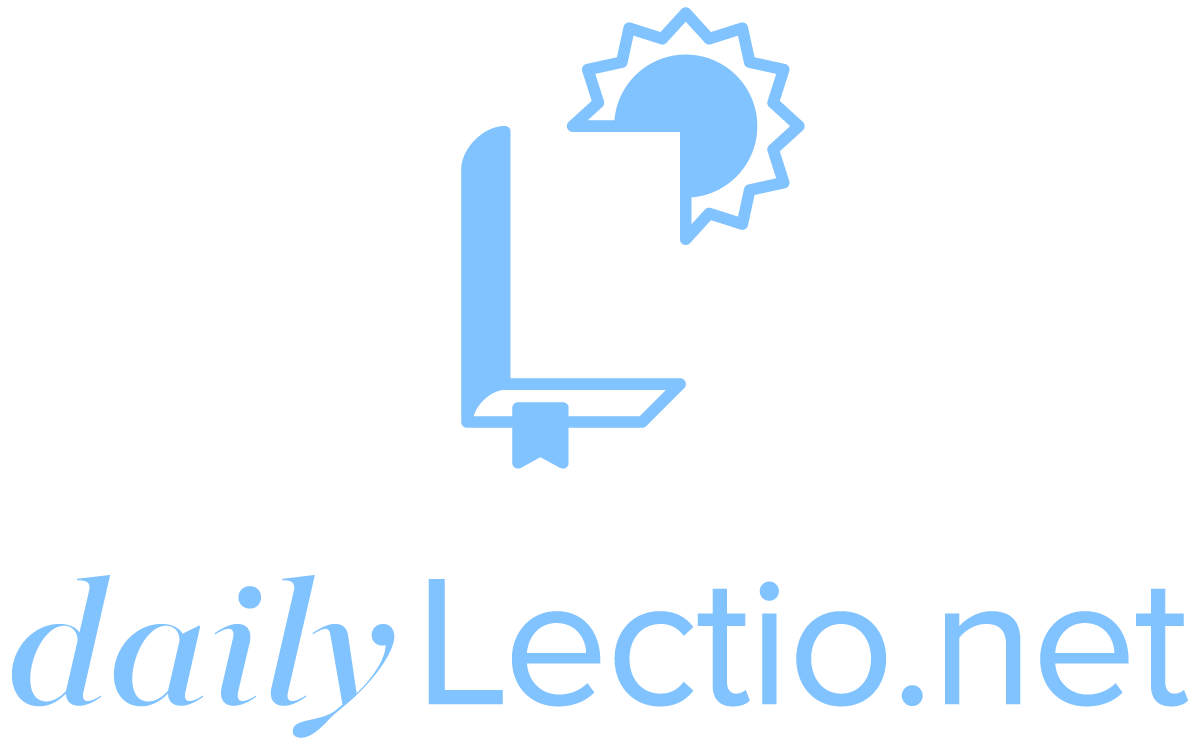 Download the DailyLectio App
Prayer reprinted from Revised Common Lectionary Prayers, © 2002 Consultation on Common Texts. Reproduced by permission.
Revised Common Lectionary Daily Readings copyright © 2005 Consultation on Common Texts admin. Augsburg Fortress. Reproduced by permission. No further reproduction allowed without the written permission of Augsburg Fortress.
New Revised Standard Version Bible, copyright © 1989 National Council of the Churches of Christ in the United States of America. Used by permission. All rights reserved.