Reflecting on

The Day of Pentecost

Year C
Daily Readings for Monday
June 6, 2022

---
Living God,
you have created all that is.
Send forth your Spirit to renew and restore us,
that we may proclaim your good news
in ways and words
that all will understand and believe. Amen.
Psalm 48
The God of Zion
Great is the Lord and greatly to be praised
in the city of our God.
His holy mountain, beautiful in elevation,
is the joy of all the earth,
Mount Zion, in the far north,
the city of the great King.
Within its citadels God
has shown himself a sure defense.
Then the kings assembled,
they came on together.
As soon as they saw it, they were astounded;
they were in panic, they took to flight;
trembling took hold of them there,
pains as of a woman in labor,
as when an east wind shatters
the ships of Tarshish.
As we have heard, so have we seen
in the city of the Lord of hosts,
in the city of our God,
which God establishes forever. Selah
We ponder your steadfast love, O God,
in the midst of your temple.
Your name, O God, like your praise,
reaches to the ends of the earth.
Your right hand is filled with victory.
Let Mount Zion be glad,
let the towns of Judah rejoice
because of your judgments.
Walk about Zion, go all around it,
count its towers,
consider well its ramparts;
go through its citadels,
that you may tell the next generation
that this is God,
our God forever and ever.
He will be our guide forever.
Joel 2:18-29
God's spirit poured out
Then the Lord became jealous for his land,
and had pity on his people.
In response to his people the Lord said:
I am sending you
grain, wine, and oil,
and you will be satisfied;
and I will no more make you
a mockery among the nations.
I will remove the northern army far from you,
and drive it into a parched and desolate land,
its front into the eastern sea,
and its rear into the western sea;
its stench and foul smell will rise up.
Surely he has done great things!
Do not fear, O soil;
be glad and rejoice,
for the Lord has done great things!
Do not fear, you animals of the field,
for the pastures of the wilderness are green;
the tree bears its fruit,
the fig tree and vine give their full yield.
O children of Zion, be glad
and rejoice in the Lord your God;
for he has given the early rain for your vindication,
he has poured down for you abundant rain,
the early and the later rain, as before.
The threshing floors shall be full of grain,
the vats shall overflow with wine and oil.
I will repay you for the years
that the swarming locust has eaten,
the hopper, the destroyer, and the cutter,
my great army, which I sent against you.
You shall eat in plenty and be satisfied,
and praise the name of the Lord your God,
who has dealt wondrously with you.
And my people shall never again be put to shame.
You shall know that I am in the midst of Israel,
and that I, the Lord, am your God and there is no other.
And my people shall never again be put to shame.
Then afterward
I will pour out my spirit on all flesh;
your sons and your daughters shall prophesy,
your old men shall dream dreams,
and your young men shall see visions.
Even on the male and female slaves,
in those days, I will pour out my spirit.
1 Corinthians 2:1-11
About the Spirit of God
When I came to you, brothers and sisters, I did not come proclaiming the mystery of God to you in lofty words or wisdom. For I decided to know nothing among you except Jesus Christ, and him crucified. And I came to you in weakness and in fear and in much trembling. My speech and my proclamation were not with plausible words of wisdom, but with a demonstration of the Spirit and of power, so that your faith might rest not on human wisdom but on the power of God.
Yet among the mature we do speak wisdom, though it is not a wisdom of this age or of the rulers of this age, who are doomed to perish. But we speak God's wisdom, secret and hidden, which God decreed before the ages for our glory. None of the rulers of this age understood this; for if they had, they would not have crucified the Lord of glory. But, as it is written,
"What no eye has seen, nor ear heard,
nor the human heart conceived,
what God has prepared for those who love him"—
these things God has revealed to us through the Spirit; for the Spirit searches everything, even the depths of God. For what human being knows what is truly human except the human spirit that is within? So also no one comprehends what is truly God's except the Spirit of God.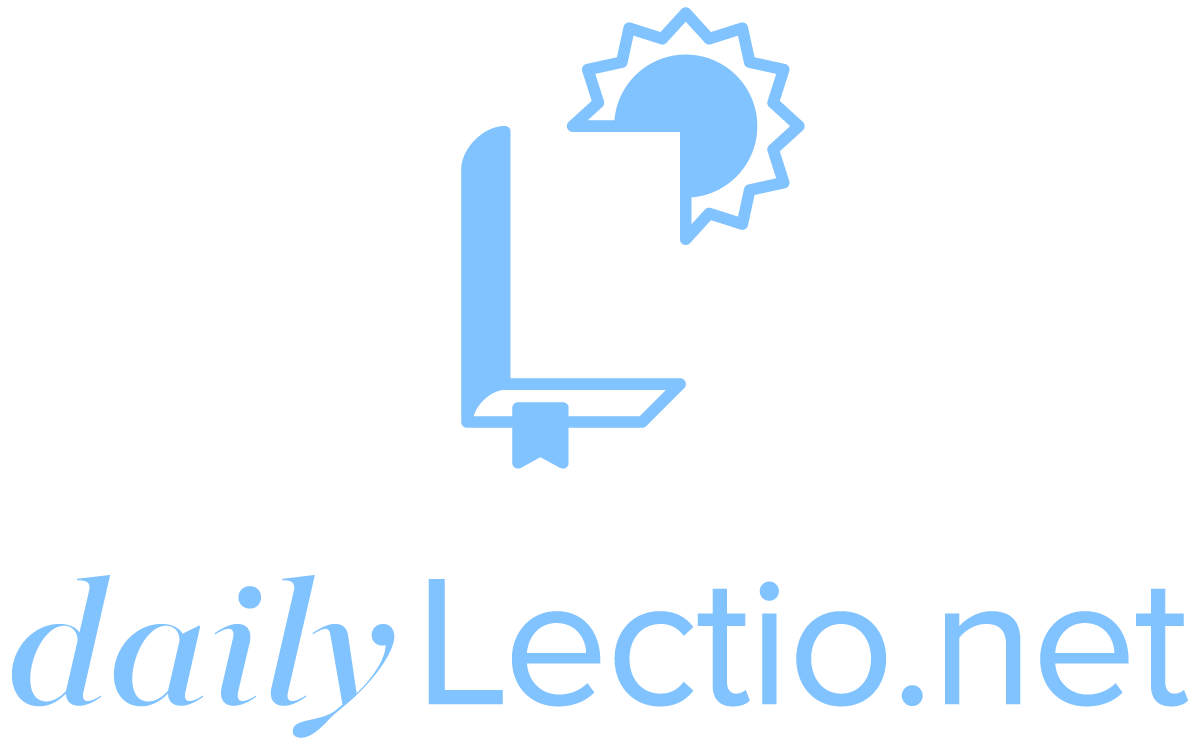 Download the DailyLectio App
Prayer reprinted from Revised Common Lectionary Prayers, © 2002 Consultation on Common Texts. Reproduced by permission.
Revised Common Lectionary Daily Readings copyright © 2005 Consultation on Common Texts admin. Augsburg Fortress. Reproduced by permission. No further reproduction allowed without the written permission of Augsburg Fortress.
New Revised Standard Version Bible, copyright © 1989 National Council of the Churches of Christ in the United States of America. Used by permission. All rights reserved.