Preparing for the Fourth

Sunday in Lent

Year C
Daily Readings for Saturday
March 26, 2022

---
God of patient love,
you await the return of the wayward and wandering
and eagerly embrace them in pardon.
Through baptism you have clothed us with the glory of Christ
and restored our inheritance:
give us generous hearts
to welcome all who seek a place
at the table of your unconditional love.
We ask this through Jesus Christ our Lord. Amen.
Psalm 32
Be glad, you righteous
Happy are those whose transgression is forgiven,
whose sin is covered.
Happy are those to whom the Lord imputes no iniquity,
and in whose spirit there is no deceit.
While I kept silence, my body wasted away
through my groaning all day long.
For day and night your hand was heavy upon me;
my strength was dried up as by the heat of summer. Selah
Then I acknowledged my sin to you,
and I did not hide my iniquity;
I said, "I will confess my transgressions to the Lord,"
and you forgave the guilt of my sin. Selah
Therefore let all who are faithful
offer prayer to you;
at a time of distress, the rush of mighty waters
shall not reach them.
You are a hiding place for me;
you preserve me from trouble;
you surround me with glad cries of deliverance. Selah
I will instruct you and teach you the way you should go;
I will counsel you with my eye upon you.
Do not be like a horse or a mule, without understanding,
whose temper must be curbed with bit and bridle,
else it will not stay near you.
Many are the torments of the wicked,
but steadfast love surrounds those who trust in the Lord.
Be glad in the Lord and rejoice, O righteous,
and shout for joy, all you upright in heart.
Exodus 32:7-14
Moses begs forgiveness
The Lord said to Moses, "Go down at once! Your people, whom you brought up out of the land of Egypt, have acted perversely; they have been quick to turn aside from the way that I commanded them; they have cast for themselves an image of a calf, and have worshiped it and sacrificed to it, and said, 'These are your gods, O Israel, who brought you up out of the land of Egypt!'" The Lord said to Moses, "I have seen this people, how stiff-necked they are. Now let me alone, so that my wrath may burn hot against them and I may consume them; and of you I will make a great nation."
But Moses implored the Lord his God, and said, "O Lord, why does your wrath burn hot against your people, whom you brought out of the land of Egypt with great power and with a mighty hand? Why should the Egyptians say, 'It was with evil intent that he brought them out to kill them in the mountains, and to consume them from the face of the earth'? Turn from your fierce wrath; change your mind and do not bring disaster on your people. Remember Abraham, Isaac, and Israel, your servants, how you swore to them by your own self, saying to them, 'I will multiply your descendants like the stars of heaven, and all this land that I have promised I will give to your descendants, and they shall inherit it forever.'" And the Lord changed his mind about the disaster that he planned to bring on his people.
Luke 15:1-10
Parables of a lost sheep and a lost coin
Now all the tax collectors and sinners were coming near to listen to him. And the Pharisees and the scribes were grumbling and saying, "This fellow welcomes sinners and eats with them."
So he told them this parable: "Which one of you, having a hundred sheep and losing one of them, does not leave the ninety-nine in the wilderness and go after the one that is lost until he finds it? When he has found it, he lays it on his shoulders and rejoices. And when he comes home, he calls together his friends and neighbors, saying to them, 'Rejoice with me, for I have found my sheep that was lost.' Just so, I tell you, there will be more joy in heaven over one sinner who repents than over ninety-nine righteous persons who need no repentance.
"Or what woman having ten silver coins, if she loses one of them, does not light a lamp, sweep the house, and search carefully until she finds it? When she has found it, she calls together her friends and neighbors, saying, 'Rejoice with me, for I have found the coin that I had lost.' Just so, I tell you, there is joy in the presence of the angels of God over one sinner who repents."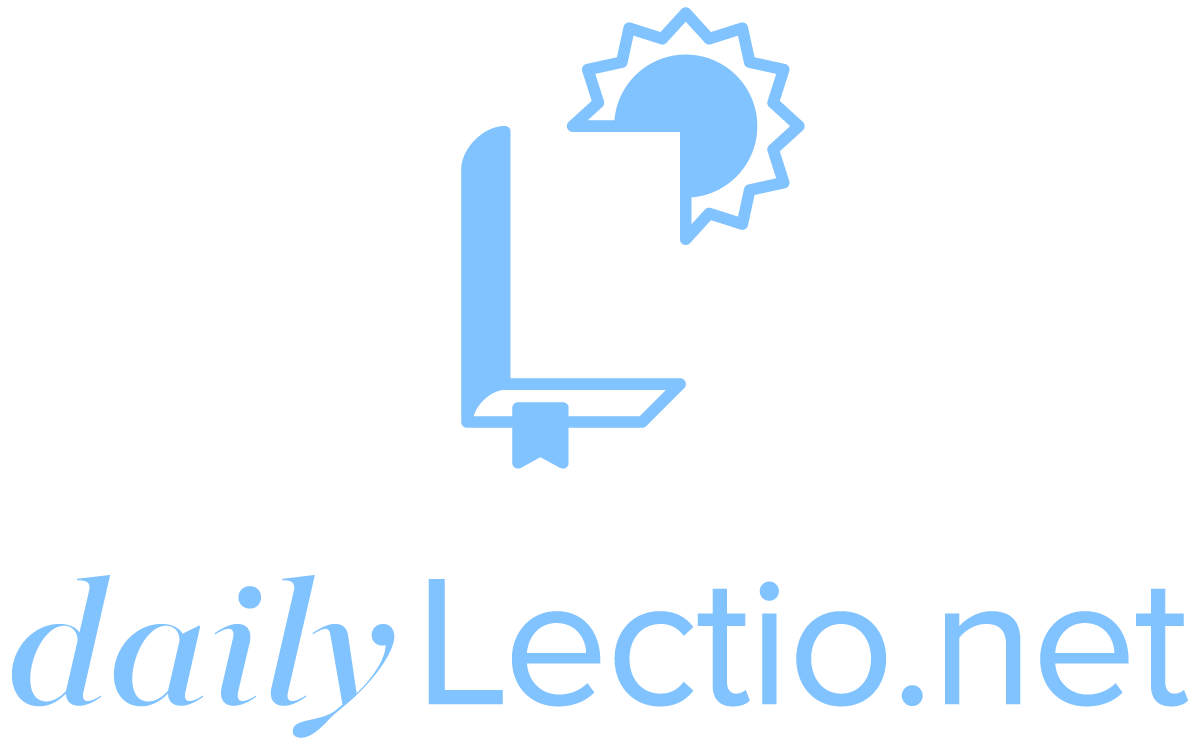 Download the DailyLectio App
Prayer reprinted from Revised Common Lectionary Prayers, © 2002 Consultation on Common Texts. Reproduced by permission.
Revised Common Lectionary Daily Readings copyright © 2005 Consultation on Common Texts admin. Augsburg Fortress. Reproduced by permission. No further reproduction allowed without the written permission of Augsburg Fortress.
New Revised Standard Version Bible, copyright © 1989 National Council of the Churches of Christ in the United States of America. Used by permission. All rights reserved.