Reflecting on the Second

Sunday in Lent

Year C
Daily Readings for Tuesday
March 15, 2022

---
Hope beyond all human hope,
you promised descendants as numerous as the stars
to old Abraham and barren Sarah.
You promise light and salvation
in the midst of darkness and despair,
and promise redemption to a world that will not listen.
Gather us to yourself in tenderness,
open our ears to listen to your word,
and teach us to live faithfully
as people confident of the fulfillment of your promises.
We ask this in the name of Jesus Christ. Amen.
Psalm 105:1-15 [16-41] 42
God's covenant with Abraham
O give thanks to the Lord, call on his name,
make known his deeds among the peoples.
Sing to him, sing praises to him;
tell of all his wonderful works.
Glory in his holy name;
let the hearts of those who seek the Lord rejoice.
Seek the Lord and his strength;
seek his presence continually.
Remember the wonderful works he has done,
his miracles, and the judgments he has uttered,
O offspring of his servant Abraham,
children of Jacob, his chosen ones.
He is the Lord our God;
his judgments are in all the earth.
He is mindful of his covenant forever,
of the word that he commanded, for a thousand generations,
the covenant that he made with Abraham,
his sworn promise to Isaac,
which he confirmed to Jacob as a statute,
to Israel as an everlasting covenant,
saying, "To you I will give the land of Canaan
as your portion for an inheritance."
When they were few in number,
of little account, and strangers in it,
wandering from nation to nation,
from one kingdom to another people,
he allowed no one to oppress them;
he rebuked kings on their account,
saying, "Do not touch my anointed ones;
do my prophets no harm."
[When he summoned famine against the land,
and broke every staff of bread,
he had sent a man ahead of them,
Joseph, who was sold as a slave.
His feet were hurt with fetters,
his neck was put in a collar of iron;
until what he had said came to pass,
the word of the Lord kept testing him.
The king sent and released him;
the ruler of the peoples set him free.
He made him lord of his house,
and ruler of all his possessions,
to instruct his officials at his pleasure,
and to teach his elders wisdom.
Then Israel came to Egypt;
Jacob lived as an alien in the land of Ham.
And the Lord made his people very fruitful,
and made them stronger than their foes,
whose hearts he then turned to hate his people,
to deal craftily with his servants.
He sent his servant Moses,
and Aaron whom he had chosen.
They performed his signs among them,
and miracles in the land of Ham.
He sent darkness, and made the land dark;
they rebelled against his words.
He turned their waters into blood,
and caused their fish to die.
Their land swarmed with frogs,
even in the chambers of their kings.
He spoke, and there came swarms of flies,
and gnats throughout their country.
He gave them hail for rain,
and lightning that flashed through their land.
He struck their vines and fig trees,
and shattered the trees of their country.
He spoke, and the locusts came,
and young locusts without number;
they devoured all the vegetation in their land,
and ate up the fruit of their ground.
He struck down all the firstborn in their land,
the first issue of all their strength.
Then he brought Israel out with silver and gold,
and there was no one among their tribes who stumbled.
Egypt was glad when they departed,
for dread of them had fallen upon it.
He spread a cloud for a covering,
and fire to give light by night.
They asked, and he brought quails,
and gave them food from heaven in abundance.
He opened the rock, and water gushed out;
it flowed through the desert like a river.]
For he remembered his holy promise,
and Abraham, his servant.
Numbers 14:10b-24
Moses intercedes for the people
Then the glory of the Lord appeared at the tent of meeting to all the Israelites. And the Lord said to Moses, "How long will this people despise me? And how long will they refuse to believe in me, in spite of all the signs that I have done among them? I will strike them with pestilence and disinherit them, and I will make of you a nation greater and mightier than they."
But Moses said to the Lord, "Then the Egyptians will hear of it, for in your might you brought up this people from among them, and they will tell the inhabitants of this land. They have heard that you, O Lord, are in the midst of this people; for you, O Lord, are seen face to face, and your cloud stands over them and you go in front of them, in a pillar of cloud by day and in a pillar of fire by night. Now if you kill this people all at one time, then the nations who have heard about you will say, 'It is because the Lord was not able to bring this people into the land he swore to give them that he has slaughtered them in the wilderness.' And now, therefore, let the power of the Lord be great in the way that you promised when you spoke, saying,
'The Lord is slow to anger,
and abounding in steadfast love,
forgiving iniquity and transgression,
but by no means clearing the guilty,
visiting the iniquity of the parents
upon the children
to the third and the fourth generation.'
Forgive the iniquity of this people according to the greatness of your steadfast love, just as you have pardoned this people, from Egypt even until now."
Then the Lord said, "I do forgive, just as you have asked; nevertheless—as I live, and as all the earth shall be filled with the glory of the Lord—none of the people who have seen my glory and the signs that I did in Egypt and in the wilderness, and yet have tested me these ten times and have not obeyed my voice, shall see the land that I swore to give to their ancestors; none of those who despised me shall see it. But my servant Caleb, because he has a different spirit and has followed me wholeheartedly, I will bring into the land into which he went, and his descendants shall possess it.
1 Corinthians 10:1-13
God is faithful
I do not want you to be unaware, brothers and sisters, that our ancestors were all under the cloud, and all passed through the sea, and all were baptized into Moses in the cloud and in the sea, and all ate the same spiritual food, and all drank the same spiritual drink. For they drank from the spiritual rock that followed them, and the rock was Christ. Nevertheless, God was not pleased with most of them, and they were struck down in the wilderness.
Now these things occurred as examples for us, so that we might not desire evil as they did. Do not become idolaters as some of them did; as it is written, "The people sat down to eat and drink, and they rose up to play." We must not indulge in sexual immorality as some of them did, and twenty-three thousand fell in a single day. We must not put Christ to the test, as some of them did, and were destroyed by serpents. And do not complain as some of them did, and were destroyed by the destroyer. These things happened to them to serve as an example, and they were written down to instruct us, on whom the ends of the ages have come. So if you think you are standing, watch out that you do not fall. No testing has overtaken you that is not common to everyone. God is faithful, and he will not let you be tested beyond your strength, but with the testing he will also provide the way out so that you may be able to endure it.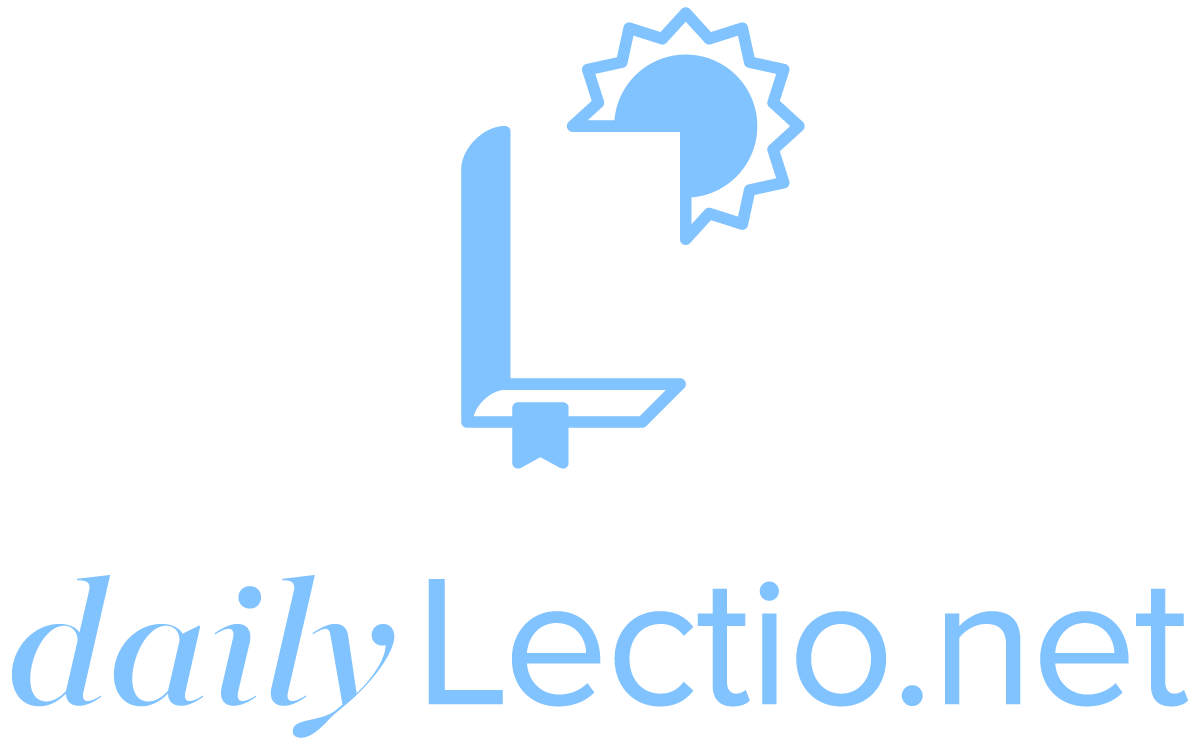 Download the DailyLectio App
Prayer reprinted from Revised Common Lectionary Prayers, © 2002 Consultation on Common Texts. Reproduced by permission.
Revised Common Lectionary Daily Readings copyright © 2005 Consultation on Common Texts admin. Augsburg Fortress. Reproduced by permission. No further reproduction allowed without the written permission of Augsburg Fortress.
New Revised Standard Version Bible, copyright © 1989 National Council of the Churches of Christ in the United States of America. Used by permission. All rights reserved.