Reflecting on the Seventh

Sunday after the Epiphany

Year C
Daily Readings for Tuesday
February 22, 2022

---
From your mouth, O God,
come mercy and righteousness,
and out of the abundance of your heart
you have given us your Word made flesh, Jesus the Christ.
Pour out your Spirit of integrity upon us,
that all we say and do
may befit a people made in your image
and baptized into the dying and rising of your Son. Amen.
Psalm 38
Confession of sin
O Lord, do not rebuke me in your anger,
or discipline me in your wrath.
For your arrows have sunk into me,
and your hand has come down on me.
There is no soundness in my flesh
because of your indignation;
there is no health in my bones
because of my sin.
For my iniquities have gone over my head;
they weigh like a burden too heavy for me.
My wounds grow foul and fester
because of my foolishness;
I am utterly bowed down and prostrate;
all day long I go around mourning.
For my loins are filled with burning,
and there is no soundness in my flesh.
I am utterly spent and crushed;
I groan because of the tumult of my heart.
O Lord, all my longing is known to you;
my sighing is not hidden from you.
My heart throbs, my strength fails me;
as for the light of my eyes—it also has gone from me.
My friends and companions stand aloof from my affliction,
and my neighbors stand far off.
Those who seek my life lay their snares;
those who seek to hurt me speak of ruin,
and meditate treachery all day long.
But I am like the deaf, I do not hear;
like the mute, who cannot speak.
Truly, I am like one who does not hear,
and in whose mouth is no retort.
But it is for you, O Lord, that I wait;
it is you, O Lord my God, who will answer.
For I pray, "Only do not let them rejoice over me,
those who boast against me when my foot slips."
For I am ready to fall,
and my pain is ever with me.
I confess my iniquity;
I am sorry for my sin.
Those who are my foes without cause are mighty,
and many are those who hate me wrongfully.
Those who render me evil for good
are my adversaries because I follow after good.
Do not forsake me, O Lord;
O my God, do not be far from me;
make haste to help me,
O Lord, my salvation.
1 Samuel 24:1-22
David spares Saul's life
When Saul returned from following the Philistines, he was told, "David is in the wilderness of En-gedi." Then Saul took three thousand chosen men out of all Israel, and went to look for David and his men in the direction of the Rocks of the Wild Goats. He came to the sheepfolds beside the road, where there was a cave; and Saul went in to relieve himself. Now David and his men were sitting in the innermost parts of the cave. The men of David said to him, "Here is the day of which the Lord said to you, 'I will give your enemy into your hand, and you shall do to him as it seems good to you.'" Then David went and stealthily cut off a corner of Saul's cloak. Afterward David was stricken to the heart because he had cut off a corner of Saul's cloak. He said to his men, "The Lord forbid that I should do this thing to my lord, the Lord's anointed, to raise my hand against him; for he is the Lord's anointed." So David scolded his men severely and did not permit them to attack Saul. Then Saul got up and left the cave, and went on his way.
Afterwards David also rose up and went out of the cave and called after Saul, "My lord the king!" When Saul looked behind him, David bowed with his face to the ground, and did obeisance. David said to Saul, "Why do you listen to the words of those who say, 'David seeks to do you harm'? This very day your eyes have seen how the Lord gave you into my hand in the cave; and some urged me to kill you, but I spared you. I said, 'I will not raise my hand against my lord; for he is the Lord's anointed.' See, my father, see the corner of your cloak in my hand; for by the fact that I cut off the corner of your cloak, and did not kill you, you may know for certain that there is no wrong or treason in my hands. I have not sinned against you, though you are hunting me to take my life. May the Lord judge between me and you! May the Lord avenge me on you; but my hand shall not be against you. As the ancient proverb says, 'Out of the wicked comes forth wickedness'; but my hand shall not be against you. Against whom has the king of Israel come out? Whom do you pursue? A dead dog? A single flea? May the Lord therefore be judge, and give sentence between me and you. May he see to it, and plead my cause, and vindicate me against you."
When David had finished speaking these words to Saul, Saul said, "Is this your voice, my son David?" Saul lifted up his voice and wept. He said to David, "You are more righteous than I; for you have repaid me good, whereas I have repaid you evil. Today you have explained how you have dealt well with me, in that you did not kill me when the Lord put me into your hands. For who has ever found an enemy, and sent the enemy safely away? So may the Lord reward you with good for what you have done to me this day. Now I know that you shall surely be king, and that the kingdom of Israel shall be established in your hand. Swear to me therefore by the Lord that you will not cut off my descendants after me, and that you will not wipe out my name from my father's house." So David swore this to Saul. Then Saul went home; but David and his men went up to the stronghold.
1 Corinthians 11:17-22, 27-33
Advice concerning the Lord's supper
Now in the following instructions I do not commend you, because when you come together it is not for the better but for the worse. For, to begin with, when you come together as a church, I hear that there are divisions among you; and to some extent I believe it. Indeed, there have to be factions among you, for only so will it become clear who among you are genuine. When you come together, it is not really to eat the Lord's supper. For when the time comes to eat, each of you goes ahead with your own supper, and one goes hungry and another becomes drunk. What! Do you not have homes to eat and drink in? Or do you show contempt for the church of God and humiliate those who have nothing? What should I say to you? Should I commend you? In this matter I do not commend you!
Whoever, therefore, eats the bread or drinks the cup of the Lord in an unworthy manner will be answerable for the body and blood of the Lord. Examine yourselves, and only then eat of the bread and drink of the cup. For all who eat and drink without discerning the body, eat and drink judgment against themselves. For this reason many of you are weak and ill, and some have died. But if we judged ourselves, we would not be judged. But when we are judged by the Lord, we are disciplined so that we may not be condemned along with the world.
So then, my brothers and sisters, when you come together to eat, wait for one another.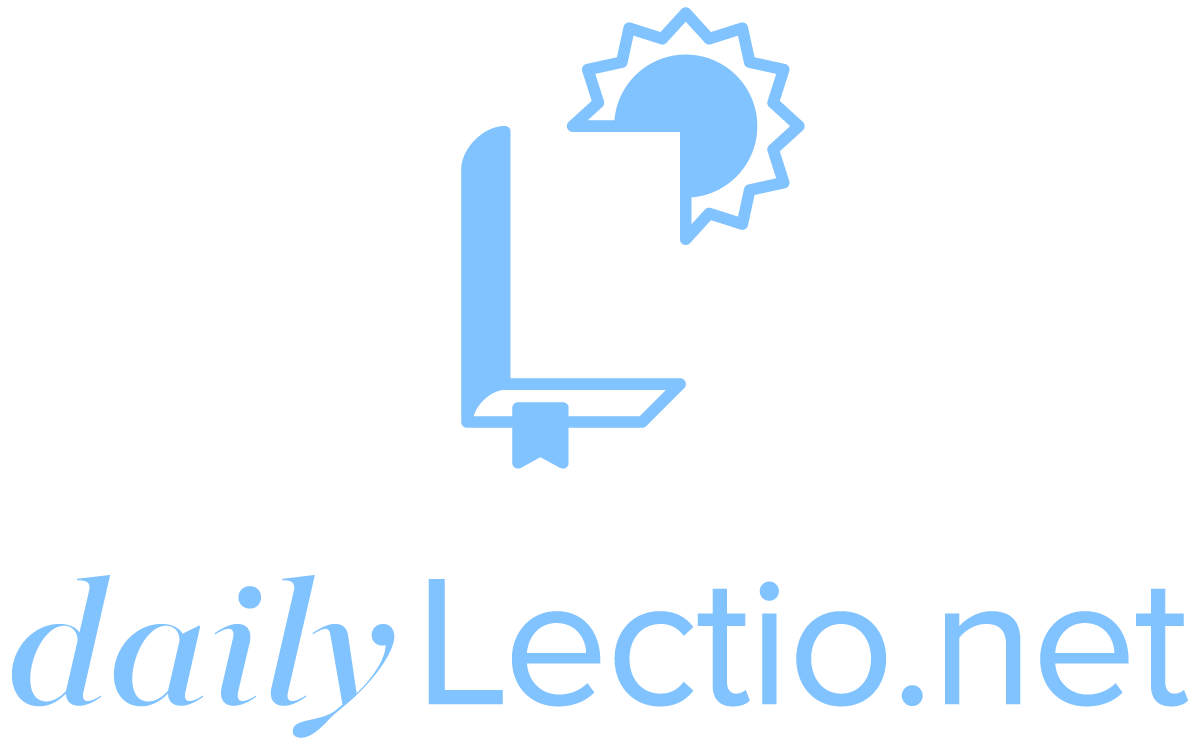 Download the DailyLectio App
Prayer reprinted from Revised Common Lectionary Prayers, © 2002 Consultation on Common Texts. Reproduced by permission.
Revised Common Lectionary Daily Readings copyright © 2005 Consultation on Common Texts admin. Augsburg Fortress. Reproduced by permission. No further reproduction allowed without the written permission of Augsburg Fortress.
New Revised Standard Version Bible, copyright © 1989 National Council of the Churches of Christ in the United States of America. Used by permission. All rights reserved.