Reflecting on the Seventh

Sunday after the Epiphany

Year C
Daily Readings for Monday
February 21, 2022

---
From your mouth, O God,
come mercy and righteousness,
and out of the abundance of your heart
you have given us your Word made flesh, Jesus the Christ.
Pour out your Spirit of integrity upon us,
that all we say and do
may befit a people made in your image
and baptized into the dying and rising of your Son. Amen.
Psalm 38
Confession of sin
O Lord, do not rebuke me in your anger,
or discipline me in your wrath.
For your arrows have sunk into me,
and your hand has come down on me.
There is no soundness in my flesh
because of your indignation;
there is no health in my bones
because of my sin.
For my iniquities have gone over my head;
they weigh like a burden too heavy for me.
My wounds grow foul and fester
because of my foolishness;
I am utterly bowed down and prostrate;
all day long I go around mourning.
For my loins are filled with burning,
and there is no soundness in my flesh.
I am utterly spent and crushed;
I groan because of the tumult of my heart.
O Lord, all my longing is known to you;
my sighing is not hidden from you.
My heart throbs, my strength fails me;
as for the light of my eyes—it also has gone from me.
My friends and companions stand aloof from my affliction,
and my neighbors stand far off.
Those who seek my life lay their snares;
those who seek to hurt me speak of ruin,
and meditate treachery all day long.
But I am like the deaf, I do not hear;
like the mute, who cannot speak.
Truly, I am like one who does not hear,
and in whose mouth is no retort.
But it is for you, O Lord, that I wait;
it is you, O Lord my God, who will answer.
For I pray, "Only do not let them rejoice over me,
those who boast against me when my foot slips."
For I am ready to fall,
and my pain is ever with me.
I confess my iniquity;
I am sorry for my sin.
Those who are my foes without cause are mighty,
and many are those who hate me wrongfully.
Those who render me evil for good
are my adversaries because I follow after good.
Do not forsake me, O Lord;
O my God, do not be far from me;
make haste to help me,
O Lord, my salvation.
Genesis 33:1-17
Jacob and Esau reconcile
Now Jacob looked up and saw Esau coming, and four hundred men with him. So he divided the children among Leah and Rachel and the two maids. He put the maids with their children in front, then Leah with her children, and Rachel and Joseph last of all. He himself went on ahead of them, bowing himself to the ground seven times, until he came near his brother.
But Esau ran to meet him, and embraced him, and fell on his neck and kissed him, and they wept. When Esau looked up and saw the women and children, he said, "Who are these with you?" Jacob said, "The children whom God has graciously given your servant." Then the maids drew near, they and their children, and bowed down; Leah likewise and her children drew near and bowed down; and finally Joseph and Rachel drew near, and they bowed down. Esau said, "What do you mean by all this company that I met?" Jacob answered, "To find favor with my lord." But Esau said, "I have enough, my brother; keep what you have for yourself." Jacob said, "No, please; if I find favor with you, then accept my present from my hand; for truly to see your face is like seeing the face of God—since you have received me with such favor. Please accept my gift that is brought to you, because God has dealt graciously with me, and because I have everything I want." So he urged him, and he took it.
Then Esau said, "Let us journey on our way, and I will go alongside you." But Jacob said to him, "My lord knows that the children are frail and that the flocks and herds, which are nursing, are a care to me; and if they are overdriven for one day, all the flocks will die. Let my lord pass on ahead of his servant, and I will lead on slowly, according to the pace of the cattle that are before me and according to the pace of the children, until I come to my lord in Seir."
So Esau said, "Let me leave with you some of the people who are with me." But he said, "Why should my lord be so kind to me?" So Esau returned that day on his way to Seir. But Jacob journeyed to Succoth, and built himself a house, and made booths for his cattle; therefore the place is called Succoth.
1 Corinthians 11:2-16
Advice for church life
I commend you because you remember me in everything and maintain the traditions just as I handed them on to you. But I want you to understand that Christ is the head of every man, and the husband is the head of his wife, and God is the head of Christ. Any man who prays or prophesies with something on his head disgraces his head, but any woman who prays or prophesies with her head unveiled disgraces her head—it is one and the same thing as having her head shaved. For if a woman will not veil herself, then she should cut off her hair; but if it is disgraceful for a woman to have her hair cut off or to be shaved, she should wear a veil. For a man ought not to have his head veiled, since he is the image and reflection of God; but woman is the reflection of man. Indeed, man was not made from woman, but woman from man. Neither was man created for the sake of woman, but woman for the sake of man. For this reason a woman ought to have a symbol of authority on her head, because of the angels. Nevertheless, in the Lord woman is not independent of man or man independent of woman. For just as woman came from man, so man comes through woman; but all things come from God. Judge for yourselves: is it proper for a woman to pray to God with her head unveiled? Does not nature itself teach you that if a man wears long hair, it is degrading to him, but if a woman has long hair, it is her glory? For her hair is given to her for a covering. But if anyone is disposed to be contentious—we have no such custom, nor do the churches of God.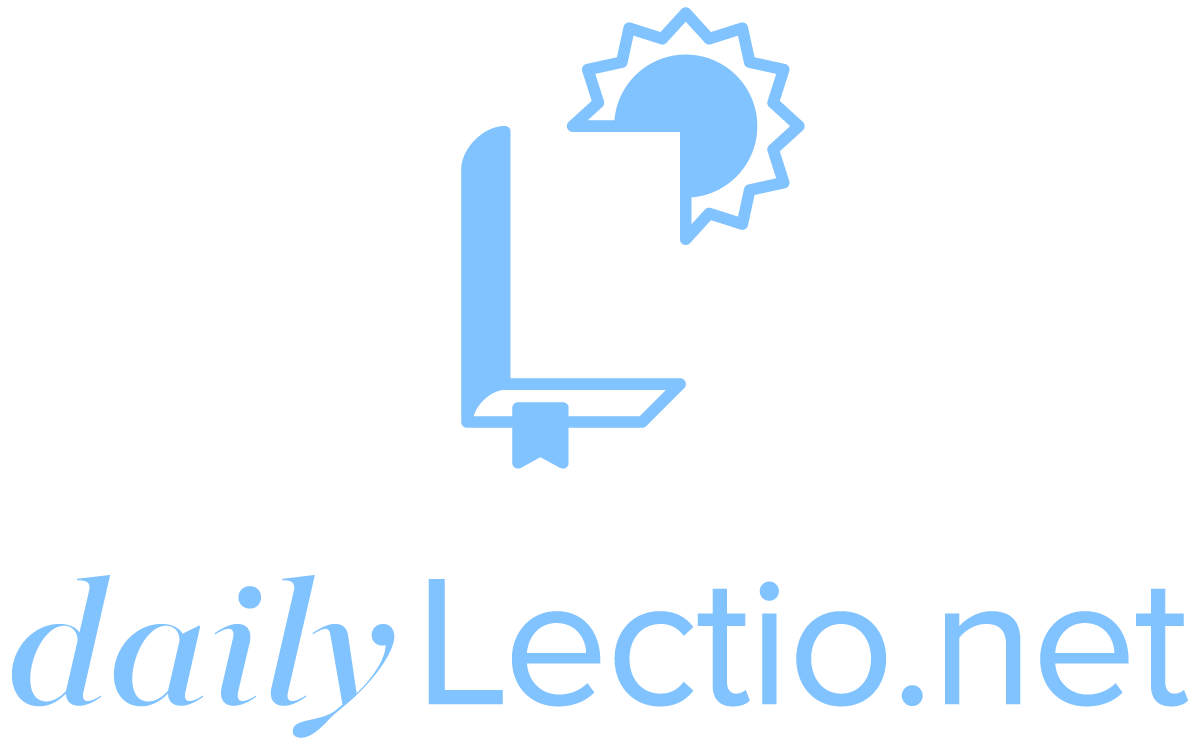 Download the DailyLectio App
Prayer reprinted from Revised Common Lectionary Prayers, © 2002 Consultation on Common Texts. Reproduced by permission.
Revised Common Lectionary Daily Readings copyright © 2005 Consultation on Common Texts admin. Augsburg Fortress. Reproduced by permission. No further reproduction allowed without the written permission of Augsburg Fortress.
New Revised Standard Version Bible, copyright © 1989 National Council of the Churches of Christ in the United States of America. Used by permission. All rights reserved.