Preparing for the Seventh

Sunday after the Epiphany

Year C
Daily Readings for Saturday
February 19, 2022

---
From your mouth, O God,
come mercy and righteousness,
and out of the abundance of your heart
you have given us your Word made flesh, Jesus the Christ.
Pour out your Spirit of integrity upon us,
that all we say and do
may befit a people made in your image
and baptized into the dying and rising of your Son. Amen.
Psalm 37:1-11, 39-40
The lowly shall possess the land
Do not fret because of the wicked;
do not be envious of wrongdoers,
for they will soon fade like the grass,
and wither like the green herb.
Trust in the Lord, and do good;
so you will live in the land, and enjoy security.
Take delight in the Lord,
and he will give you the desires of your heart.
Commit your way to the Lord;
trust in him, and he will act.
He will make your vindication shine like the light,
and the justice of your cause like the noonday.
Be still before the Lord, and wait patiently for him;
do not fret over those who prosper in their way,
over those who carry out evil devices.
Refrain from anger, and forsake wrath.
Do not fret—it leads only to evil.
For the wicked shall be cut off,
but those who wait for the Lord shall inherit the land.
Yet a little while, and the wicked will be no more;
though you look diligently for their place, they will not be there.
But the meek shall inherit the land,
and delight themselves in abundant prosperity.
The salvation of the righteous is from the Lord;
he is their refuge in the time of trouble.
The Lord helps them and rescues them;
he rescues them from the wicked, and saves them,
because they take refuge in him.
Genesis 44:18-34
Judah offers himself in Benjamin's place
Then Judah stepped up to him and said, "O my lord, let your servant please speak a word in my lord's ears, and do not be angry with your servant; for you are like Pharaoh himself. My lord asked his servants, saying, 'Have you a father or a brother?' And we said to my lord, 'We have a father, an old man, and a young brother, the child of his old age. His brother is dead; he alone is left of his mother's children, and his father loves him.' Then you said to your servants, 'Bring him down to me, so that I may set my eyes on him.' We said to my lord, 'The boy cannot leave his father, for if he should leave his father, his father would die.' Then you said to your servants, 'Unless your youngest brother comes down with you, you shall see my face no more.' When we went back to your servant my father we told him the words of my lord. And when our father said, 'Go again, buy us a little food,' we said, 'We cannot go down. Only if our youngest brother goes with us, will we go down; for we cannot see the man's face unless our youngest brother is with us.' Then your servant my father said to us, 'You know that my wife bore me two sons; one left me, and I said, Surely he has been torn to pieces; and I have never seen him since. If you take this one also from me, and harm comes to him, you will bring down my gray hairs in sorrow to Sheol.' Now therefore, when I come to your servant my father and the boy is not with us, then, as his life is bound up in the boy's life, when he sees that the boy is not with us, he will die; and your servants will bring down the gray hairs of your servant our father with sorrow to Sheol. For your servant became surety for the boy to my father, saying, 'If I do not bring him back to you, then I will bear the blame in the sight of my father all my life.' Now therefore, please let your servant remain as a slave to my lord in place of the boy; and let the boy go back with his brothers. For how can I go back to my father if the boy is not with me? I fear to see the suffering that would come upon my father."
Luke 12:57-59
Settling with your opponent
"And why do you not judge for yourselves what is right? Thus, when you go with your accuser before a magistrate, on the way make an effort to settle the case, or you may be dragged before the judge, and the judge hand you over to the officer, and the officer throw you in prison. I tell you, you will never get out until you have paid the very last penny."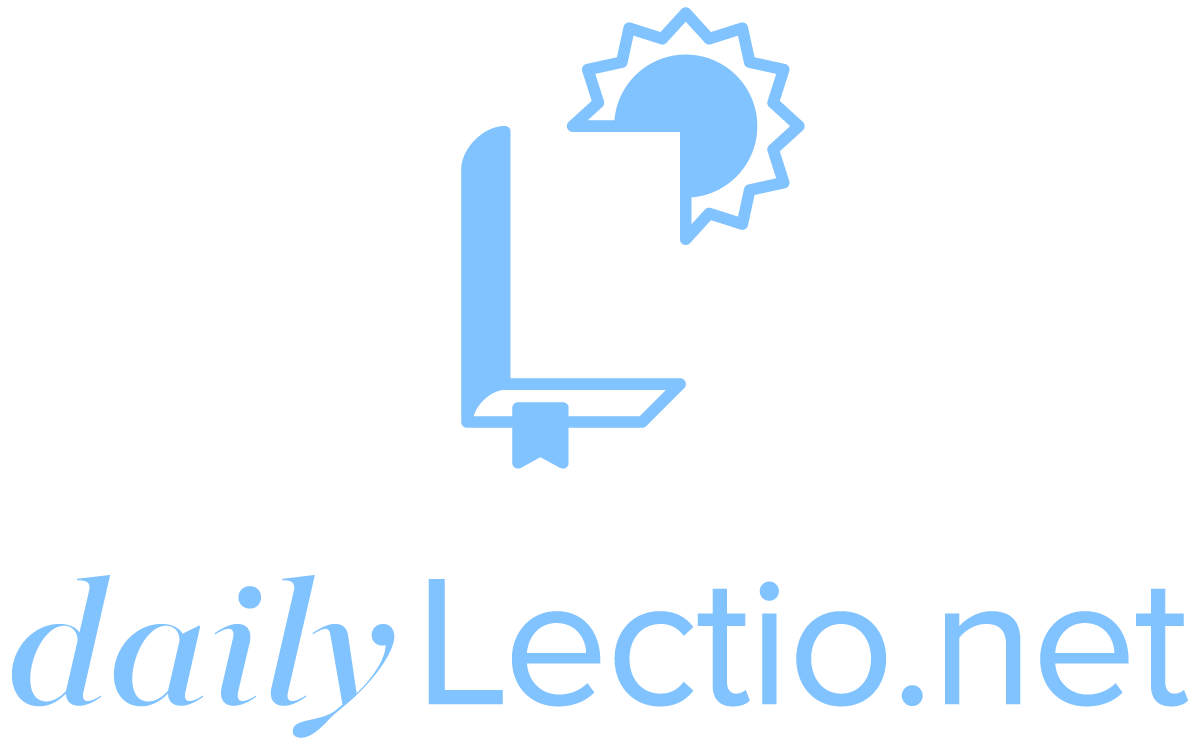 Download the DailyLectio App
Prayer reprinted from Revised Common Lectionary Prayers, © 2002 Consultation on Common Texts. Reproduced by permission.
Revised Common Lectionary Daily Readings copyright © 2005 Consultation on Common Texts admin. Augsburg Fortress. Reproduced by permission. No further reproduction allowed without the written permission of Augsburg Fortress.
New Revised Standard Version Bible, copyright © 1989 National Council of the Churches of Christ in the United States of America. Used by permission. All rights reserved.