Reflecting on the Second

Sunday after the Epiphany

Year C
Daily Readings for Monday
January 17, 2022

---
O God of steadfast love,
at the wedding in Cana
your Son Jesus turned water into wine,
delighting all who were there.
Transform our hearts by your Spirit,
that we may use our varied gifts
to show forth the light of your love
as one body in Christ. Amen.
Psalm 145
Praise God's faithfulness
I will extol you, my God and King,
and bless your name forever and ever.
Every day I will bless you,
and praise your name forever and ever.
Great is the Lord, and greatly to be praised;
his greatness is unsearchable.
One generation shall laud your works to another,
and shall declare your mighty acts.
On the glorious splendor of your majesty,
and on your wondrous works, I will meditate.
The might of your awesome deeds shall be proclaimed,
and I will declare your greatness.
They shall celebrate the fame of your abundant goodness,
and shall sing aloud of your righteousness.
The Lord is gracious and merciful,
slow to anger and abounding in steadfast love.
The Lord is good to all,
and his compassion is over all that he has made.
All your works shall give thanks to you, O Lord,
and all your faithful shall bless you.
They shall speak of the glory of your kingdom,
and tell of your power,
to make known to all people your mighty deeds,
and the glorious splendor of your kingdom.
Your kingdom is an everlasting kingdom,
and your dominion endures throughout all generations.
The Lord is faithful in all his words,
and gracious in all his deeds.
The Lord upholds all who are falling,
and raises up all who are bowed down.
The eyes of all look to you,
and you give them their food in due season.
You open your hand,
satisfying the desire of every living thing.
The Lord is just in all his ways,
and kind in all his doings.
The Lord is near to all who call on him,
to all who call on him in truth.
He fulfills the desire of all who fear him;
he also hears their cry, and saves them.
The Lord watches over all who love him,
but all the wicked he will destroy.
My mouth will speak the praise of the Lord,
and all flesh will bless his holy name forever and ever.
Isaiah 54:1-8
God is married to Israel
Sing, O barren one who did not bear;
burst into song and shout,
you who have not been in labor!
For the children of the desolate woman will be more
than the children of her that is married, says the Lord.
Enlarge the site of your tent,
and let the curtains of your habitations be stretched out;
do not hold back; lengthen your cords
and strengthen your stakes.
For you will spread out to the right and to the left,
and your descendants will possess the nations
and will settle the desolate towns.
Do not fear, for you will not be ashamed;
do not be discouraged, for you will not suffer disgrace;
for you will forget the shame of your youth,
and the disgrace of your widowhood you will remember no more.
For your Maker is your husband,
the Lord of hosts is his name;
the Holy One of Israel is your Redeemer,
the God of the whole earth he is called.
For the Lord has called you
like a wife forsaken and grieved in spirit,
like the wife of a man's youth when she is cast off,
says your God.
For a brief moment I abandoned you,
but with great compassion I will gather you.
In overflowing wrath for a moment
I hid my face from you,
but with everlasting love I will have compassion on you,
says the Lord, your Redeemer.
Romans 12:9-21
Live in harmony with one another
Let love be genuine; hate what is evil, hold fast to what is good; love one another with mutual affection; outdo one another in showing honor. Do not lag in zeal, be ardent in spirit, serve the Lord. Rejoice in hope, be patient in suffering, persevere in prayer. Contribute to the needs of the saints; extend hospitality to strangers.
Bless those who persecute you; bless and do not curse them. Rejoice with those who rejoice, weep with those who weep. Live in harmony with one another; do not be haughty, but associate with the lowly; do not claim to be wiser than you are. Do not repay anyone evil for evil, but take thought for what is noble in the sight of all. If it is possible, so far as it depends on you, live peaceably with all. Beloved, never avenge yourselves, but leave room for the wrath of God; for it is written, "Vengeance is mine, I will repay, says the Lord." No, "if your enemies are hungry, feed them; if they are thirsty, give them something to drink; for by doing this you will heap burning coals on their heads." Do not be overcome by evil, but overcome evil with good.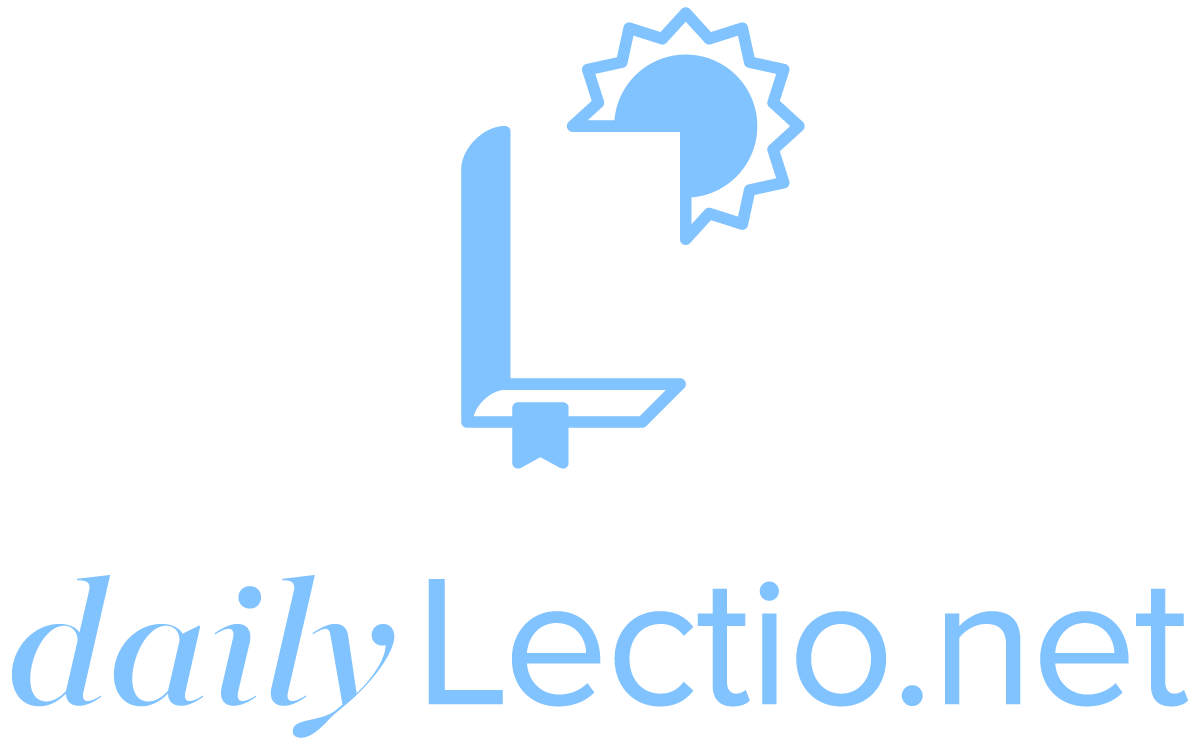 Download the DailyLectio App
Prayer reprinted from Revised Common Lectionary Prayers, © 2002 Consultation on Common Texts. Reproduced by permission.
Revised Common Lectionary Daily Readings copyright © 2005 Consultation on Common Texts admin. Augsburg Fortress. Reproduced by permission. No further reproduction allowed without the written permission of Augsburg Fortress.
New Revised Standard Version Bible, copyright © 1989 National Council of the Churches of Christ in the United States of America. Used by permission. All rights reserved.