Days of Christmas
Year C
Daily Readings for Friday
December 31, 2021

---
Gracious God,
you have redeemed us through Jesus Christ,
the first-born of all creation,
whose birth we celebrate as the child of Bethlehem.
Bless us with every spiritual blessing,
that we may live as your adopted children
and witness to your glory
with unending praise and thanksgiving. Amen.
Psalm 147:12-20
Praise God in Zion
Praise the Lord, O Jerusalem!
Praise your God, O Zion!
For he strengthens the bars of your gates;
He blesses your children within you.
He grants peace within your borders;
he fills you with the finest of wheat.
He sends out his command to the earth;
his word runs swiftly.
He gives snow like wool;
he scatters frost like ashes.
He hurls down hail like crumbs—
who can stand before his cold?
He sends out his word, and melts them;
he makes his wind blow, and the waters flow.
He declares his word to Jacob,
his statutes and ordinances to Israel.
He has not dealt thus with any other nation;
they do not know his ordinances.
Praise the Lord!
1 Kings 3:5-14
God grants a discerning mind
At Gibeon the Lord appeared to Solomon in a dream by night; and God said, "Ask what I should give you." And Solomon said, "You have shown great and steadfast love to your servant my father David, because he walked before you in faithfulness, in righteousness, and in uprightness of heart toward you; and you have kept for him this great and steadfast love, and have given him a son to sit on his throne today. And now, O Lord my God, you have made your servant king in place of my father David, although I am only a little child; I do not know how to go out or come in. And your servant is in the midst of the people whom you have chosen, a great people, so numerous they cannot be numbered or counted. Give your servant therefore an understanding mind to govern your people, able to discern between good and evil; for who can govern this your great people?"
It pleased the Lord that Solomon had asked this. God said to him, "Because you have asked this, and have not asked for yourself long life or riches, or for the life of your enemies, but have asked for yourself understanding to discern what is right, I now do according to your word. Indeed I give you a wise and discerning mind; no one like you has been before you and no one like you shall arise after you. I give you also what you have not asked, both riches and honor all your life; no other king shall compare with you. If you will walk in my ways, keeping my statutes and my commandments, as your father David walked, then I will lengthen your life."
John 8:12-19
I am the light
Again Jesus spoke to them, saying, "I am the light of the world. Whoever follows me will never walk in darkness but will have the light of life." Then the Pharisees said to him, "You are testifying on your own behalf; your testimony is not valid." Jesus answered, "Even if I testify on my own behalf, my testimony is valid because I know where I have come from and where I am going, but you do not know where I come from or where I am going. You judge by human standards; I judge no one. Yet even if I do judge, my judgment is valid; for it is not I alone who judge, but I and the Father who sent me. In your law it is written that the testimony of two witnesses is valid. I testify on my own behalf, and the Father who sent me testifies on my behalf." Then they said to him, "Where is your Father?" Jesus answered, "You know neither me nor my Father. If you knew me, you would know my Father also."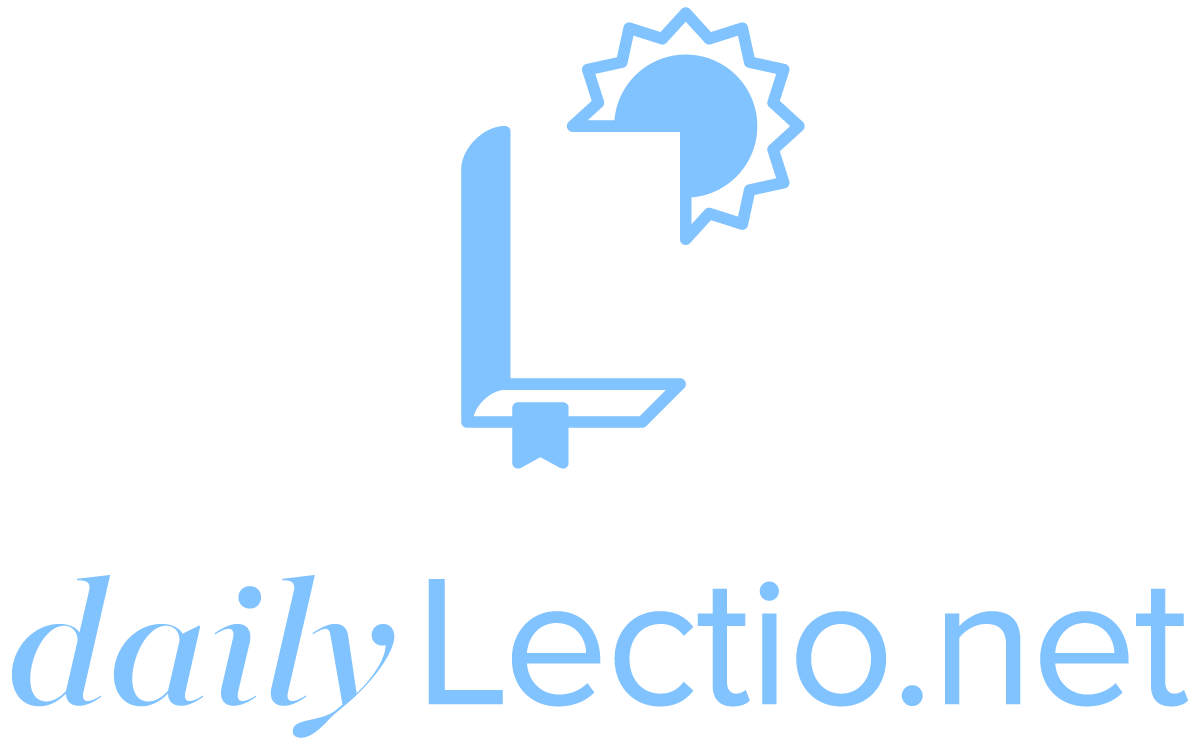 Download the DailyLectio App
Prayer reprinted from Revised Common Lectionary Prayers, © 2002 Consultation on Common Texts. Reproduced by permission.
Revised Common Lectionary Daily Readings copyright © 2005 Consultation on Common Texts admin. Augsburg Fortress. Reproduced by permission. No further reproduction allowed without the written permission of Augsburg Fortress.
New Revised Standard Version Bible, copyright © 1989 National Council of the Churches of Christ in the United States of America. Used by permission. All rights reserved.