Days around Christmas
Year C
Daily Readings for Tuesday
December 28, 2021

---
From our mother's womb you have known us, O God.
You call us to follow you through all our days
and seek us even when we wander.
As we advance in years,
clothe us with your love,
that we may grow in grace and find favor in your sight;
through Jesus Christ. Amen.
Psalm 148
God's splendor is over earth and heaven
Praise the Lord!
Praise the Lord from the heavens;
praise him in the heights!
Praise him, all his angels;
praise him, all his host!
Praise him, sun and moon;
praise him, all you shining stars!
Praise him, you highest heavens,
and you waters above the heavens!
Let them praise the name of the Lord,
for he commanded and they were created.
He established them forever and ever;
he fixed their bounds, which cannot be passed.
Praise the Lord from the earth,
you sea monsters and all deeps,
fire and hail, snow and frost,
stormy wind fulfilling his command!
Mountains and all hills,
fruit trees and all cedars!
Wild animals and all cattle,
creeping things and flying birds!
Kings of the earth and all peoples,
princes and all rulers of the earth!
Young men and women alike,
old and young together!
Let them praise the name of the Lord,
for his name alone is exalted;
his glory is above earth and heaven.
He has raised up a horn for his people,
praise for all his faithful,
for the people of Israel who are close to him.
Praise the Lord!
Isaiah 54:1-13
God's steadfast love will not depart
Sing, O barren one who did not bear;
burst into song and shout,
you who have not been in labor!
For the children of the desolate woman will be more
than the children of her that is married, says the Lord.
Enlarge the site of your tent,
and let the curtains of your habitations be stretched out;
do not hold back; lengthen your cords
and strengthen your stakes.
For you will spread out to the right and to the left,
and your descendants will possess the nations
and will settle the desolate towns.
Do not fear, for you will not be ashamed;
do not be discouraged, for you will not suffer disgrace;
for you will forget the shame of your youth,
and the disgrace of your widowhood you will remember no more.
For your Maker is your husband,
the Lord of hosts is his name;
the Holy One of Israel is your Redeemer,
the God of the whole earth he is called.
For the Lord has called you
like a wife forsaken and grieved in spirit,
like the wife of a man's youth when she is cast off,
says your God.
For a brief moment I abandoned you,
but with great compassion I will gather you.
In overflowing wrath for a moment
I hid my face from you,
but with everlasting love I will have compassion on you,
says the Lord, your Redeemer.
This is like the days of Noah to me:
Just as I swore that the waters of Noah
would never again go over the earth,
so I have sworn that I will not be angry with you
and will not rebuke you.
For the mountains may depart
and the hills be removed,
but my steadfast love shall not depart from you,
and my covenant of peace shall not be removed,
says the Lord, who has compassion on you.
O afflicted one, storm-tossed, and not comforted,
I am about to set your stones in antimony,
and lay your foundations with sapphires.
I will make your pinnacles of rubies,
your gates of jewels,
and all your wall of precious stones.
All your children shall be taught by the Lord,
and great shall be the prosperity of your children.
Revelation 21:1-7
Death and mourning will be no more
Then I saw a new heaven and a new earth; for the first heaven and the first earth had passed away, and the sea was no more. And I saw the holy city, the new Jerusalem, coming down out of heaven from God, prepared as a bride adorned for her husband. And I heard a loud voice from the throne saying,
"See, the home of God is among mortals.
He will dwell with them;
they will be his peoples,
and God himself will be with them;
he will wipe every tear from their eyes.
Death will be no more;
mourning and crying and pain will be no more,
for the first things have passed away."
And the one who was seated on the throne said, "See, I am making all things new." Also he said, "Write this, for these words are trustworthy and true." Then he said to me, "It is done! I am the Alpha and the Omega, the beginning and the end. To the thirsty I will give water as a gift from the spring of the water of life. Those who conquer will inherit these things, and I will be their God and they will be my children."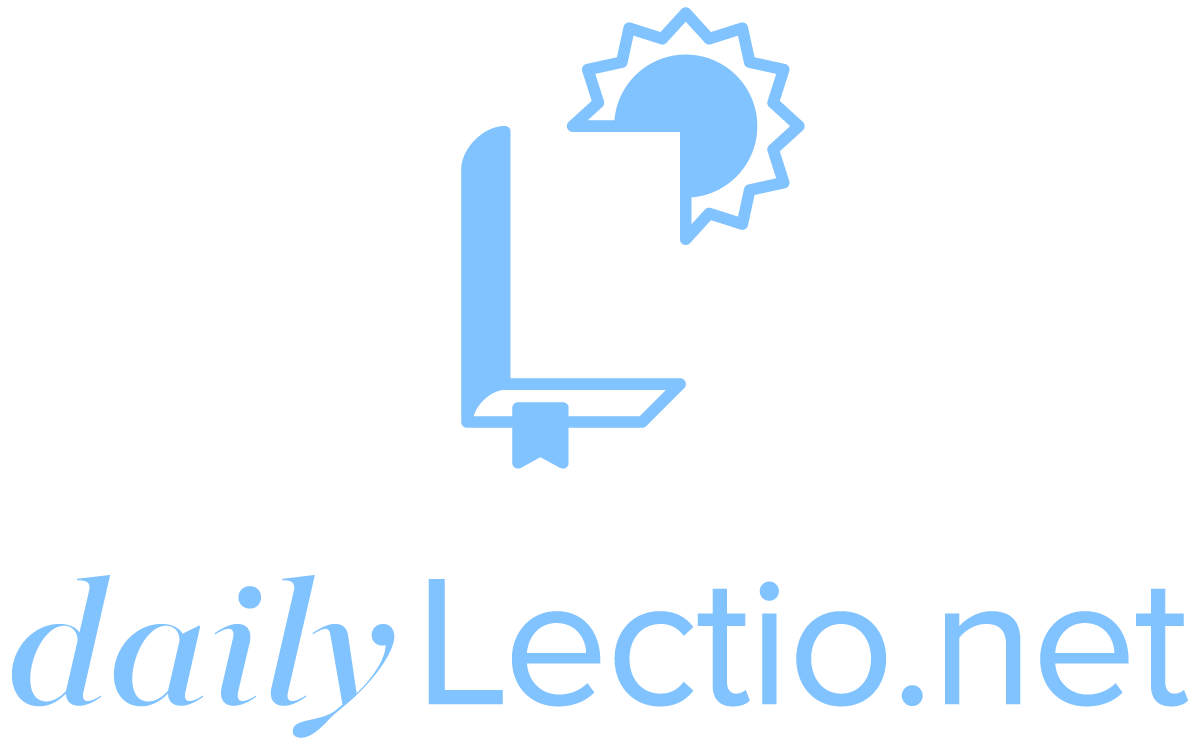 Download the DailyLectio App
Prayer reprinted from Revised Common Lectionary Prayers, © 2002 Consultation on Common Texts. Reproduced by permission.
Revised Common Lectionary Daily Readings copyright © 2005 Consultation on Common Texts admin. Augsburg Fortress. Reproduced by permission. No further reproduction allowed without the written permission of Augsburg Fortress.
New Revised Standard Version Bible, copyright © 1989 National Council of the Churches of Christ in the United States of America. Used by permission. All rights reserved.