Preparing for the Second

Sunday after the Epiphany

Year B
Daily Readings for Friday
January 15, 2021

---
Insistent God,
by night and day you summon your slumbering people.
So stir us with your voice
and enlighten our lives with your grace
that we give ourselves fully
to Christ's call to mission and ministry. Amen.
Psalm 139:1-6, 13-18
You have searched me out
O Lord, you have searched me and known me.
You know when I sit down and when I rise up;
you discern my thoughts from far away.
You search out my path and my lying down,
and are acquainted with all my ways.
Even before a word is on my tongue,
O Lord, you know it completely.
You hem me in, behind and before,
and lay your hand upon me.
Such knowledge is too wonderful for me;
it is so high that I cannot attain it.
For it was you who formed my inward parts;
you knit me together in my mother's womb.
I praise you, for I am fearfully and wonderfully made.
Wonderful are your works;
that I know very well.
My frame was not hidden from you,
when I was being made in secret,
intricately woven in the depths of the earth.
Your eyes beheld my unformed substance.
In your book were written
all the days that were formed for me,
when none of them as yet existed.
How weighty to me are your thoughts, O God!
How vast is the sum of them!
I try to count them—they are more than the sand;
I come to the end—I am still with you.
Judges 2:16-23
God calls forth the judges
Then the Lord raised up judges, who delivered them out of the power of those who plundered them. Yet they did not listen even to their judges; for they lusted after other gods and bowed down to them. They soon turned aside from the way in which their ancestors had walked, who had obeyed the commandments of the Lord; they did not follow their example. Whenever the Lord raised up judges for them, the Lord was with the judge, and he delivered them from the hand of their enemies all the days of the judge; for the Lord would be moved to pity by their groaning because of those who persecuted and oppressed them. But whenever the judge died, they would relapse and behave worse than their ancestors, following other gods, worshiping them and bowing down to them. They would not drop any of their practices or their stubborn ways. So the anger of the Lord was kindled against Israel; and he said, "Because this people have transgressed my covenant that I commanded their ancestors, and have not obeyed my voice, I will no longer drive out before them any of the nations that Joshua left when he died." In order to test Israel, whether or not they would take care to walk in the way of the Lord as their ancestors did, the Lord had left those nations, not driving them out at once, and had not handed them over to Joshua.
Acts 13:16-25
Leaders prior to Christ's coming
So Paul stood up and with a gesture began to speak:
"You Israelites, and others who fear God, listen. The God of this people Israel chose our ancestors and made the people great during their stay in the land of Egypt, and with uplifted arm he led them out of it. For about forty years he put up with them in the wilderness. After he had destroyed seven nations in the land of Canaan, he gave them their land as an inheritance for about four hundred fifty years. After that he gave them judges until the time of the prophet Samuel. Then they asked for a king; and God gave them Saul son of Kish, a man of the tribe of Benjamin, who reigned for forty years. When he had removed him, he made David their king. In his testimony about him he said, 'I have found David, son of Jesse, to be a man after my heart, who will carry out all my wishes.' Of this man's posterity God has brought to Israel a Savior, Jesus, as he promised; before his coming John had already proclaimed a baptism of repentance to all the people of Israel. And as John was finishing his work, he said, 'What do you suppose that I am? I am not he. No, but one is coming after me; I am not worthy to untie the thong of the sandals on his feet.'"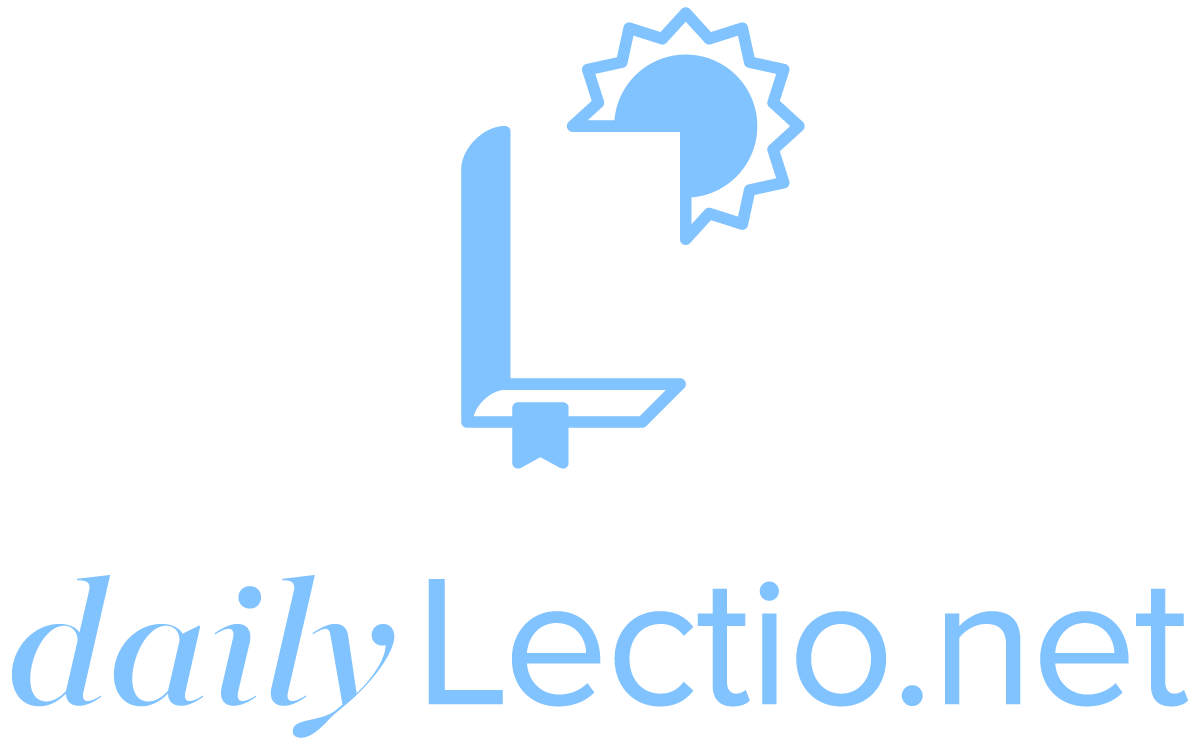 Download the DailyLectio App
Prayer reprinted from Revised Common Lectionary Prayers, © 2002 Consultation on Common Texts. Reproduced by permission.
Revised Common Lectionary Daily Readings copyright © 2005 Consultation on Common Texts admin. Augsburg Fortress. Reproduced by permission. No further reproduction allowed without the written permission of Augsburg Fortress.
New Revised Standard Version Bible, copyright © 1989 National Council of the Churches of Christ in the United States of America. Used by permission. All rights reserved.